Studio Execs Worried John Travolta's First Film Contract Would Make Them A 'Laughingstock'
Paramount Pictures
When you say the name "John Travolta," people are going to know who you're talking about. The actor has made quite the name for himself in Hollywood. His filmography is chock full of modern classics. Everything from Brian de Palma's 1976 adaptation of Stephen King's first novel "Carrie" to more recent movies like 2007's "Hairspray" in which Travolta plays Edna Turnblad, the mother of the musical's main star, Tracy Turnblad.
Of course, when you think of Travolta, you also can't help but think of him dancing. Many of his most famous films have featured his ability to shake a leg on the dance floor. His role as bad boy Danny Zuko in "Grease" is where many of us first came to worship at the foot of Travolta's dance-infused alter, but his moves have only proliferated since then. He's mesmerized audiences with his and Uma Thurman's lackadaisical shimmy in Quentin Tarantino's "Pulp Fiction," and proven that he really can dance to anything by doing the 2-step with Debra Winger in James Bridges' 1980 romance, "Urban Cowboy."
But perhaps Travolta's biggest claim to dancing fame is for his complex performance in the 1977 film, "Saturday Night Fever" directed by John Badham. This film about a young, Italian-American man's dreams of being a great dancer essentially launched Travolta into the spotlight both on and off the dance floor. However, studio executives initially weren't sure if Travolta was good enough for the big screen. In fact, they worried betting on the young actor would turn them into the "laughingstock" of Hollywood.
Disco wasn't the death of Travolta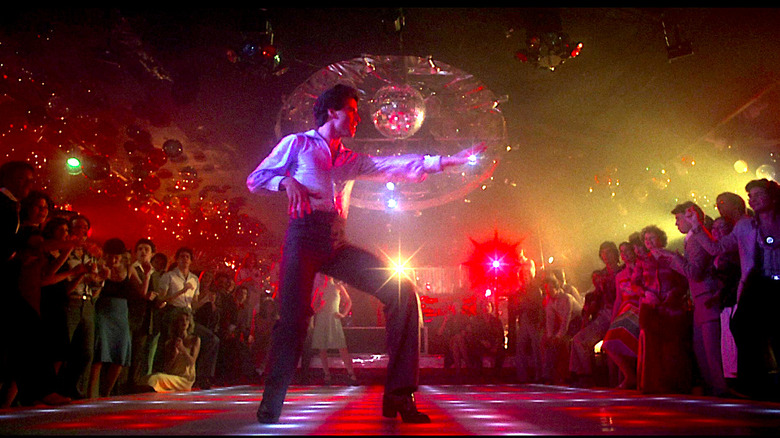 Paramount Pictures
Before John Travolta discoed into our hearts in "Saturday Night Fever," he played Vinnie Barbarino in the 70s sitcom, "Welcome Back, Kotter." This role helped him make a name for himself in television, but the movies were a decidedly different game. In an article for Vanity Fair, Travolta's climb up the ladder of fame is detailed as beginning once Robert Stigwood — a renaissance man who dabbled in managing bands and producing films, amongst other things — offered Travolta a million dollars "to star in three films." But the news came as a shock to those in the business. Travolta, it seems, did not appear to be the safest choice for leading roles in not just one, but three movies. 
It turns out the reason people in Hollywood were so shocked by Stigwood's decision was because Travolta was a TV star, not a movie star. In fact, Bill Oakes, who was in charge of Robert Stigwood's organization (RSO), stated, "Everyone thought it was madness because nobody had ever made the transition from television to movie stardom." However, Stigwood had seen Travolta years earlier in an audition for "Jesus Christ Superstar" and had recognized the young actor's talent and was now ready to help make something of it.
Oakes told Vanity Fair, "A lot of us thought to pay a million dollars for Vinnie Barbarino is going to make us a laughingstock," but, as it turned out, the joke was on them because both Travolta and "Saturday Night Fever" went on to become huge successes (just ask The Bee Gees), and even though Travolta has had more than his fair share of negative moments in the spotlight (just ask "Adel Dazeem"), his films and his name are now worth a hell of a lot more than that initial million bucks.