John Travolta Was Offered Pulp Fiction After Helping Quentin Tarantino Live Out His 'Fantasy'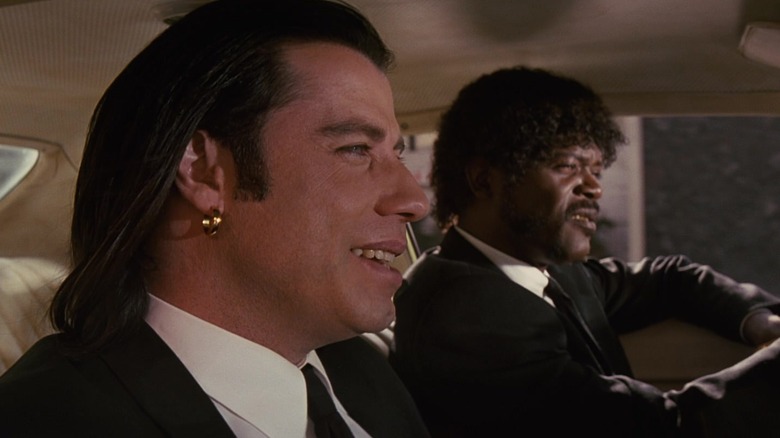 Miramax Films
The most prominent feature of Quentin Tarantino's persona is his obsession with movies — so it's fitting that he became a director. But even among other directors, Tarantino's love of film is vast and encyclopedic. All of his films feature countless references to classic movies, from the wallet in "Pulp Fiction," to basically all of "Once Upon a Time in Hollywood." It's become sort of a game for eagle-eyed viewers to spot his many homages.
It makes sense that a movie aficionado who becomes a big-time director would find himself fanboying over some of the huge actors he's worked with, as he apparently did with John Travolta when he met him. Travolta would go on to star in "Pulp Fiction," but according to a 2019 interview, he wasn't offered the iconic role until he fulfilled a very strange request from the director. "All [Tarantino] wanted to do was spend the evening playing board games of my old movies," he said. "For instance, we played the 'Grease' board game, we played the 'Saturday Night Fever' board game, we played the 'Welcome Back, Kotter' board game. He just had this fantasy of being with his favorite actor and playing the board games from that actor's movies."
Fanboy moments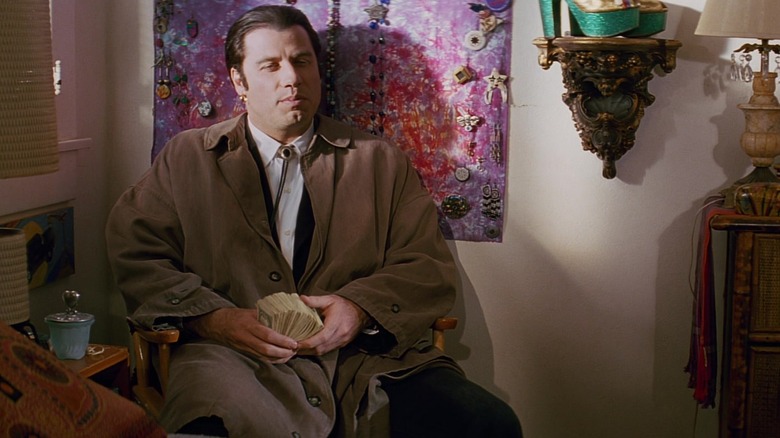 Miramax Films
While the anecdote is certainly bizarre, it's far from surprising if you know about Tarantino. It's not shocking at all that Tarantino not only owns all these (likely awful) movie cash-in board games, but that he has dreamed of playing them with the stars of the movies for years.
But according to Travolta in the 2019 interview, that wasn't all Tarantino asked of him.
"He said, 'If you could possibly become one of those characters out of nowhere, just say a line from 'Grease,' 'Saturday Night Fever' or 'Kotter,' that would make him happy,' so I would do that."
These almost childlike requests for Travolta to say his famous lines sit somewhere between endearing and off-putting, but it landed Travolta the offer to star in "Pulp Fiction." It wouldn't be the first time that Tarantino made a big filmmaking decision based on a hangout with some movie stars, as the idea of "Kill Bill" actually resulted from a night out with the "Pulp Fiction" cast and crew.
Great artists are often just huge weirdos, and Tarantino is no exception. But even if he does it in a particularly strange way, who could blame a man who has spent his whole life obsessed with movies for getting extremely excited when meeting the star of many of his favorites? It's this passion that fuels Tarantino's work, and it shows in the quality of his films.