The Pulp Fiction Prop That Quentin Tarantino Actually Owned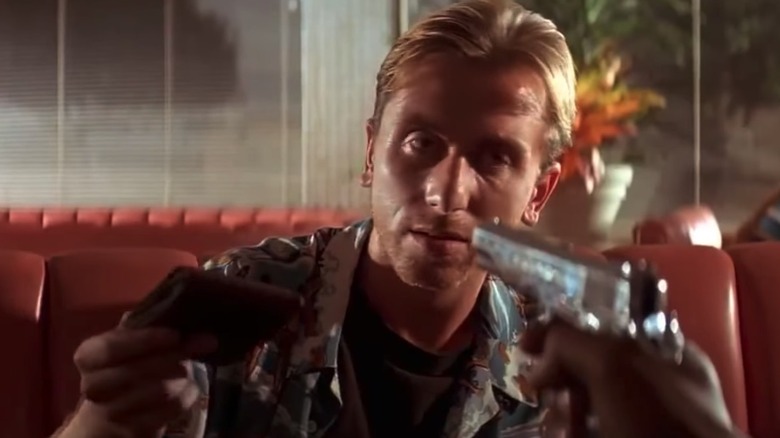 Miramax Films
Some of the most iconic props in our favorite films come from strange places, whether it's created from a surprising collection of materials or found in the most random of places. When it comes to a certain prop from "Pulp Fiction," Quentin Tarantino didn't have to look any further than his own collection of pop culture paraphernalia.
If you recall the scene in the diner with Honey Bunny (Amanda Plummer) and Pumpkin (Tim Roth) holding up the joint, you likely remember how important that wallet is to Jules. The billfold in questio that says "Bad Mother F*****" on it can easily be found online these days. But when it came to including it in "Pulp Fiction," according to BestLife, Tarantino already owned the wallet as a reference to the 1971 film "Shaft," and he thought it was just perfect for Jules. 
"Pulp Fiction" was a huge it when it premiered in 1994, and it won the Palme d'Or at the Cannes Film Festival that year. It was nominated for seven Academy Awards, including ones for John Travolta, Uma Thurman, and Samuel L. Jackson. In fact, this film is credited with reviving Travolta's career. It's also somewhat prescient thanks to the aforementioned wallet.
'Now, I Want You to Go In that Bag and Find My Wallet'
Perhaps the coolest thing about that wallet and the fact that it was Samuel L. Jackson's Jules who had it, is that the reference it makes to "Shaft" was sort of a harbinger of things to come. Jackson went on to play the title role of "Shaft" in a sequel in 2000, as well as the follow-up "Shaft" film in 2019.
The role of Jules was originally written for Laurence Fishburne ("The Matrix), but he turned it down, according to an interview with Tarantino. The director explained that Fishburne's people weren't interested because this wasn't a leading role, but the actor clarified in an interview with Vulture that it was because of the film's glorified heroin use. 
In the end, the part went to Jackson, but it almost didn't, even after Fishburne turned it down. Jackson did a reading for the role, but Paul Calderon also had a stellar audition for the part. Once he heard about this, Jackson auditioned again to get the role back. Calderon still ended up playing the role of Paul in the film, a smaller part, but being among the cast of "Pulp Fiction" is still pretty cool.
"Pulp Fiction" has become a Bad Mother F***** in its own right by being selected for the United States National Film Registry by the Library of Congress in 2013 as "culturally, historically, or aesthetically significant." That's not a bad consolation prize since it didn't take home the Oscar for Best Picture, a decision that many cinephiles consider to be one of The Academy's biggest missteps.
Also, now I want that wallet.