10 Of The Biggest Box Office Gambles Of 2023, From Barbie To Cocaine Bear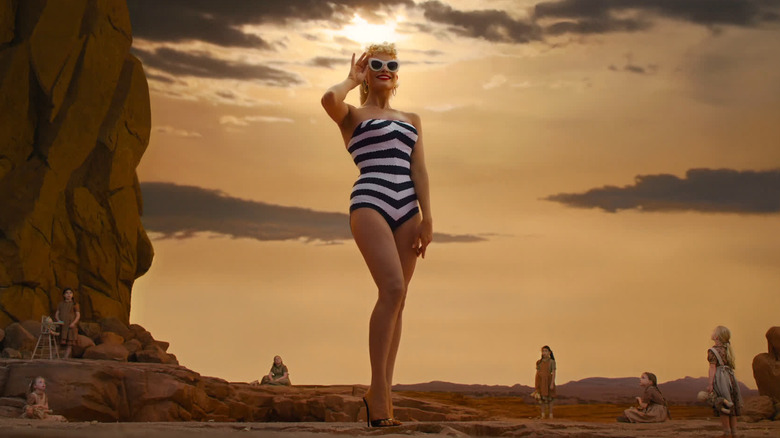 Warner Bros.
The return to normalcy (or at least something resembling normalcy) at the box office after the hell that was 2020 has been slower than expected. But things looked very promising in 2022 and, if we're lucky, 2023 will take us even further in the right direction. Yes, we've absolutely got a stacked slate of seemingly sure things, such as "Ant-Man and the Wasp: Quantumania," "Aquaman and the Lost Kingdom," "Creed III," "Transformers: Rise of the Beasts," and "The Nun 2," amongst many others. We've also got some promising originals, such as Christopher Nolan's "Oppenheimer" and Taika Waititi's "Next Goal Wins."
But there are also a number of movies coming our way this year that yes, have their merits, but also feel like they could go very hard one way or the other. Is a cheaply-made horror movie about Winnie the Pooh actually capable of bringing people to theaters en masse? Do people like Willy Wonka and Timothee Chalamet enough, together, to deliver blockbuster numbers? Does "Jurassic World" have a monopoly on dinosaurs? These are some of the burning questions we're here to mull over as we go over ten of the biggest box office question marks for 2023. Let's dig in.
80 for Brady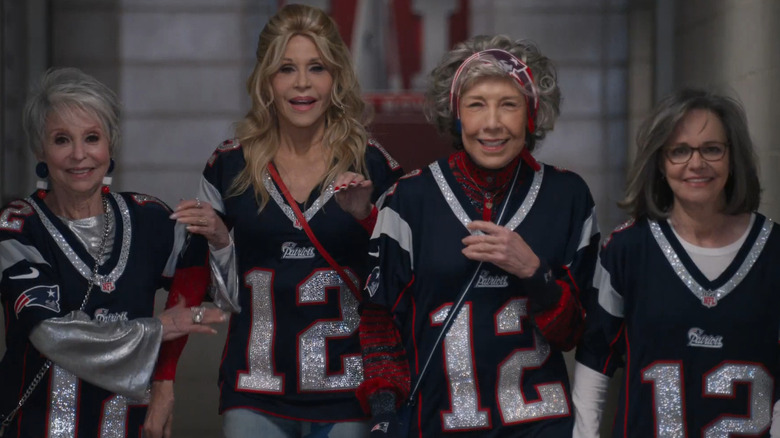 Paramount Pictures
Tom Brady is, without a doubt, the most successful person to ever put on a uniform in the NFL, ever. But even though the man refuses to retire well into his 40s, the day will come when he has to hang up the helmet, and undoubtedly, Hollywood will come calling. Well, that has already started a bit in earnest, and this year's "80 for Brady" aims to see if his good name can carry a motion picture into the box office equivalent of the end zone. Can this be a best-case-scenario for a sports movie like "The Blind Side" ($309 million), or more like Uncle Drew ($46 million)? Outside of the "Rocky" franchise, sports movies are a little all over the place and a tough thing to bet on.
The film hails from Paramount Pictures, who crushed it in 2022, with an all-star cast that includes Jane Fonda, Sally Field, Rita Morena, Lily Tomlin, and yes, Brady himself. The story is based on a real-life tale of four best friends who embark on a trip to see their hero, Tom Brady, play in the 2017 Super Bowl. The question is, can Brady's name get moviegoers in seats? And, more to the point, can the likes of Fonda and Field be draws for slightly older audiences to help cement this as a hit? While budget figures haven't been revealed yet, it does appear as though Paramount didn't overspend on this one. We'll see if Brady's got a promising career in the movie business come February 3.
Winnie the Pooh: Blood and Honey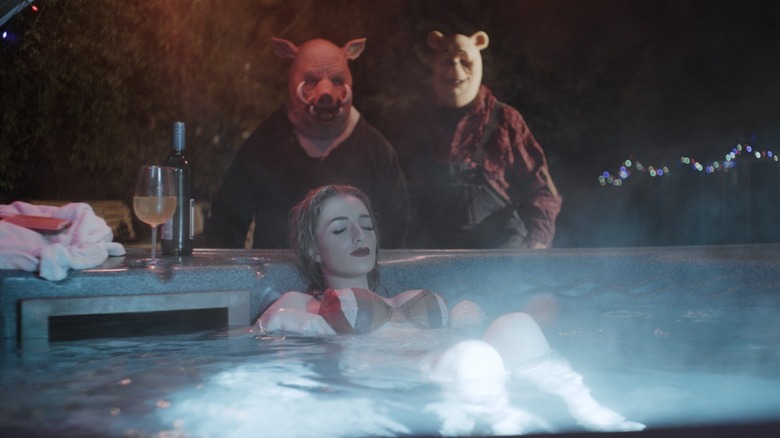 Jagged Edge Productions
Ah the age-old question: can internet hype actually lead to meaningful ticket sales? Few things caught on in the movie news world last year quite like "Winnie the Pooh: Blood and Honey," an ultra-low-budget slasher that is based on the beloved A.A. Milne characters, made possible by his early works entering the public domain recently. Once social media caught wind of the first images, it spread like wildfire. Ultimately, it paved the way for some reshoots and, amazingly enough, a full-blown theatrical release on February 15.
Written and directed by Rhys Frake-Waterfield, the low-budget producer is about to see if he can turn some public domain goods into gold. The movie got so much attention online that Fathom Events has even partnered with Jagged Edge Productions on the release. But is this really something people are going to pay to go see in a meaningful way? Given its incredibly low budget, the stakes are low here. But if it can somehow break through and become a hit? It would be a pretty remarkable moment cementing that IP and horror are the two gateways that lead to success when executed correctly.
Cocaine Bear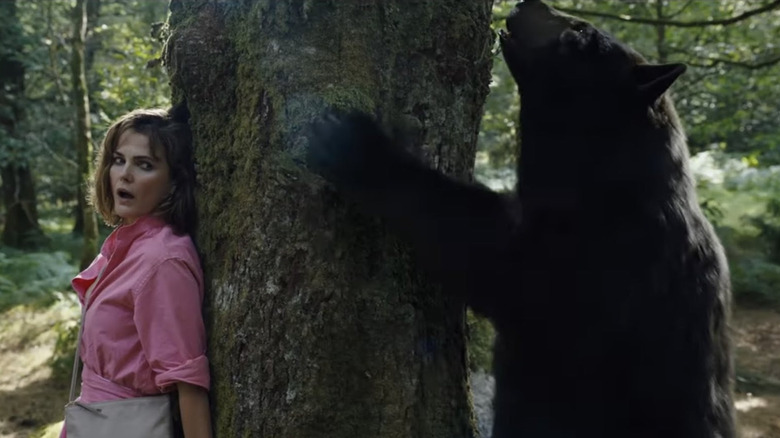 Universal Pictures
Again, we find ourselves in a situation where a premise (or merely a title for that matter) was enough to send the internet into a frenzy. With Elizabeth Banks behind the camera, Universal Pictures believes they have a winner with "Cocaine Bear," a wild action/comedy that is, amazingly enough, inspired by a true story about a bear that ate a bunch of cocaine left in the woods by drug smugglers. I'm no marketing expert but, for my money, between the trailer and the poster thus far, the studio has done a tremendous job of getting the word out on this one. People seem excited. But again, can that online excitement actually translate to getting people off the couch?
The truly big question mark here is just how much Universal spent on this thing. That could be the deciding factor. If they managed to keep the budget below $50 million? I would guess they have a real shot at turning this into a profitable venture (assuming the reviews are not devastatingly bad). If it somehow climbed to $75 million or so? The path to profitability becomes far more narrow, as it would probably need to do "Ghostbusters: Afterlife" numbers ($204 million) to be considered a success. This is by no means a sure thing, but it has breakout potential written all over it. The movie is currently slated to hit theaters on February 24.
Dungeons and Dragons: Honor Among Thieves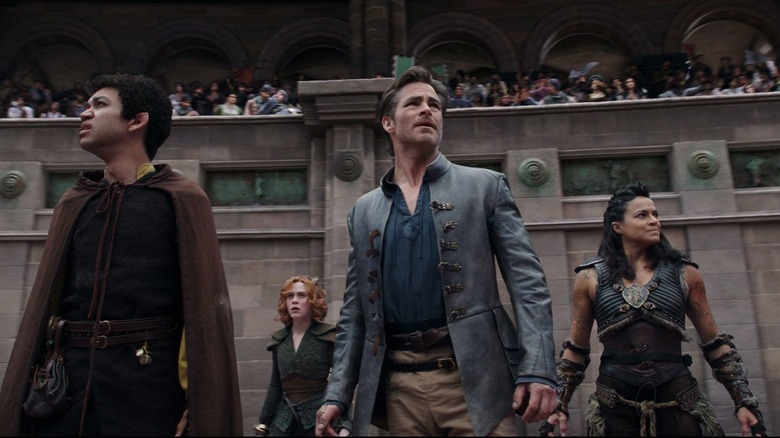 Paramount Pictures
"Dungeons and Dragons" has endured in popular culture for decades now, but it has never quite managed to go mainstream in a blockbuster "for the masses" sort of way. Hollywood has tried to bring the popular game to screen before, but those attempts left much to be desired. But now, Paramount Pictures is making a big-budget bet on the franchise with "Dungeons and Dragons: Honor Among Thieves," from Jonathan Goldstein and John Francis Daley, aka the guys behind "Game Night." Now, they're moving into the blockbuster movie realm and, not to apply the pressure here, but the stakes are pretty high.
While the budget hasn't been disclosed, we're talking a bare minimum of $100 million spent (before marketing), if not much more. That means Paramount is hoping for a great many people to turn up to see Chris Pine, Rege Jean Page, and Michelle Rodriguez in an epic fantasy adventure. But will the availability of "House of the Dragon" and "Rings of Power" on streaming make people feel like they can get dragons, swords, and sorcery at home? Or will that only encourage them to scratch that itch a little harder with a trip to the movies? Fantasy can be brutal for studios, with "Seventh Son" ($114 million box office/$110 million budget) serving as an example of a big ol' whoopsie doodle. But at its highest end? There's the $2.9 billion made by "The Lord of the Rings" trilogy that Hollywood has chased from time to time over the last two decades or so. If this works, Paramount could have a new franchise for years to come. If it doesn't? Much money is at stake. Look for it in theaters on March 3.
65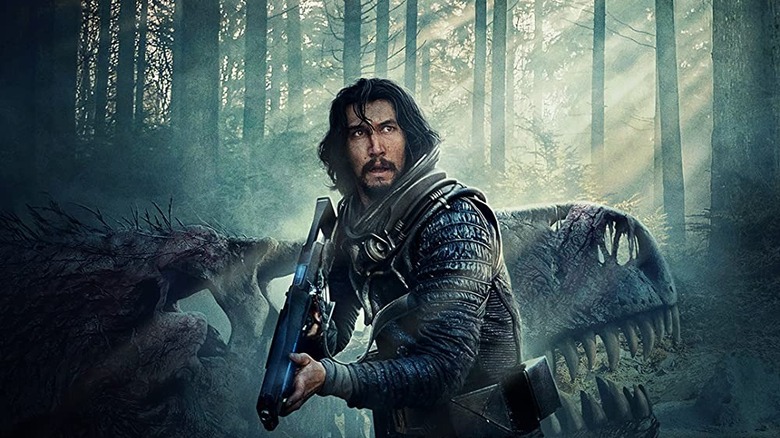 Sony Pictures
Dinosaurs are not an intellectual property that anyone owns. Yet, for whatever reason, the "Jurassic Park" franchise has pretty much been the only one cashing in on the prehistoric creatures for going on three decades now. And that has worked out quite well, to the tune of $6 billion worldwide thus far. So why on Earth haven't more studios tried to make commercial-friendly dinosaur movies? Well, Sony wised up and let the guys who wrote "A Quiet Place" do just that with the wild looking "65," a futuristic-looking sci-fi movie that actually takes place 65 million years ago on Earth and stars Adam Driver. If I may? F*** yes.
Setting personal feelings aside, Scott Beck and Bryan Woods proved with "A Quiet Place" that they can blend horror, spectacle, and character just so, with a formula that can make for a huge hit. Can they do it again? And, more importantly, can they do so on a much larger scale? The movie comes with a budget said to be in the $90 million range and, as we discovered last year, that budget seems to be cursed for some reason. Even so, if audiences do decide they like Driver and dinosaurs enough to buy a ticket, this could be a surprise hit this year. The big problem? It's going up directly against "Shazam! Fury of the Gods" on March 17. If that counter-programming strategy doesn't pay off, it could get ugly.
Elemental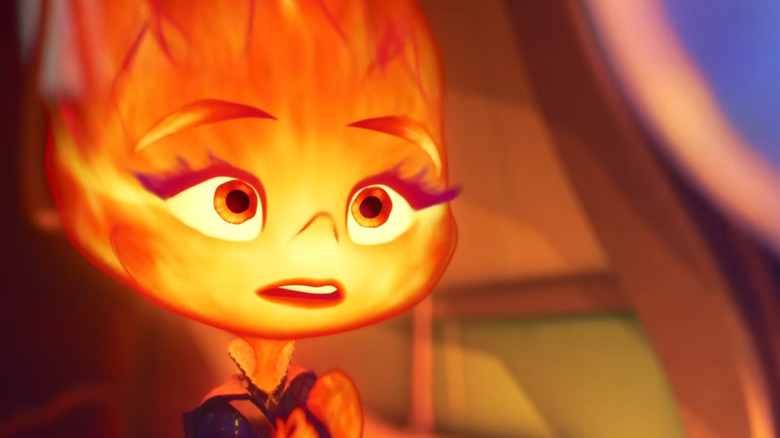 Disney
Pixar was, at one point, one of the most reliable brands in all Hollywood. The kind of studio that could turn an original, diverse movie like "Coco" into an $800 million global hit just a handful of years ago. Now? After several of the studio's big originals went straight to Disney+ over the last few years, things have changed. "Lightyear" bombed badly and the studio's future as a major theatrical player feels on shaky ground. That makes director Peter Sohn's "Elemental," the latest original from Disney and Pixar, a crucial test to see if audiences will actually show up for something not based on one of their pre-existing franchises. In an age where originals are struggling, Pixar used to be a shining light. If even they can't deliver an original hit? Yikes.
As is always the case with a big, animated movie, it's expensive. Probably in the $150 million range, if not more. That means, we're looking at something that at the very least probably needs to make $400 million or more to be considered a modest hit. It's been quite some time since an original animated movie has done that, dating back to "Coco," actually. It's genuinely crazy that we're at a place where Pixar feels like one of the biggest underdogs on this list, but changing consumer habits have led us to that very place. We'll see where the chips fall when the movie hits theaters on June 16.
Barbie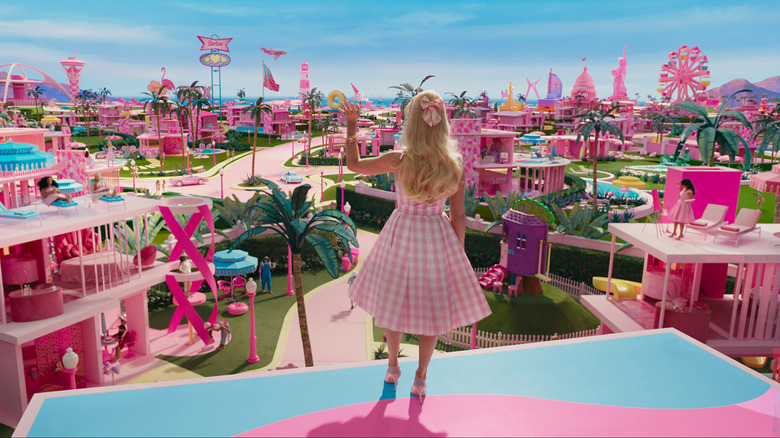 Warner Bros.
Circling back to things the internet is absolutely hyped about, we have Greta Gerwig's "Barbie." Hailing from Warner Bros. with a reportedly massive $100 million budget, the film will finally bring the popular doll to the big screen in epic fashion. Though, if the teaser trailer was anything to go on, it's not going to be what many people may think. But it does have a ridiculous amount of star power, with Margot Robbie in the title role, and a huge supporting cast that includes the likes of Ryan Gosling, Simu Liu, Will Ferrell, Kate McKinnon, and many more. On paper, you've got a stacked, A-list cast, a proven director, and some beloved IP to work with. It's all there. Isn't it?
I admit, I would have liked to see this movie made for a lot less money, as you're firmly in blockbuster territory with a number like that. You're looking at probably having to make at least $300 million globally to even have a chance at breaking even after a surely pricey marketing spend. I struggle to find a good comparison for this movie, but maybe "The LEGO Movie" ($468 million) is a good best-case-scenario comp? In the post-pandemic era of moviegoing, that is by no means easy to do. But, at the same time, if this can actually catch on, it has the potential to do even bigger numbers, as these are global stars with a globally recognized toy at the center of the story. The most damning thing of all is that the film is, as it stands, set to open directly against Christopher Nolan's buzzy, big-budget historical thriller "Oppenheimer." That's not counterprogramming – that's a brawl that could leave both opponents injured. This one really feels like a dice roll to me. Look for it in the heart of the summer movie season on July 21.
Haunted Mansion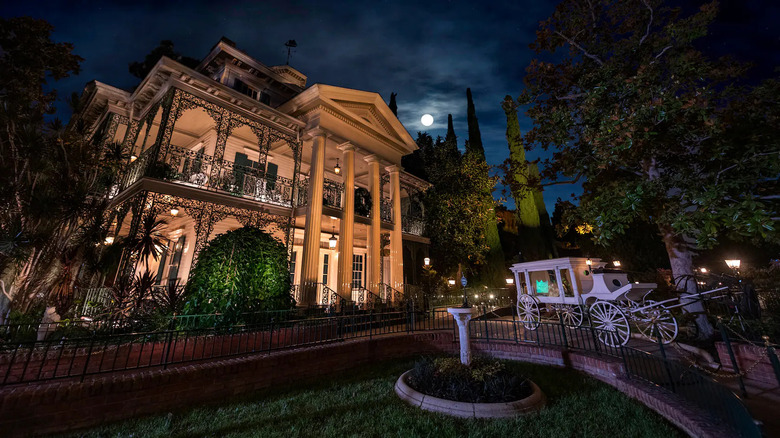 Disney
This year marks the 20th anniversary of "Pirates of the Caribbean: The Curse of the Black Pearl." It's a movie that few thought would work, and yet, it spawned a multi-billion-dollar franchise that is still going to this day. Moreover, that first film stands out as a truly remarkable example of A-tier blockbuster filmmaking. So, can Disney once again strike gold by turning a theme park attraction into a feature film? That is the question with this year's upcoming adaptation of "Haunted Mansion." Yes, they've done this before and no, it didn't work out very well. But with Justin Simien ("Dear White People") behind the camera, and a stacked cast that includes Owen Wilson, Jamie Lee Curtis, Danny DeVito, and Rosario Dawson? There are good pieces on the table here.
The real question is, can Disney cash in on the good name horror has earned in the last few years as one of the only reliable things Hollywood has going for it in the pandemic era? And can this wind up closer to "Curse of the Black Pearl" ($654 million) rather than "Jungle Cruise" ($220 million)? It could all come down to reviews and word of mouth and, at the moment, it's impossible to predict how that is going to work out. Disney is going to find out when the movie attempts to scare up big business on August 11.
Kraven the Hunter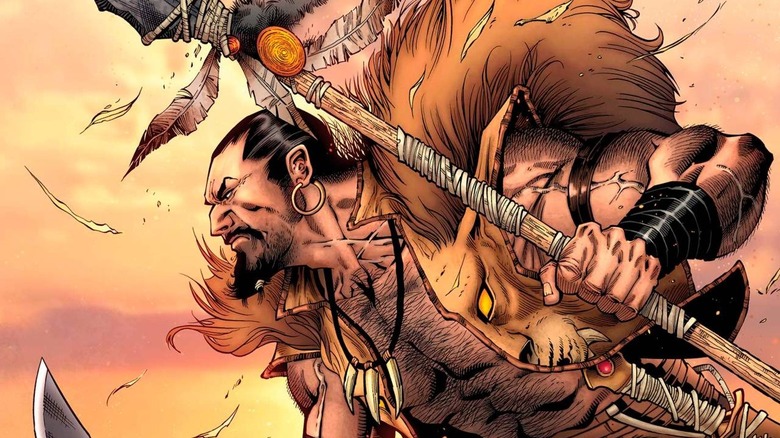 Marvel Comics
Sony still controls the rights to the "Spider-Man" franchise and, though Spidey himself is still in the Marvel Cinematic Universe thanks to a deal with Disney, all of his villains are fair game. As such, we've been getting spin-off films such as "Venom," which proved to be an unexpectedly huge hit. The expansion of this villain-centric corner of the franchise hasn't gone all that smoothly though, as last year's "Morbius" was a critical failure and a bomb ($167 million/$75 million budget), despite topping the box office in its opening weekend. With that in mind, "Kraven the Hunter," which stars Aaron Taylor-Johnson as the famed Spidey villain, is a complete toss-up.
We've got J.C. Chandor ("Triple Frontier") in the director's chair, a supporting cast that includes Russell Crowe and Ariana DeBose, amongst others. And yes, we've got the Marvel name. But can Sony avoid another critical disaster here? Sure, the "Venom" movies have overcome that to the tune of $1.35 billion combined, but bad reviews hurt a lot worse when it's a character fewer people in the mainstream are familiar with. Ultimately, reviews and a damn good trailer could get Sony back on the right track here. Or, if they wind up with another "Morbius," this franchise expansion could be in need of a dire course correction. We'll see what side of the line this one falls on come October 6.
Wonka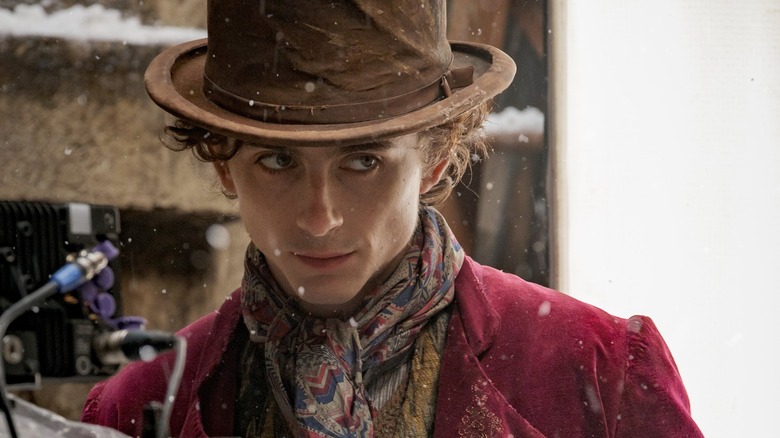 Warner Bros.
Last, but certainly not least, we have Warner Bros.' "Wonka" which, as the name suggests, is another take on the works of Roald Dahl and, more specifically, serves as a prequel to "Charlie and the Chocolate Factory." It sees Timothee Chalamet as the title character in one of his earlier adventures, with Paul King ("Paddington") in the director's chair. The prospects for this one are, frankly, all over the place and it's incredibly tough to imagine where it's going to land.
For one, musicals are not an easy way to make money. Sure, "La La Land" made $447 million against a mere $30 million budget, but that's more the exception, not the rule. "In the Heights," also from Warner Bros., more recently topped out at $45 million, albeit hampered by the HBO Max release. Then, of course, there's 2005's "Charlie and the Chocolate Factory," which earned $475 million worldwide, which almost certainly is what inspired the studio's decision to make the prequel. The point being, this could go either way. Either it can do $400 million or more with strong legs in the holiday season against good word of mouth, or it's IP for the sake of IP that nobody actually cares about. Look for it in theaters on December 15.