A Tom Brady Biopic Is Inevitable, And It's Probably A Great Bet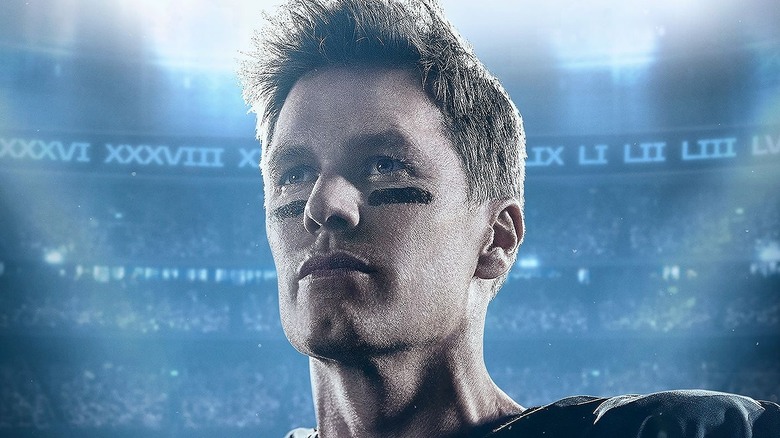 ESPN
It is truly the end of an era — not just for the NFL, not just for football, but for sports in general. After more than 20 years of dominating the sport at the highest level, perhaps among the highest levels anyone has ever dominated anything, Tom Brady has officially announced that he is retiring from the game. Brady spent most of his career with the New England Patriots before making his way to the Tampa Bay Buccaneers for the past two years. Taking to Twitter, the quarterback made it official.
— Tom Brady (@TomBrady) February 1, 2022
What does Brady's retirement have to do with movies, you might be asking? I'm here to tell you that if you have any money to gamble with, you would do well to bet on a Tom Brady biopic happening at some point — perhaps sooner rather than later. The degree to which Brady dominated the sport so consistently, winning a record seven Super Bowls, is astonishing (no matter how much it came to annoy this big fan of football in the end).
Setting any personal feelings aside, Hollywood loves a biopic, especially when the subject is someone of such a great level of interest to the general public. There are many reasons for that, and dollars to donuts, now that Brady is hanging up the old number 12 jersey, Hollywood is going to come knocking. Let's talk about why the proposed movie would probably be a very good bet for a studio or streaming service as we wait to see what the future holds for the eventual Hall of Famer.
Biopics Have An Incredibly High Ceiling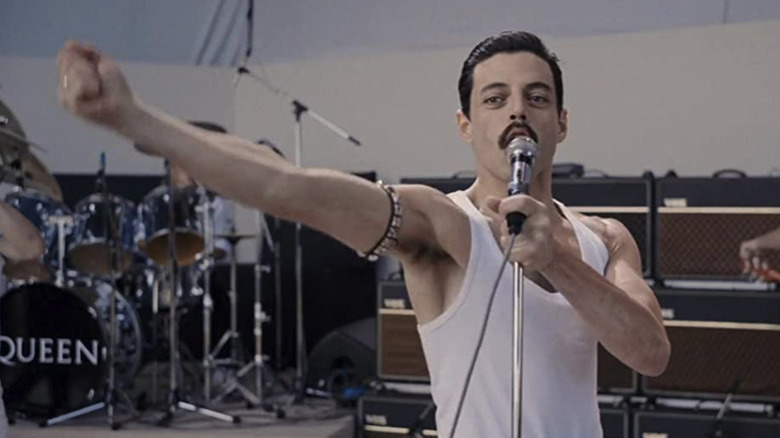 20th Century Studios
As much as I will always understand that people want movies to be made for artistic and/or meaningful reasons, the matter almost always comes back to money. save for the lowest rung of independent cinema. For the most part, a movie has to make good business sense for it to exist. In this way, a Tom Brady biopic is about as sure of a bet as any studio or streaming service would be likely to find. A football movie is not going to cost $200 million to make, so it has that going for it. But beyond that, when things fire on all cylinders, box officer history tells us that biopics have an incredibly high ceiling in terms of potential return on investment.
The extreme end of this is the Queen biopic "Bohemian Rhapsody." The film went on to earn an absolutely astounding $910 million globally against a reported budget of $52 million (per Box Office Mojo). That kind of number is typically reserved for superhero or blockbuster cinema. Granted, Brady and the NFL are more America-centric than the music of Queen, so $1 billion probably wouldn't be in reach. But the point stands that biopics can be huge earners. 
Biopics like "Walk the Line," "Ray," or "Straight Outta Compton" have shown that music-centric biopics are often the ones with huge breakout potential. Obviously, we're talking about a different animal here with the most famous NFL quarterback to ever play the game. But football movies can also be set up for success in a huge way. Look at "The Blind Side," which chronicled the life of offensive lineman Micahel Oher. That movie made $309 million globally against a $29 million budget (via Box Office Mojo). It was, I grant you, a highly marketable story, but Brady is a much larger name than Oher and there is undoubtedly a story to tell there. It's easy to see the potential money on the table — or, at the very least, the appeal. And keep in mind that those box office statistics don't matter as much if a company like Netflix wanted to chase this down. But the audience is there for these types of stories and, with Brady's name attached, it goes to the next level.
Brady Brings An Audience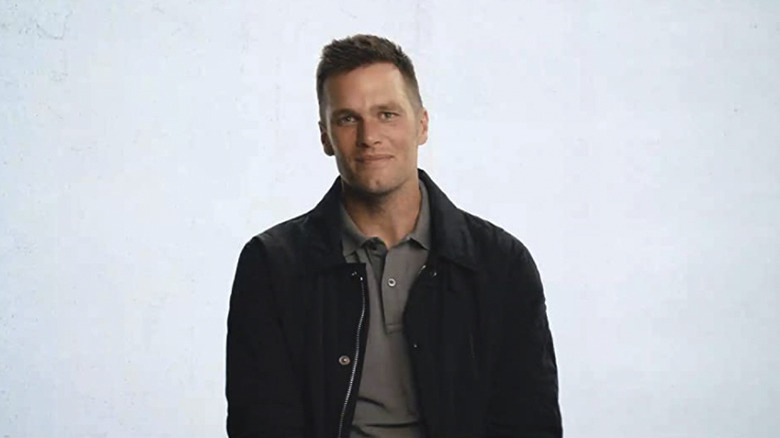 Twitter
We've established that biopics have big earnings potential when the right subject matter is in play. But Tom Brady is an entity unto himself that brings with him a potentially massive audience to any project he's associated with — especially something as flashy as a biopic chronicling his life and career. If we're to assume that the filmmakers and/or studio that puts up the cash for this theoretical project had Brady's blessing and involvement (and that would certainly be the case), it would have a seemingly sizable audience built right in.
There is already an ESPN+ docu-series called "The Man In the Arena" that chronicles Brady's various Super Bowl seasons, and that has generated a great deal of interest. The big games he's played in drew millions of viewers. He has millions of followers on social media. There is a fascination with his greatness that brings more eyeballs than a standard sports drama might. The fact that so many NFL fans have a love/hate relationship with him may even help matters. For as many people there are celebrating the man right now, there are seemingly just as many that are happy to no longer have to worry about him making a last-second comeback and ruining their Sunday.
Give it a few years of Brady not being in the game anymore and people from both sides of that fence would likely be at the very least curious to see his life play out on screen — especially if they don't shy away from the moments of failure, such as the two Super Bowls in which the Patriots, led by Brady, were defeated by the New York Giants, led by Eli Manning. There is meat on these bones and money to be made.
The only question now really is, who wants to make this movie a reality? Lionsgate, the makers of the Kurt Warner biopic "American Underdog," perhaps? Might Netflix, Amazon, or another major streamer try to lock Brady down with some kind of content deal, similar to what was done with Colin Kaepernick at Netflix? There are plentiful options, but make no mistake, someone will come knocking.