The Daily Stream: A League Of Their Own Is The Ultimate Sports Movie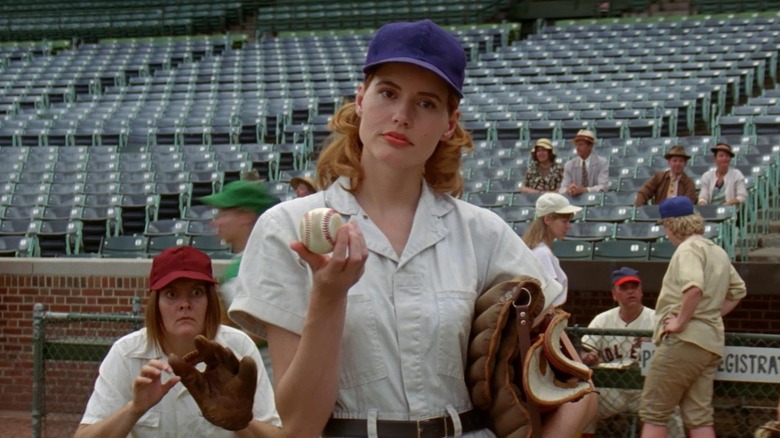 Columbia Pictures
The movie: "A League of Their Own"
Where you can stream it: Hulu, Paramount+
The pitch: Baseball may be America's pastime, but during World War II, Major League Baseball was nearly forced to shut down because so many of the men involved had been drafted to fight overseas. To bolster profits and help morale stateside, the All-American Girls Professional Baseball League (AAGPBL) was formed, creating a full league of female baseball players who stepped up to the plate from all walks of life. "A League of Their Own" is a fictionalized account of one of the teams, the Rockford Peaches, told mostly through the perspective of their catcher and star, Dottie Hinson (Geena Davis). Dottie and her kid sister, Kit (Lori Petty), go from working on their farm in Oregon to being stars in the baseball league, and along the way they meet and befriend women from all over the country. They also get to know infamous baseball coach Jimmy Dugan (Tom Hanks), who takes over the Peaches and frequently butts heads with Dottie. 
"A League of Their Own" uses the game of baseball to tell stories of womanhood in the 1940s, when more women were leaving domestic life than ever in order to work in factories and help the war effort. Directed by Penny Marshall, it's an all-American tale of resilience and joy, but it's also a feminist and fiercely funny look at how much people can achieve if they're given the chance. "A League of Their Own" is a perfect sports movie because it has something for everyone, and thankfully, the schmaltz is in (fairly) short supply. 
Why it's essential viewing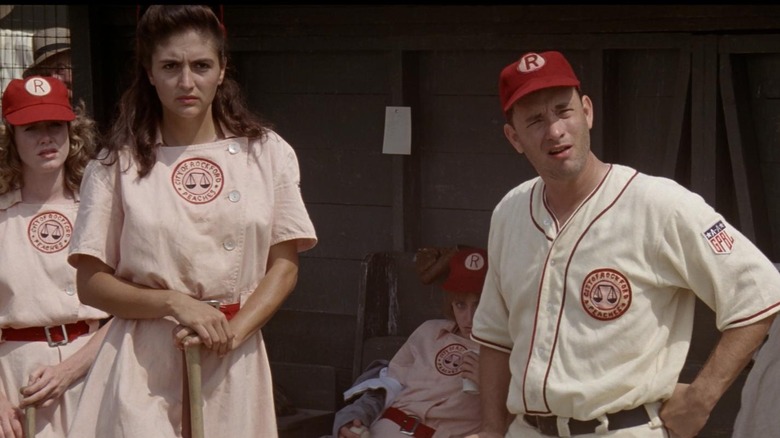 Columbia Pictures
Sports movies, by their very nature, aren't for everyone. I'm pretty allergic to manufactured sentimentality, so sports movies that focus on a bunch of misfits who end up winning the big game or the championship put me to sleep. However, my dad, like most American dads, loves sports movies. Every Sunday afternoon was a chance to spend time with my pops and watch a movie on TBS or TCM, even if that meant watching war movies, westerns, and sports stories. When I was nine or ten years old, "A League of Their Own" came on one Sunday afternoon, and I discovered that even I could love a sports movie. 
"A League of Their Own" is about baseball to some degree, but what's more important are the adventures of the players, who learn how to really live outside of their restrictive gender roles. The movie is a glimpse into another time, with loads of sexual humor sneakily baked into the dialogue, because people have always been horny even if it wasn't considered appropriate to talk about. As a child who thought that everyone in the past was prim, proper, and boring, seeing these women act like real women was mind-blowing. They weren't just stereotypes or character portraits, but felt like human beings with hopes, dreams, and flaws. I didn't really care if they won the big game, but I did care about the relationships between the characters, especially between Dottie and Kit. They were so much more than the one-note jokes in "Major League" or the unsettling nostalgia of "Field of Dreams," and for the first time, a sports movie found its way into my cynical little heart.
A classic for a reason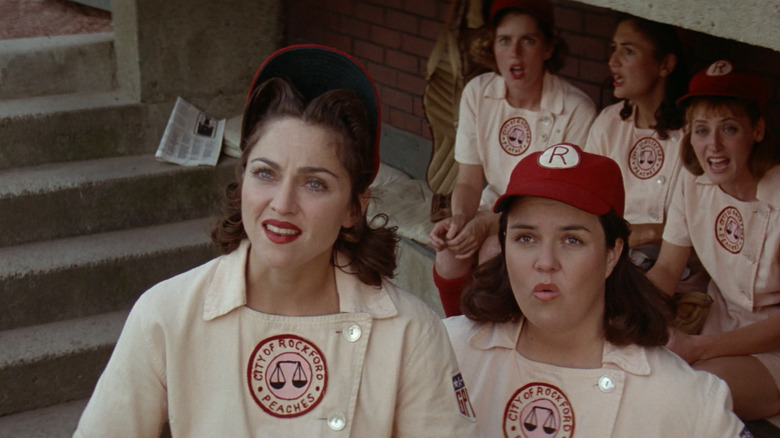 Columbia Pictures
"A League of Their Own" was extremely successful, both critically and at the box office, and it's gone on to be a contemporary classic. Hanks' line "There's no crying in baseball!" is one of the most famous in movie history. It's easily one of the best sports films of all time, but it's also just a really great movie. The whole cast is incredible, including Rosie O'Donnell and Madonna as a pair of city girls who tease their more rural teammates, Bitty Schram as the song-writing Ellen Sue, Bill Pullman as Dottie's husband, and even Jon Lovitz as the scout who recruits Dottie and Kit. There's plenty of drama, comedy, and romance, and anything too adult is going to go right over the heads of young audiences, making this the perfect family flick. 
While there are a handful of moments of true cinematic cheese, "A League of Their Own" thankfully doesn't fall into many of the same tropes as its contemporaries. Marshall's direction, along with the skillful editing of George Bowers, ensured that sentimental scenes never lingered too long, and every melodramatic moment was balanced with a good laugh. The movie is also careful to pay honor to the real women of the AAGPBL, many of whom appear at the end of the movie, meeting up with Dottie (Davis in old-age makeup) when the Baseball Hall of Fame opens an exhibit in their honor. 
Leagues ahead of its time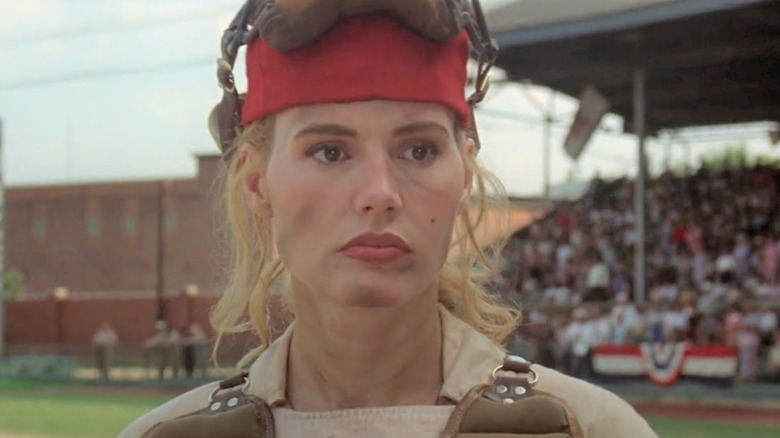 Columbia Pictures
"A League of Their Own" didn't get to address everything it had on its mind, with only brief nods to racism and homophobia in the era, but it was still pretty ahead of its time in 1992. In 2022, Prime Video released a streaming series following another team in the same universe, giving the creators the opportunity to take the story a step further and really give life to the women of the 1940s. Though the movie didn't have the feminist cultural impact that Davis hoped for at the time, it did pave the way for more female-led stories in genres typically belonging to men. It also made Davis a household name, shooting her to stardom in a way her previous films, like "Beetlejuice" and "The Fly," simply hadn't. Geena Davis rules, so it's almost worth watching "A League of Their Own" just for her incredible performance. 
Regardless of whether or not you like baseball, "A League of Their Own" is a perfect slice of Americana that never beats its audiences over the head with its messaging, making it a fun, accessible, and eternally entertaining watch. There's no crying in baseball, but if you don't tear up a bit while watching this movie, there might be something wrong.