A League Of Their Own Didn't Start Its Life As A Feature Film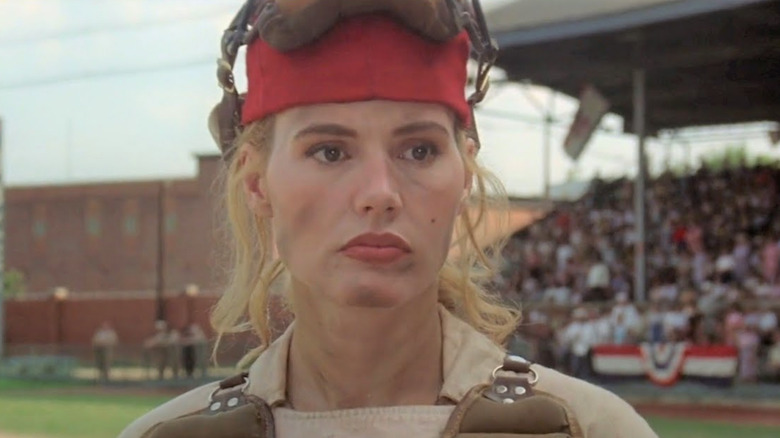 Columbia Pictures
In the 1940s, with World War II and the draft in full swing, a huge number of men left their jobs to serve in the armed forces. Hundreds of thousands of women also joined various facets of the military, but they made a larger contribution by joining the workforce at home. After the marched off to war, millions of women stepped up to fill the gaps in every industry imaginable, which included factories, fire departments, construction, and professional sports.
In the wake of several major league players trading in their bats and gloves for fatigues and rifles, the All-American Girls Professional Baseball League (AAGPBL) was created. Between 1943 and 1954, 600 women competed within the organization, and proved they could hold their own in the ballpark. After the war, the league lost its popularity, and the groundbreaking organization became a forgotten detail of the past. 
In an oral history, ESPN details how the AAGPBL went from an overlooked historical detail to the focus of a major Hollywood film: the modern classic "A League of Their Own." But first, it was a documentary. 
'A gap in women's history'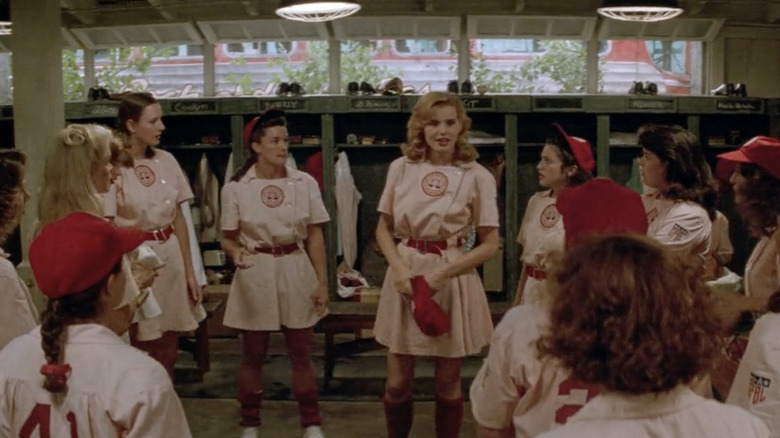 Columbia Pictures
Kelly Candaele is related to two pretty cool women. His mom, Helen Callaghan, and aunt, Margaret Callaghan, were two members of the AAGPBL back in the '40s. He grew up hearing stories about his mom and aunt's time as pro ballers, but most of the general public had no idea the league ever existed. Candaele thought this "gap in women's history" deserved to be filled, and teamed up with Kim Wilson to do just that.
Wilson and Candaele created "A League of Their Own," a documentary about his mom and the women's baseball league. The doc appeared on local television, but Wilson wanted to take the story further:
"I said to [Kelly], 'This is a really good subject for a movie.' I don't think even at the time he owned a TV set. We used the documentary to write the story, then to sell the idea for a feature. We were completely obsessed with this idea."
As fate would have it, Penny Marshall saw the documentary on television, and also wanted to share the story with a wider audience:
"I saw a documentary about this league, and I didn't even know it existed. And if I [didn't] know, that means other people didn't know, and I was going to change that."
Wilson and Candaele joined forces with two screenwriters, Babaloo Mandel and Lowell Ganz, and created a story about two competitive sisters and their rivalry within the women's baseball league. When the script was finished, it was pitched to Fox, and a deal was struck. Eventually, Fox lost interest in the project and their contract with Marshall ended. Sony stepped in and wooed her with promises of "We'll even let you do that girls' movie." 
Despite that gossamer-veiled sexism, Marshall accepted the deal, and went on to knock it out of the park with the "girls' movie." However, the director saw the film as more than just "a women's picture." 
A girls movie?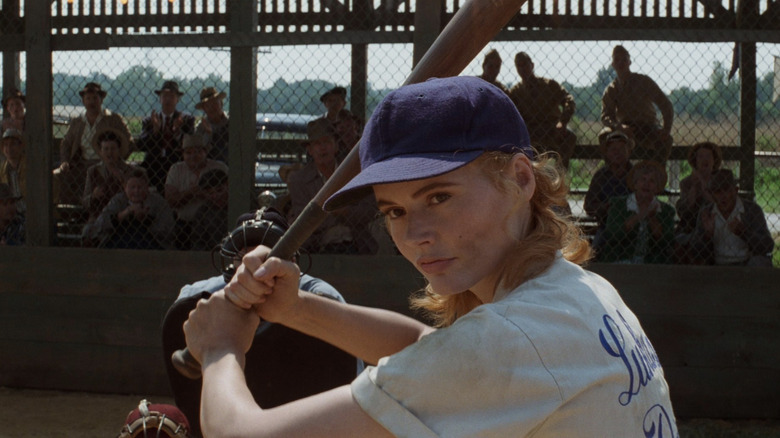 Columbia Pictures
Unquestionably, "A League of Their Own" explores the hardships and sexism female athletes endured in the past, but there is a much larger conversation taking place under the surface. Marshall believed the larger theme was "don't be ashamed of your talents," which is an element of the film, but the overarching theme of the film is "don't be ashamed of who you are."
In the 1940s, women who enjoyed and succeeded in sports were seen as freaks, and the very idea of making a career out of such a thing teetered on blasphemous. The league had serious worries that the public would equate swinging a bat with masculinity, and did all they could to nip that ignorance in the bud. Instead of traditional baseball uniforms, they were forced to wear pink dresses, knee-high socks, and a full face of makeup. They were required to attend charm school to learn "to be a lady," whatever that means. Despite all the ridiculous rules, the women found a home on the ball field with each other, where they finally belong and feel understood.
For the first time, their athletic talents are celebrated and rewarded. These unconventional women are no longer ashamed of who they are, or of their athletic talents. 
'An athlete is an athlete'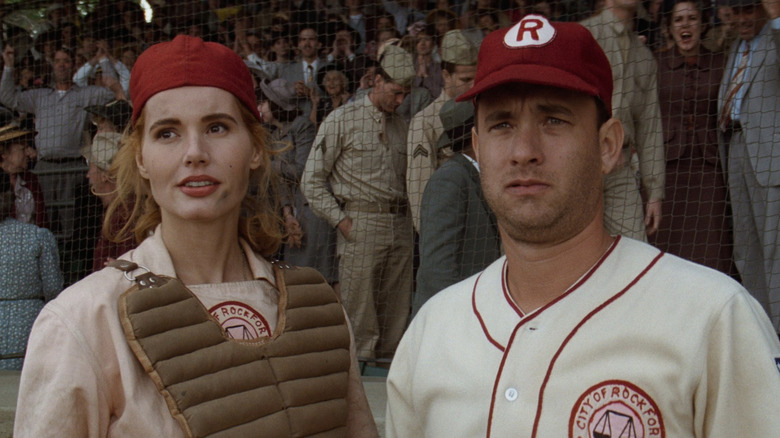 Columbia Pictures
Although "A League of Their Own" focuses on nontraditional women, this theme of accepting yourself, and following your own path, relates to everyone. Billy Bean, Major League Baseball's ambassador for inclusion, was touched by the universal message of the film:
"I was playing in the MLB when I saw the movie, and I didn't even think about it being [specifically for] women — more so it was about the power of baseball and the healing components that bring people together. One of the things that it captured beautifully was the passion the players had. When you saw how much it mattered to them, it had a real, organic component to it. They didn't have to "play like men" but were great athletes who happened to be female. I just think there was a human element that showed an athlete is an athlete."
"A league of Their Own" earned over $100 million domestically and is often considered one of the best sports movies of all time. More importantly, the film shined a light on the revolutionary women of the AAGPBL, and inspired young athletes to embrace who they are and what they love. On top of being a documentary and a feature film, "A League of Their Own" will soon be a TV series. 
Prime Video will release a remake based on the classic film on August 12, 2022. It has some big cleats to fill, so it will be interesting to see how it holds up against the original, and how it will inspire a new generation to take pride in themselves and their talents.