First Evil Dead Rise Footage Teases The Return Of The Legendary Horror Series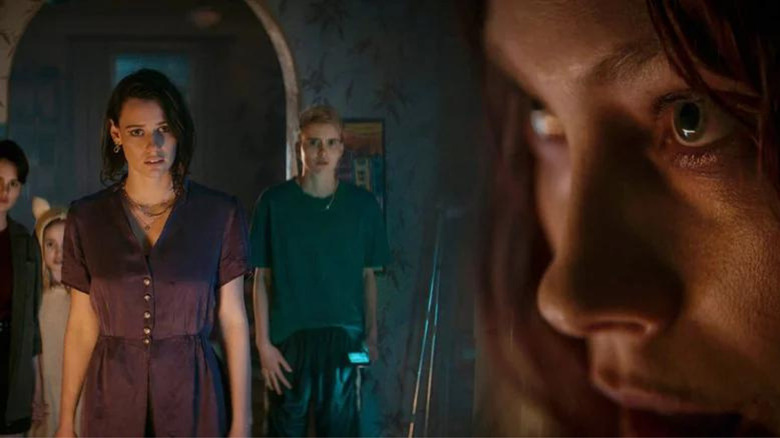 Warner Bros.
Happy New Year, everyone! How does our first official teaser for the highly-anticipated "Evil Dead Rise" sound to kick off 2023? We certainly hope you're ready because Warner Bros. has announced that the first full-length trailer for the film will be released tomorrow via its first-look footage. In this new teaser, we see a young girl (Nell Fisher) looking through an apartment door peephole, saying that her mother Ellie (Alyssa Sutherland) doesn't look good. Truth be told, she doesn't –- as we saw previously in a still released on Halloween, she looks to be fully and bloodily possessed by the spirits of the Necronomicon.
If this 20-second teaser was enough to get us spooked, then we can't wait to see what kind of twisted stuff the full trailer will have. We especially can't wait to see this trailer play on a big screen –- "Evil Dead Rise" was intended to be an HBO Max original film, but was notably removed from the streamer's schedule in August 2022 to make way for a theatrical release. While Warner Bros. Discovery has made several colossal mistakes over the past few months, this was a pretty great move on their part.
Take a peek at the new Evil Dead Rise footage
"Evil Dead Rise" will be the fifth installment to the "Evil Dead" film franchise, although its connections to both Sam Raimi's original trilogy and Fede Alvarez's 2013 take are being kept under wraps. Lily Sullivan will play Beth, the sister of the aforementioned Ellie, while Gabrielle Echols and Morgan Davies will play the possessed mother's children alongside Fisher. Other cast members include Mia Challis, Jayden Daniels, Tai Wano, and Billy Reynolds-McCarthy. Don't expect a cameo from franchise frontman Bruce Campbell, however, as he officially retired from the role of Ash Williams in 2021.
Lee Cronin, who previously worked with Raimi on "50 States of Fright," wrote and directed this new installment. In an interview with Empire Magazine, he described the final R-rated product pretty aptly:
"It straps you onto a rocket that's fueled by blood. You can either get off or you stay on 'til it explodes."
And honestly, who are we to argue with that? "Evil Dead Rise" crawls into theaters on April 21, 2023. Check out its official synopsis below:
"In the fifth 'Evil Dead' film, a road-weary Beth pays an overdue visit to her older sister Ellie, who is raising three kids on her own in a cramped L.A. apartment. The sisters' reunion is cut short by the discovery of a mysterious book deep in the bowels of Ellie's building, giving rise to flesh-possessing demons, and thrusting Beth into a primal battle for survival as she is faced with the most nightmarish version of motherhood imaginable."