Why Peaky Blinders Creator Steven Knight Made Horses A 'Theme' For Tommy Shelby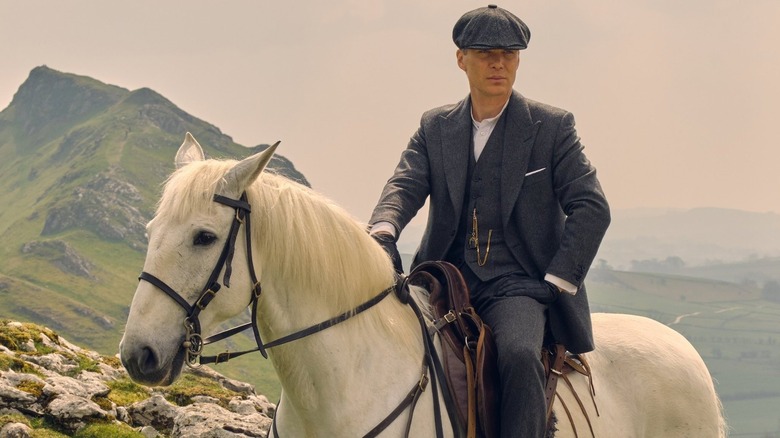 BBC
Making fun of "horse girls" is a cruel rite of passage for most people, but few would dare mock a "horse mobster" like Tommy Shelby on "Peaky Blinders." A gangster family epic, the hit crime drama centers on the historical Peaky Blinders street gang that came to prominence following the First World War. Of course, the series embellishes the true story a bit, introducing the fictional crime boss Tommy Shelby, played brilliantly by Cillian Murphy.
There are multiple themes and motifs presented throughout the series — like all those swans in season 5 — but "Peaky Blinders" has in particular consistently made references to black horses. There are plenty of fan theories floating around online about what the horses represent, but during an interview with PeakyBlinders.TV, show creator Steven Knight explained the origins of the black horses.
As it turns out, Knight grew up with horses; his father was a farrier, aka a skilled craftsman who specializes in trimming and shoeing horses' hooves. "There's something very ancient about the mythology of horses, especially in Britain," said Knight. "Amongst [the Romani], horses are still the currency and wealth, they're still kept and valued and traded." The family in "Peaky Blinders" is comprised of Irish Travellers and Romani people, so this intersection of British mythology with Romani culture is very important to building the world of the show. Knight had been dropping horse references in the series' script from the very beginning, sometimes in obvious ways (like the racehorse Grace's Secret), while others are hidden within the dialogue.
'I am a horse'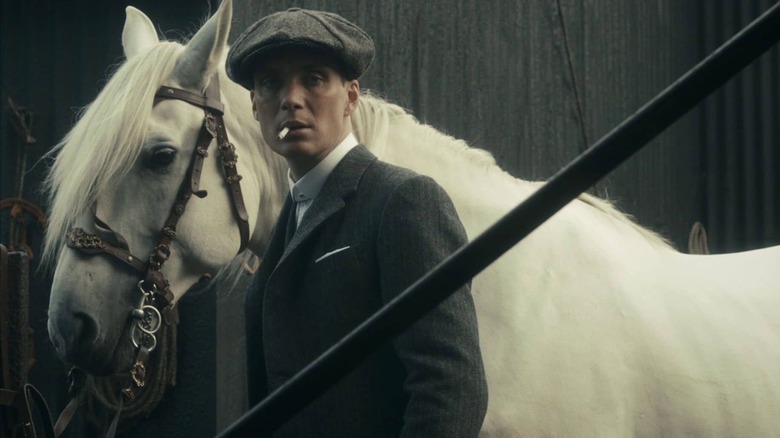 BBC
Steven Knight highlighted a moment during series 2 when Tommy Shelby obtains medication, and somebody says, "That's for horses." In response, Tommy Shelby says, "I am a horse." Knight found this to be a perfect example of why the horse motif is so important to the show. 
"In a way, he is [a horse]," Knight said. "It's about him wanting to escape in the way of the horse, not having the intricacies of being human but running out there, that's what he wants." The showrunner also said that it's common for people who own horses or are often around them to have dreams where they become horses, which is something he wanted to imbue in Tommy:
"Good and bad, right and wrong seem to be blurred in Tommy's world because he blurred them himself. He does bad things, he does wrong things. But there's the black horse and the white horse. In other words, ultimately there is good and bad, there is right and wrong, there is life and death. They represent the idea that somewhere there is some certainty. For Tommy, that's as close as it gets to religion.
It's hard not to immediately think of Peter Shaffer's "Equus," the brilliant stage play about a young man who has a pathological, religious fascination with horses. Of course, Tommy Shelby's connection to horses is nowhere near as harrowing as the one portrayed in "Equus," but the existence of the play emphasizes Knight's point: horses make for strong, symbolic storytelling.