Jason Alexander Didn't Have Much To Go On Going Into His First Seinfeld Audition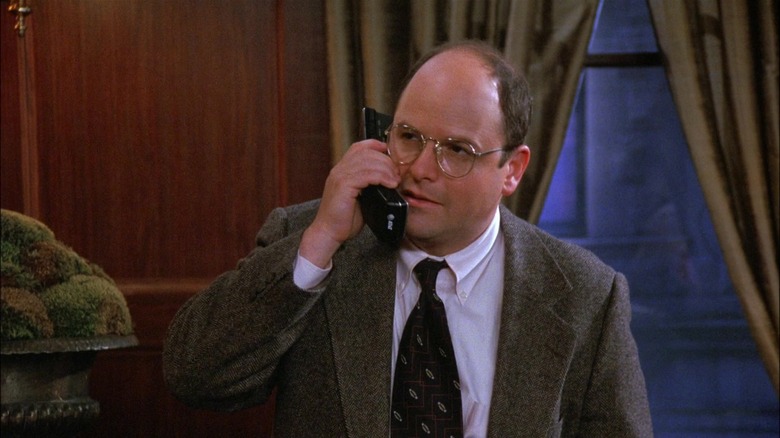 NBC
Every good fan of "Seinfeld" knows that Jason Alexander's character George is based closely on the show's head writer and co-creator, Larry David. It wasn't until several episodes into the series that Alexander would discover this fact for himself. As it turns out, the actor initially used Woody Allen as a guide for his character. His inspiration may have been a little off, but it still landed him the role and guided him through the beginning of the show.
Before landing his part in the popular sitcom, Alexander had a supporting role in the film "Pretty Woman" starring Julia Roberts. The movie was a huge success that launched both Roberts' and Alexander's careers. The production company behind "Seinfeld," Castle Rock Entertainment, was co-founded and run by the filmmaker Rob Reiner, who directed "The Princess Bride." Reiner's ex-wife was married to the director of "Pretty Woman," Garry Marshall. When the Castle Rock executives were looking for someone to play George, Marshall suggested Alexander to Reiner. "That's what I've heard, is that somehow ['Pretty Woman'] played in," Alexander recalled in an interview on the podcast Inside of You with Michael Rosenbaum.
Alexander was far from the only actor to be considered for the part of George. Other potentials included huge names like Chris Rock and Danny Devito. After searching for some time in Los Angeles, the casting team decided to set its sights on New York. The casting directors in New York were given a very minimal description of the character. "[They were] looking for a sidekick, a funny sidekick best friend to Jerry Seinfeld, about this age," Alexander explained. "No real description, just sort of your standard young-ish character actor."
Alexander landed Seinfeld with a Woody Allen impression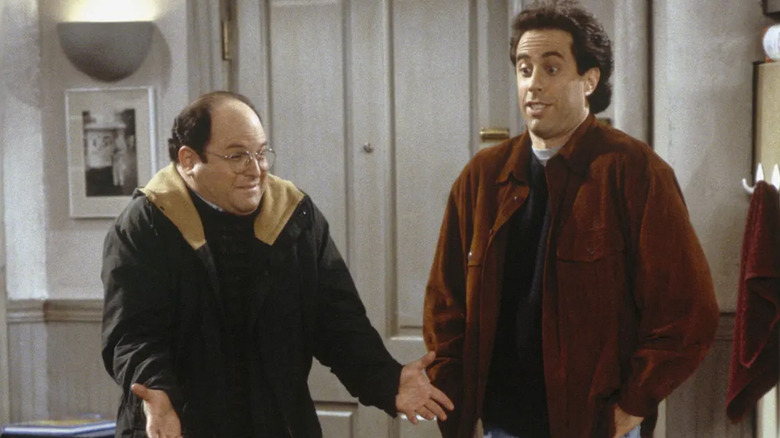 NBC
When Jason Alexander landed his "Seinfeld" audition, he wasn't exactly sure how to play it. He wasn't given a lot to go on, but the material did remind him of something familiar. "To me, it read like the dialogue in a Woody Allen film." He expanded upon the character comparison in his discussion with Michael Rosenbaum, saying: 
"And I went, 'Alright, let's go with that!' So, I didn't wear glasses at the time, I went out and got some frames. And I not only did a thick New York accent, I literally was doing Woody Allen ... maybe not a good Woody Allen, but definitely a guy trying to do Woody Allen."
After sending in his tape, Alexander was sure that he would never hear back about the role. To his surprise, he received a call from Larry David himself just a few days later. Before reading in front of the network executives in Los Angeles, he was given a small piece of advice. "They said, 'Don't change a thing. Except, don't do the Woody Allen voice,'" Alexander remembered. "Do New York, do glasses, do all of that, but just don't do the Woody Allen voice.'"
There was one huge obstacle in Alexander's way, but it turned out to be a blessing in disguise. While the actor was waiting to read for the part, he recognized the only other actor reading for George that day — Larry Miller, who had starred in "Pretty Woman" with Alexander and was a close personal friend of Jerry Seinfeld. "I go, 'Well, the writing's on the wall, of course, he's going to use his buddy,'" the actor thought to himself. "So I went in to do the reading and I was loosey-goosey, and I just had a great time going, 'I'm not going to get this, so just have fun.' And I guess we just clicked."
The actor had no idea George was based on Larry David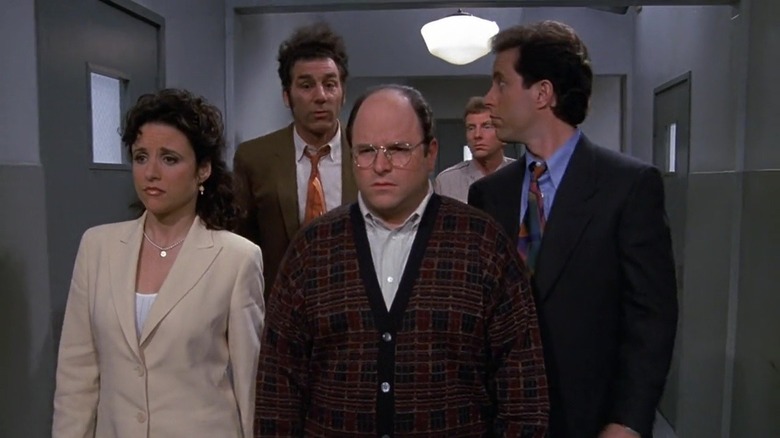 NBC
Despite Larry David's advice, Jason Alexander couldn't shake the initial Woody Allen characterization at the beginning of filming. "I had no idea at that time that it was any kind of an alter ego for Larry David," he admitted to the Television Academy. "I went through easily the first five, six, seven episodes of that show with Woody Allen in the back of my mind."
Mid-way through the first season of the show, Alexander's understanding of George totally shifted. At first, he felt that George's interactions and reactions were totally unrealistic, and he told David as much. "Larry [David] looked at me and went 'What are you talking about, this happened to me and this is exactly what I did,'" the actor recalled. "That was when the bell went off in my head and I went 'Oh, Jeez, he's George.'"
From there, the actor had much more material to draw from. "That's when Woody Allen went away and I started to laser-focus on what makes Larry, Larry, and incorporate as much as I could of it into the character," Alexander explained. He found that David "carried both an incredible sense of worthlessness ... alongside the most over-inflated ego," which guided the actor's performance.
Interestingly, Alexander's take on David is very similar to Orson Welles' famous quote about Woody Allen. "That particular combination of arrogance and timidity sets my teeth on edge," Welles once said, per Vulture. "He hates himself, and loves himself, a very tense situation." Perhaps Allen was not a bad point of reference for George after all. He may not have known George's true origins at first, but he was still able to capture him perfectly.