Chris Hemsworth Had An Extremely Tough Time Nailing Down His Character In Furiosa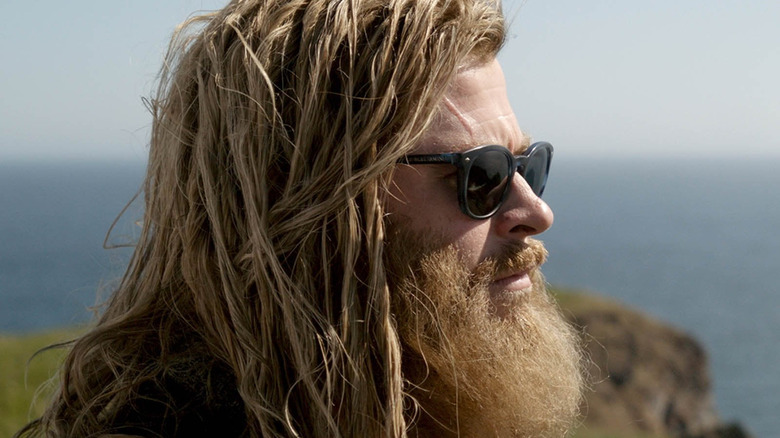 Marvel Studios
Most actors are no strangers to the idea of the characters they play undergoing some sort of identity crisis. Chris Hemsworth knows all about that, having portrayed the Marvel superhero Thor during his most drastic on-screen transformation yet: the "Dude"-inspired deadbeat from "Avengers: Endgame." But, on the other hand, every performer's worst nightmare rears its ugly head when they themselves can't quite get a handle on the intricacies of the individual they're meant to play. Panic time.
Hemsworth found himself in exactly that unenviable position in the years leading up to filming for "Furiosa," writer/director George Miller's long-awaited prequel film to "Mad Max: Fury Road." Initially described only as playing "totally against type" in the role of the film's primary antagonist, it's little surprise that the "Thor" actor would feel a little out of his element under the guidance of the convention-defying Miller (although Hemsworth did play another villain who was nothing but bad news in 2018's "Bad Times at the El Royale"). After all, both Tom Hardy and Charlize Theron expressed similar reservations throughout the grueling production of "Fury Road" — largely resulting from the fact that Miller didn't provide his stars with an actual "script" in the traditional sense. Yep, that'll certainly do it.
Hemsworth didn't have that disadvantage on "Furiosa," however, benefitting from years of looking over the completed screenplay to properly get his head around his character rumored to be named Warlord Dementus. But to hear the actor tell it, this long wait period only made his anxieties even worse. In the process, he instantly confirmed himself as the winner of the "Most Relatable Chris" award that I've just made up. Three cheers, everybody!
'I didn't know who this character was'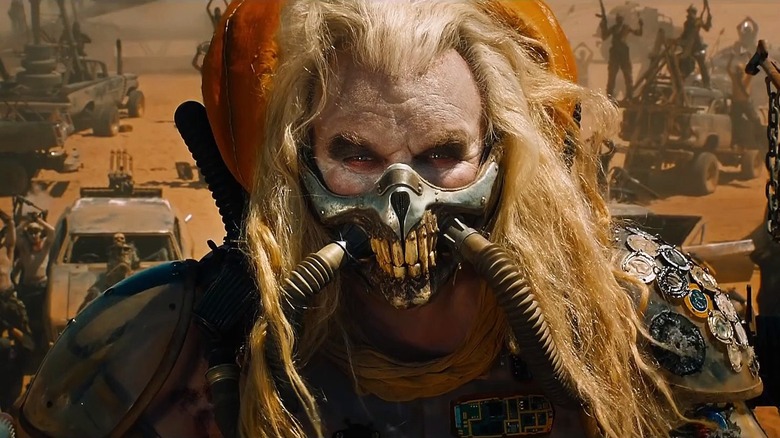 Warner Bros. Pictures
Some things never change, huh? Almost exactly a decade after filming on "Fury Road" resulted in one of the most infamously tough productions in all of modern Hollywood history, it seems as if at least one actor on "Furiosa" found himself in very similar waters. Chris Hemsworth has played gods, alien-hunting government agents, and a black market mercenary or two during his successful career ... but none quite compared to the difficulties of figuring out how to play a warlord in George Miller's "Mad Max" prequel.
While appearing as a guest on Josh Horowitz's "Happy/Sad/Confused" podcast (via Entertainment Weekly), Hemsworth opened up about how different this experience was from his usual process:
"Often I get a script and I know from the first read, the second read, I know who the character is and I get an instant, sort of, visceral feeling attached to it, like, 'Alright, I've got it.' This, I had read two years before I started shooting and was in awe of the script. It was the most beautiful thing I've read. I love George Miller — but I didn't know who this character was."
Little else in the business can induce a sinking feeling in a performer quite like this, to say the least. Luckily, Hemsworth managed to regain his footing once he, the cast, and Miller all settled into rehearsals. "We did about four weeks of rehearsals, and we started digging in and diving into it, and things started coming to me. And then, about two weeks prior to shooting, something clicked. I went, 'Ooh! Ooh. I think that's who it is. I think that's how he moves.'"
'I'm gonna derail one of the most iconic franchises'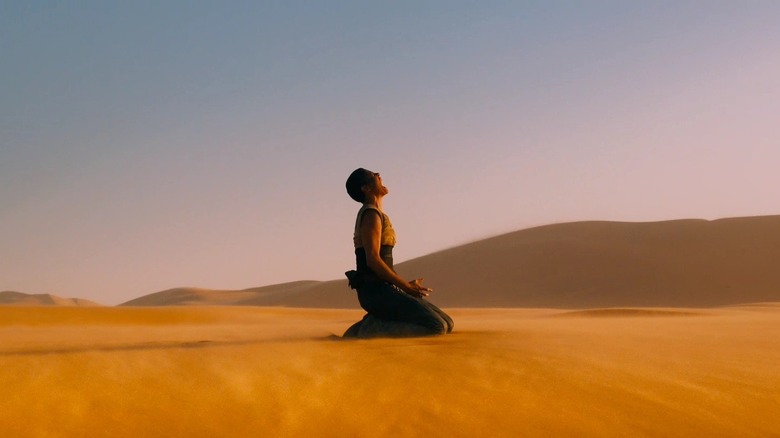 Warner Bros. Pictures
See, even one of the most recognizable name-brand actors currently working in the industry can be plagued by feelings of panic and self-doubt. He's just like us! It's hard to imagine a worse feeling for Chris Hemsworth than watching the calendar tick closer and closer to the start of production, yet still struggle to grasp exactly what kind of character he's meant to portray.
The actor went on to detail just how much of a toll this stress took on him — not just for a few weeks or months, but for two full years between receiving the script and the beginning of filming on "Furiosa:"
"But, in the buildup, and I'm talking a couple years, I was scared out of my mind. I'm like, 'I'm gonna derail one of the most iconic franchises.' I'm gonna bring down 'Mad Max.' It's gonna be my fault."
In many ways, this reaction feels incredibly reminiscent of Tom Hardy's reaction to being cast as Mad Max himself, taking over for star Mel Gibson (as detailed extensively in Kyle Buchanan's "Blood, Sweat & Chrome: The Wild and True Story of Mad Max: Fury Road" oral history novel). But while Hardy would then be subjected to a punishing shoot (though, admittedly, he didn't exactly help improve things, either), Hemsworth has nothing but glowing praise for his experience in the Australian desert with Miller, his crew, and the cast, fondly remembering it as "the best experience of my career" and "something I'm the most proud of, too."
"Furiosa" is slated to peel into theaters on May 24, 2024.