If You Think Nothing Is Happening On The White Lotus Season 2, You're Not Paying Attention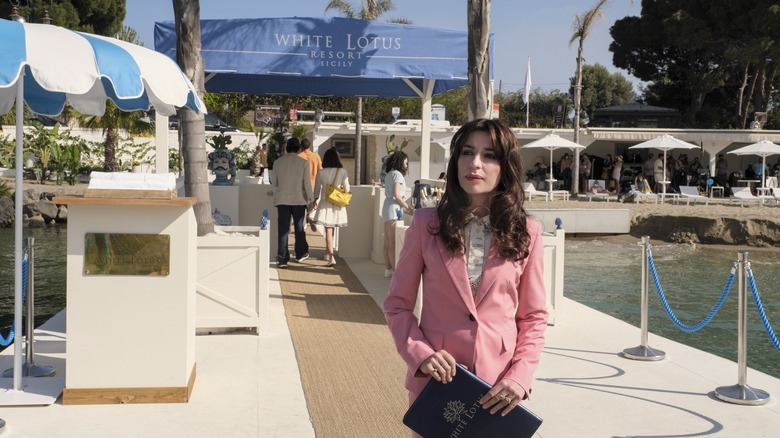 HBO
Both seasons of "The White Lotus" kick off with a bang. A flash-forward reveals a mysterious murder at the end of a week-long vacation at the high-end resort. The first season was set in Hawai'i and focused heavily on themes of colonialism and class divides. The second season, set in Sicily, turns its attention to sex, romance, and "The Godfather."
Tensions are still running high among the guests at The White Lotus in season 2. Two agents of chaos, Lucia and Mia, run amok through the resort, and now, almost halfway through the season, every major relationship has been questioned. Family dynamics across generations are threatening to be ripped at the seams, budding romances are cut off before they can truly take shape, and marriages that once seemed perfect start to reveal their cracks. "It definitely feels like 'White Lotus,' [but] the theme is different," series creator Mike White explained to Deadline. "It's not about power dynamics, more men and women and sexual politics."
Trouble is definitely brewing in paradise, but not everyone sees it yet. Some viewers feel that the season is suffering from a "creeping timidness," per Vulture. Season 1 was a drug-fuelled stress dream, but season 2 is a slow-burning drama with just as much passion and pressure as the first. Season 1 led with so much conflict out of the gate that tensions had begun to diffuse by the time the death was finally revealed, but season 2 has learned from the mistake and is taking its sweet time to let things truly unfold.
Tensions are boiling under the surface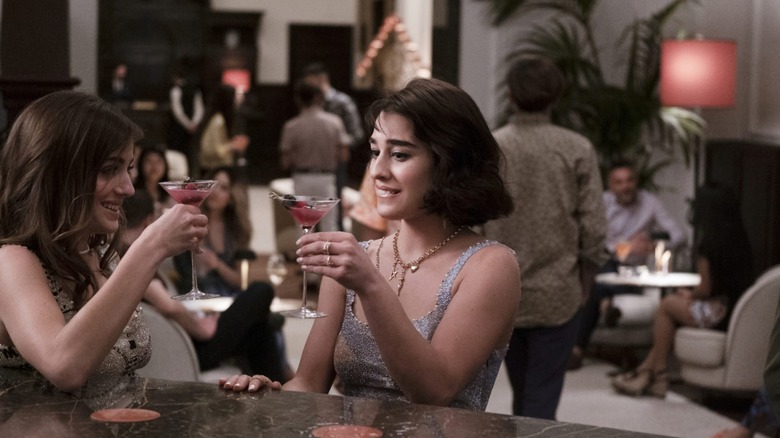 HBO
So, what has happened so far in season 2 of "The White Lotus?"
Right off the bat, we learn that the returning character Tanya, played by Jennifer Coolidge, is already having issues with her new husband. He monitors her eating habits, makes mysterious phone calls, and disappears for "business" in the middle of their romantic getaway. She doesn't totally trust him and brings along her assistant, Portia, who gets into her own set of mischief.
At first, Portia entertains a date with Albie, a nice Italian-American guy visiting his mother country with his father and grandfather so that they might reconnect with their Sicilian heritage. His blood doesn't run hot enough for Portia, though, and she quickly turns her attention to a tattooed British boy on vacation with his uncle. The uncle and his friends, a group of older gay men, take an interest in Tanya that seems totally pure. But none of the guests at The White Lotus ever have pure intentions — do they?
Albie's vacation promises to be stressful even without Portia. His father's infidelity is tearing his family apart and he is trying desperately to keep the peace. His father gets involved with Lucia and Mia on his first night but inevitably decides to curb his sex addiction and avoid them for the duration of the trip. In search of a new client, Lucia sets her sights on Albie, who doesn't realize she is a sex worker. With Albie unknowingly caught in a twisted love triangle with his own father, it's unclear exactly how his grandfather will work his way into the equation, but it's doubtful that he is totally innocent either.
Sex, romance, and reasons to murder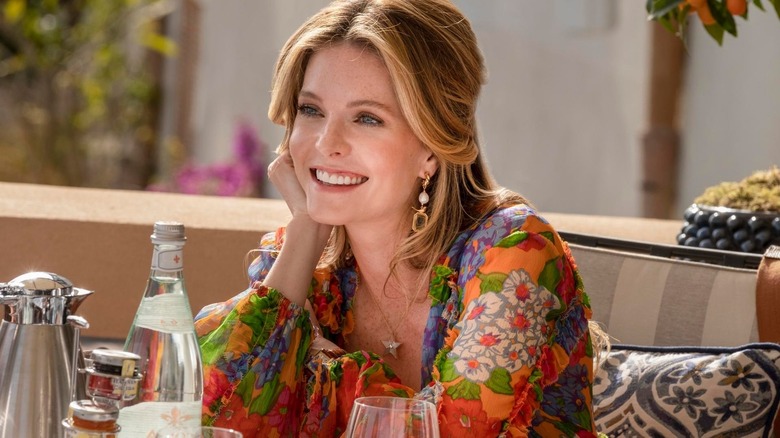 HBO
We know multiple people end up dead in "The White Lotus" season 2, so this begs the question — who is the most likely to get murdered, and who is likely to do the killing?
We know that Daphne Sullivan makes it to the end of the season because she is the one who inevitably discovers the dead bodies. Daphne and her husband Cameron are vacationing with Ethan and Harper Spiller, a comparably unhappy couple. When Daphne whisks Harper away overnight, she reveals that Cameron frequently cheats on her, and Cameron's flippant attitude towards infidelity is almost enough to convince Ethan to join him. He invites Lucia and Mia back to Ethan's room and a clue is left behind that sews seeds of resentment between both couples.
Mia, meanwhile, is plotting to become the hotel lounge singer, who provides the backdrop of each contentious dinner scene. Her determination may have already killed the piano player, whom she gave a mysterious set of pills. With the pianist out of the picture, she can set her sights on the woman in charge — the hotel manager. Unlike the last season, the hotel manager is seen in the flash-forward, so we know she is not one of the bodies that wash onto the shore. That means that this season it will probably be one of the guests — or Lucia and Mia — that end up dead.
If you feel like nothing has happened so far in "The White Lotus" season 2, stop to take stock of the drama surrounding you. Perhaps the show is suffering from a slow-burning pace, where the first season was firing on all cylinders from episode 1 onward. Binge culture has made us impatient viewers, but ask yourself — is season 2 really less dramatic than season 1, or is it just more subtle?