The White Lotus Stars Jennifer Coolidge And Jon Gries Didn't Know They'd Be Coming Back Until They Got A Call From Mike White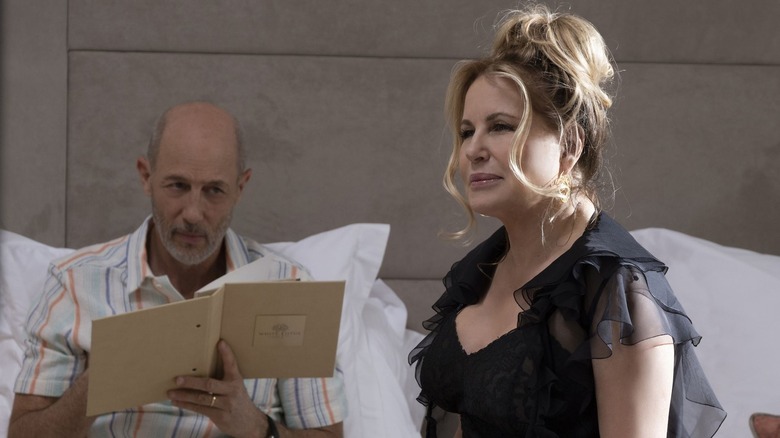 HBO
One of the stars of the first season of "The White Lotus" was undoubtedly Jennifer Coolidge's Tanya, an unstable heiress who struggles with personal relationships. Coolidge puts in a very funny performance as the mercurial vacationer, acting as a sort of comedic anchor for the show at times. When the first season closed out with Tanya deciding to shack up with Jon Gries' BLM (Bureau of Land Management) guy, Greg, it seemed like the character was riding off into the sunset with a relatively happy ending.
But apparently, Tanya and Greg's stay at The White Lotus isn't done just yet. When Coolidge's return to the show for its second season was announced, I was thrilled. I figured there'd be at least some carry-over from the first season, even knowing the series' second outing would focus on a brand-new set of characters and stories. Considering her main competition for my favorite character, Armand, wasn't an option (RIP), Tanya was definitely the character I most wanted to see back. Now, Tanya and Greg are back at a White Lotus resort, this time visiting Italy with a new assistant and many new relationship problems in tow.
But according to a recent Collider interview, Coolidge and Gries didn't know they'd be returning for the show's second season until they were directly asked by creator and "Survivor" runner-up, Mike White.
A fateful text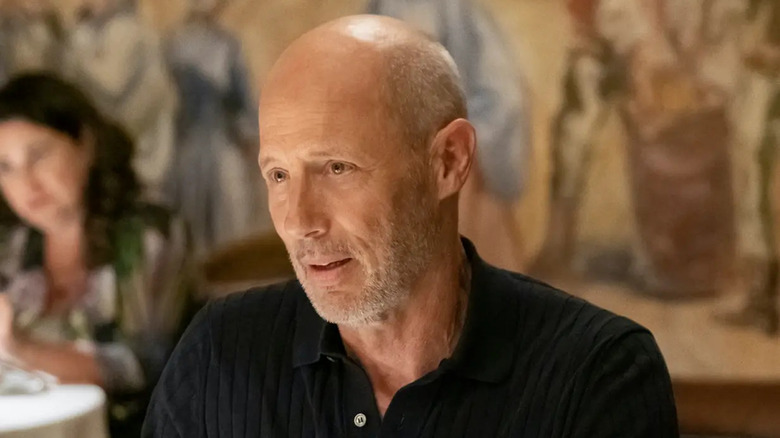 HBO
After one episode, Jennifer Coolidge and Jon Gries have already made quite an impact on the second season of the show, including one very amusing sex scene. However, according to the Collider story, the two had no idea they'd ever return to the show. "There was no mention of [returning for Season 2] when we were doing Season 1," said Gries. "I think maybe Mike White might have said it in passing like, 'If there's a Season 2, if we get that lucky...'"
In the end, they were that lucky, and they both got the opportunity to reprise their roles, even if it arrived without warning. For Gries, all it took was a text message:
"He texted me. I was eating in a café and I looked down at my phone, and there was a text from him saying, 'Are you available in May? I'm writing your character back in, and if you're not available, I don't wanna write it.' That's how simple it was. I said, 'I'm there. Doesn't matter, I'll be there no matter what.'"
It's a testament to Gries' trust in White's writing that he agreed so quickly. His character, Greg, wasn't even that fully fleshed out in the first season, so it'll be very interesting to continue to leer into the depths of the man who fell for Tanya McQuoid.
More Tanya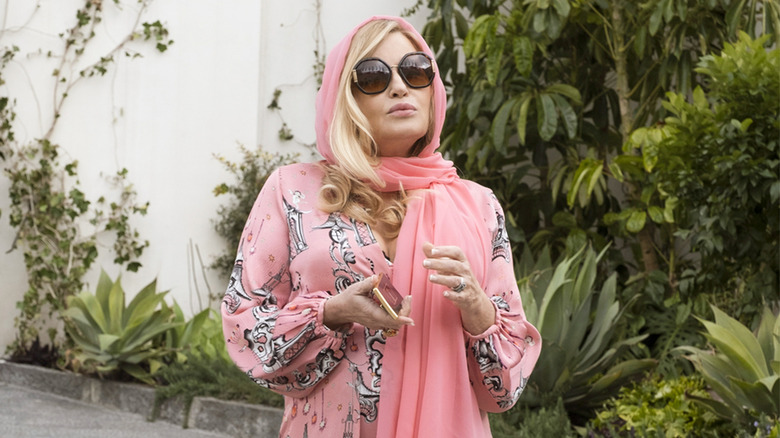 HBO
For Jennifer Coolidge, who seems to have enjoyed the character of Tanya as much as any of us, returning was also an easy choice, as she explained in the interview:
"Someone asked me once, if I would rather have been a new character and come in as a whole new person, and I have to say that Tanya, as a character, was really cool. She was so burdened with her incredible despair and depression with the loss of her mother, and she was grieving so much of the time, that I felt like you barely even got to know who she is. But who is she, beyond that? So, when Mike offered Tanya again, I would have been an idiot to say no. I loved the storyline of this season, once I found out what it was."
While Tanya is clearly an extremely emotional person, the first season did catch her at a particularly emotional point in her life. Now that things have seemingly settled down a bit for her and Greg, I'm thrilled to see what the two get up to now that they're in Sicily. Hopefully, it yields the same great results as the show's fantastic first season, and with yet another dynamite cast of actors, it seems certain.