The Best TV Shows And Movies Coming To Netflix In December 2022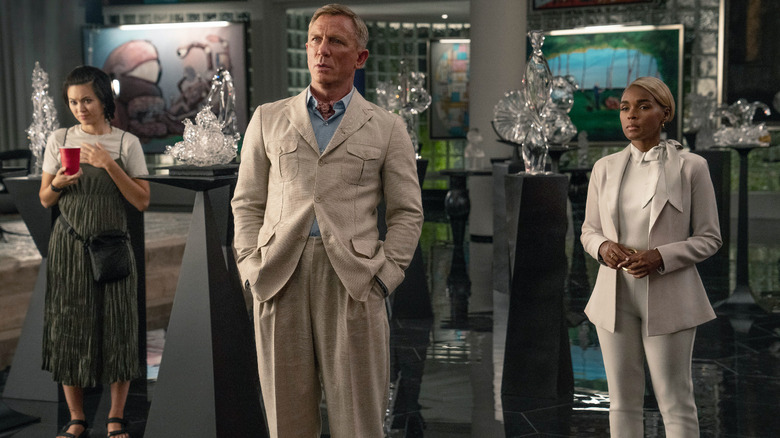 Netflix
The winter holidays are rapidly bearing down upon us, so what better way to get into the festive spirit than by streaming, er, Denis Villeneuve's dramatic thriller "Prisoners"? Luckily, for those who are not in the mood to watch Hugh Jackman brutalize Paul Dano for two-and-a-half hours (or maybe you are in the mood for just that, I'm merely the messenger), there are plenty of alternate options to choose from on Netflix this December.
In keeping with tradition, the final month of 2022 will see an eclectic mix of genre films and TV series make their way onto the streamer, along with more than a few awards season hopefuls. The latter group's ranks include a new screen take on D.H. Lawrence's classic erotic novel "Lady Chatterley's Lover" and a movie adaptation of "Roald Dahl's Matilda The Musical." Then there are the latest films from multi-hyphenates Alejandro G. Iñárritu ("BARDO, False Chronicle of a Handful of Truths") and Noah Baumbach ("White Noise"), on top of a pair of much-buzzed-about director-driven features that we will get to later.
Not your cup of tea? Other choices include the animated series "Sonic Prime" and "Dragon Age: Absolution," along with the newest season of "Emily in Paris" (which is not to suggest those three shows have much in common ... assuming I'm not very confused as to what "Emily in Paris" is actually about). Those who skipped seeing the action/comedy "Bullet Train" can also catch that on Netflix in the coming weeks and/or perhaps go with what looks to be a deeply moving documentary about Robert Downey Jr.'s late father (the underground filmmaker Robert Downey Sr.) in the form of "Sr."
Here's everything coming to Netflix in December 2022, starting with some top picks.
Troll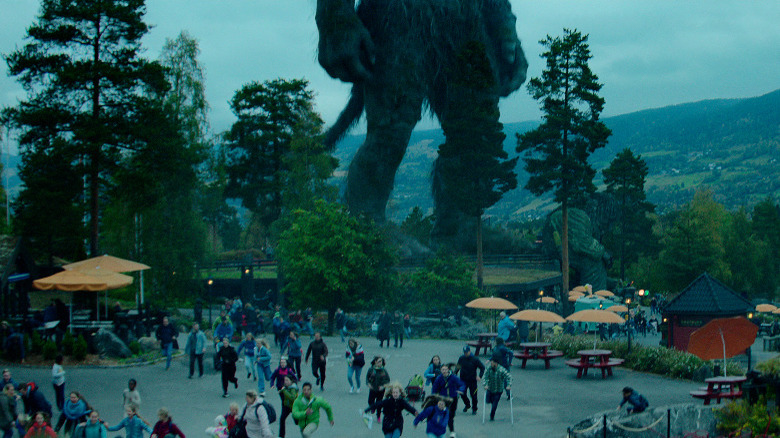 Netflix
Norwegian filmmaker Roar Uthaug emerged as a talent to watch with his 2015 movie "The Wave," a formulaic yet confident disaster thriller that forgoes the silliness of Roland Emmerich for something with more dramatic heft. Uthaug made the transition to Hollywood after that with 2018's "Tomb Raider," a grounded reboot that certainly has its moments but is pretty rocky as a whole. Luckily, he appears to be getting back to his humanist genre roots with his newest film, "Troll."
The trailer for "Troll" presents the film as being akin to a kaiju movie with a Norwegian twist, similar to "The Wave" and its spin on the natural disaster sub-genre. Story-wise, the film pits a pack of human heroes against a colossal troll that's been trapped in a rocky state for the past thousand years deep inside the mountain of Dovre. Upon awakening, the giant creature sets out to wreak havoc on Norway's capital, most likely because a bunch of greedy humans created some sort of environmental catastrophe that led to it being woken up in the first place. Really, is that ever not the case in these types of situations?
Emily the Criminal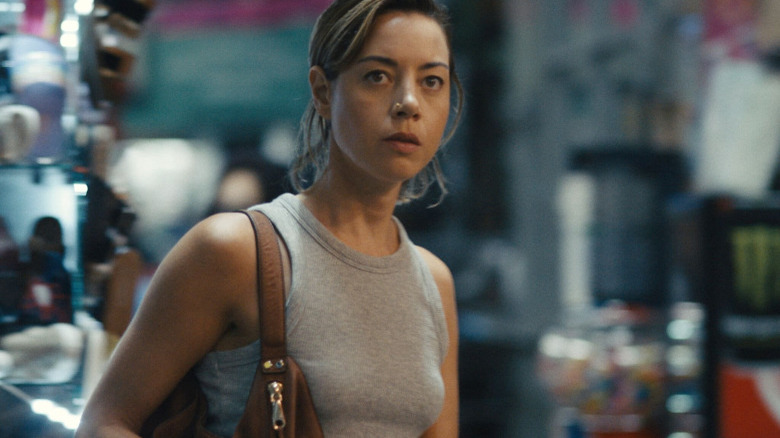 Vertical Entertainment/Roadside Attractions
What better way to counteract the inescapable consumerism of the winter holidays than watching an anti-capitalistic thriller starring Aubrey Plaza? The "Parks and Recreation" and "The White Lotus" actor plays the titular character in "Emily the Criminal," a film about a woman drowning under the weight of her student debt and struggling to secure a legit (read: legal) job due to her minor criminal record. When she agrees to become a "dummy shopper" — a gig that involves using stolen credit cards to buy pricey items and then selling them for a profit — it's not long before Emily finds herself going from part-time crook to a larger player in the world of black market capitalism.
/Film's Chris Evangelista had mostly good things to say about "Emily the Criminal" when he caught the film at Sundance, declaring first-time feature writer/director John Patton Ford's thriller "a 'Scarface' for people who work at DoorDash, with capitalism as the film's Big Bad." Sounds like a pretty perfect remedy for all the forced cheer of the holiday season, no?
Guillermo del Toro's Pinocchio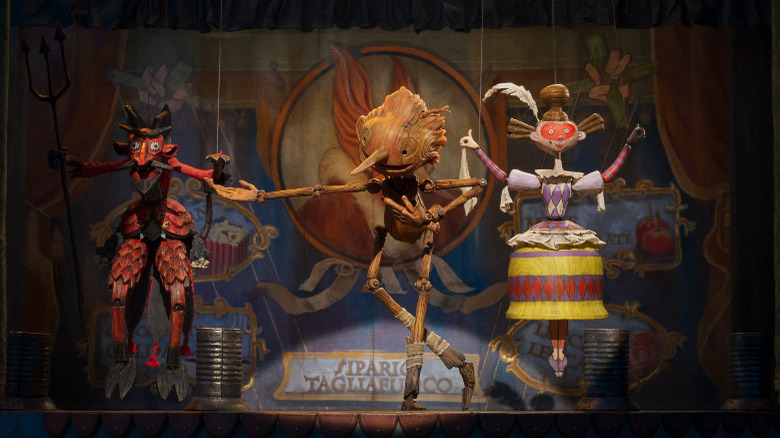 Netflix
I've been waiting to see "Guillermo del Toro's Pinocchio" since I first wrote about it professionally all the way back in 2010. After years of stop-and-go progress, including a period of time in which it seemed like the movie wouldn't happen at all, the "Pan's Labyrinth" and "The Shape of Water" filmmaker is finally ready to unveil his spin on Carlo Collodi's famous 19th-century fairy tale. Except, in this version of the story, the titular enchanted puppet undergoes his quest to become a human boy against the malign backdrop of Fascist Italy during the 1930s: A time and place where his knack for misbehaving might just be the best thing he has going for him.
Early critical buzz is strong for the film, especially when it comes to the astonishing stop-motion visuals crafted by del Toro, his co-helmer Mark Gustafson (the animation director on "Fantastic Mr. Fox"), and their many, many animators. In her own enthusiastic review, /Film's Hannah Shaw-Williams spoke highly of the film's story, stating that it's not a "dark" take on "Pinocchio" so much as "a challenging one — refreshingly so, with knotty, complex questions and real peril."
Glass Onion: A Knives Out Mystery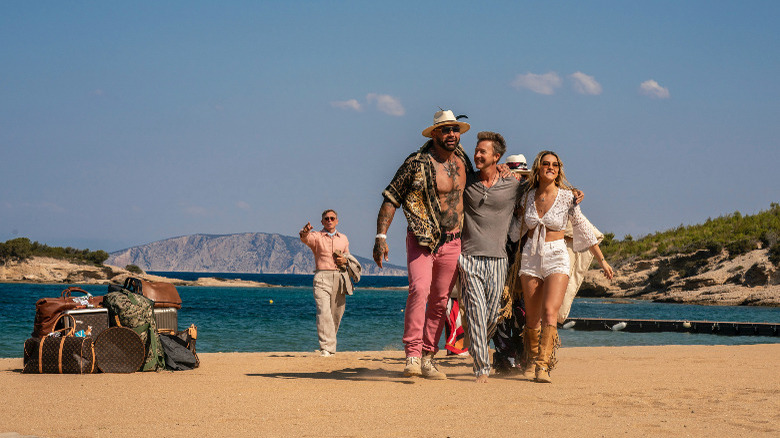 Netflix
Three years after bringing the whodunit roaring back to life with "Knives Out," writer/director Rian Johnson is back with "Glass Onion: A Knives Out Mystery." The movie follows Daniel Craig's well-dressed Southern sleuth, Benoit Blanc, on a trip to Greece as he takes on a new case, this one involving murder and a fresh pack of shady, wealthy suspects. It's more or less a sequel in the vein of Agatha Christie's Hercule Poirot stories, giving a whole different cast of actors — including Edward Norton, Janelle Monáe, Kathryn Hahn, Dave Bautista, Leslie Odom Jr., and Kate Hudson — a chance to chew the scenery and (sort of) match wits with Craig's daffy private detective this time around.
While "Knives Out" set a high bar for its follow-up, /Film's Chris Evangelista feels "Glass Onion" actually surpasses its much-admired predecessor, writing in his review:
"Knives Out" was plenty funny, but "Glass Onion" is loaded with huge belly-laugh moments and the types of ultra-clever jokes that will make you want to cheer. What I'm getting at here is that this Rian Johnson fellow is very good at making movies.
The Witcher: Blood Origin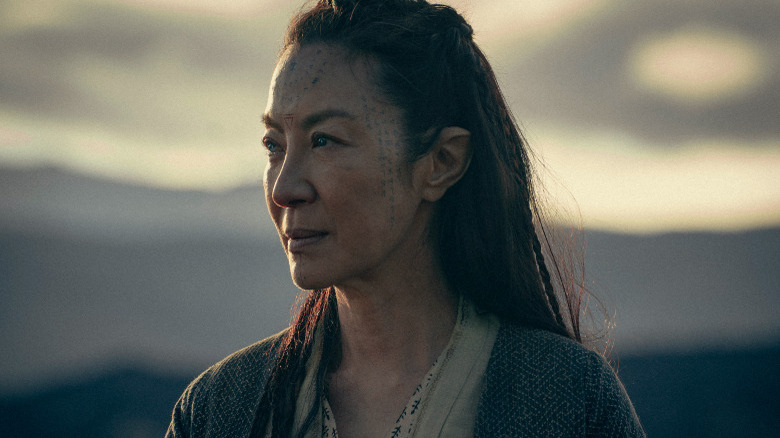 Netflix
What even is "The Witcher" without Henry Cavill playing everyone's favorite grunting, grumpy monster hunter dad Geralt? We'll get the answer to that question when the actor departs the show after its third season in 2023, but in the meantime, Netflix intends to keep barrelling full-speed ahead with expanding its wildly-popular fantasy adventure franchise. Up next? "The Witcher: Blood Origin," a miniseries about both the creation of the first Witcher and the Conjunction of the Spheres: A mysterious event that transpired 1,200 years prior to the events of its parent show, causing the worlds of humans, elves, and monsters to merge and form the Continent.
Michelle Yeoh leads the "Blood Origin" cast as a sword-swinging elf on a high-stakes mission, which might be incentive enough to check this one out on its own. Thanks to Peter Jackson and his "Lord of the Rings" films, I'm doomed to want to watch archetypical fantasy characters as they undertake epic quests against scenic backdrops every December, and in recent years "The Witcher" has very much scratched that itch for me. Fingers crossed, "Blood Origin" will do the trick in 2022.
Movies and TV shows coming to Netflix in December 2022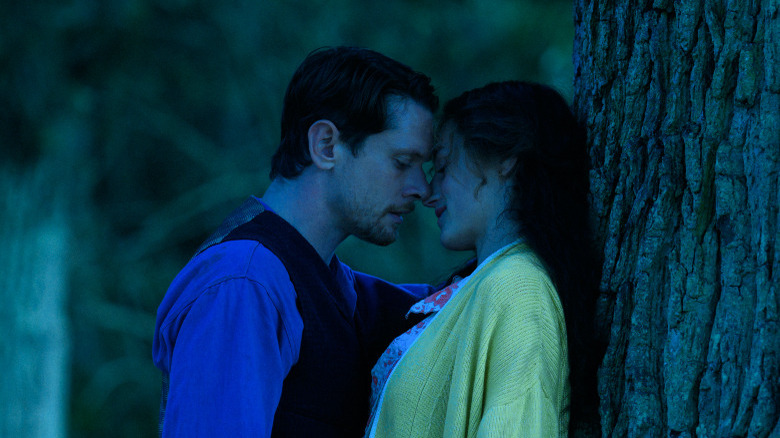 Netflix
Available December 1, 2022:
Dead End
JoJo's Bizarre Adventure: Stone Ocean: Season 1 Episodes 25-38 The Final Episodes
The Masked Scammer
Qala
Troll
21 Jump Street
Basketball Wives: Season 1
Basketball Wives: Season 2
Coach Carter
Forged in Fire: Knife or Death: Season 1
Hachi: A Dog's Tale
The Happytime Murders
LEGO Friends: Holiday Special
Love Island USA: Season 3
Meekah: Season 1
My Girl
Peppermint
Troy
Available December 2, 2022:
Big Brother: Season 10
Big Brother: Season 14
Firefly Lane: Season 2 Part 1
Hot Skull
Lady Chatterley's Lover
My Unorthodox Life: Season 2
Scrooge: A Christmas Carol
"Sr."
Supermodel Me: Revolution: Season 1
Warriors of Future
Available December 3, 2022:
The Best of Me
Bullet Train
Available December 4, 2022:
The Amazing Race: Season 17
The Amazing Race: Season 31
Available December 5, 2022:
Mighty Express: Mighty Trains Race
Available December 6, 2022:
The Boss Baby: Christmas Bonus
Delivery by Christmas 
Sebastian Maniscalco: Is It Me?
Available December 7, 2022:
Burning Patience
Emily the Criminal
I Hate Christmas
The Marriage App
The Most Beautiful Flower
Smiley
Too Hot to Handle: Season 4
Available December 8, 2022:
The Elephant Whisperers
In Broad Daylight: The Narvarte Case
Lookism
Available December 9, 2022:
CAT
Dragon Age: Absolution
Dream Home Makeover: Season 4
Guillermo del Toro's Pinocchio
How to Ruin Christmas: The Baby Shower
Money Heist: Korea – Joint Economic Area Part 2
Available December 10, 2022:
Alchemy of Souls: Season 1 Part 2
Prisoners
Available December 13, 2022:
Gudetama: An Eggcellent Adventure
Last Chance U: Basketball: Season 2
Single's Inferno: Season 2
Tom Papa: What A Day!
Available December 14, 2022:
Don't Pick Up The Phone
Glitter
I Believe in Santa
Kangaroo Valley
Too Hot to Handle: Season 4
Available December 15, 2022:
The Big 4
The Hills: Season 1
The Hills: Season 2
Sonic Prime
Violet Evergarden: Recollections
Who Killed Santa? A Murderville Murder Mystery
Available December 16, 2022:
A Storm for Christmas
BARDO, False Chronicle of a Handful of Truths
Cook at all Costs
Dance Monsters
Far From Home
Paradise PD: Part 4
Private Lesson
The Recruit
Summer Job
The Volcano: Rescue from Whakaari
Available December 18, 2022:
Available December 19, 2022:
Available December 20, 2022:
A Not So Merry Christmas
The Seven Deadly Sins: Grudge of Edinburgh Part 1
Available December 21, 2022:
Disconnect: The Wedding Planner
Emily in Paris: Season 3
I AM A KILLER: Season 4
Available December 22, 2022:
Alice in Borderland: Season 2
Mathieu Dufour at Bell Centre
Available December 23, 2022:
Glass Onion: A Knives Out Mystery
Piñata Masters!
Available December 25, 2022:
After Ever Happy
Daughter From Another Mother: Season 3
Roald Dahl's Matilda The Musical
Time Hustler
The Witcher: Blood Origin
Vir Das: Landing
Available December 26, 2022:
Available December 27, 2022:
Chelsea Handler: Revolution
Available December 28, 2022:
7 Women and a Murder
A Night at the Kindergarten
The Circle: Season 5
Stuck with You
Available December 29, 2022:
Brown and Friends
Rise of Empires: Ottoman: Season 2
Available December 30, 2022:
Alpha Males
Chicago Party Aunt: Part 2
Secrets of Summer: Season 2
White Noise
Available December 31, 2022:
Best of Stand Up 2022
Lady Voyeur