Lady Chatterley's Lover Trailer: Netflix And Chill With A Steamy D.H. Lawrence Adaptation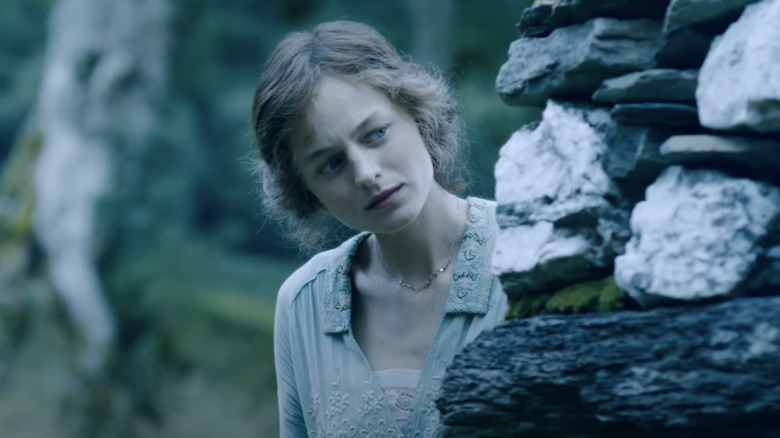 Netflix
The trailer for Netflix's upcoming film adaptation of the literary classic, "Lady Chatterley's Lover," is here, and like the controversial D.H. Lawrence novel from which it's adapted, things get a little hot and heavy in it. There's more than one pair of bared buttocks, and you may or may not glimpse an "unhappily married aristocrat" straddle the "gamekeeper on her husband's country estate," as Netflix describes the couple.
"Lady Chatterley's Lover" stars Emma Corrin, who was nominated for an Emmy for their portrayal of Princess Diana in season 4 of "The Crown." Jack O'Connell co-stars and the movie is helmed by Laure de Clermont-Tonnerre, who was nominated for an Independent Spirit Award for her 2019 directorial debut "The Mustang." Oscar nominee David Magee ("Finding Neverland") handles the scripting duties based on Lawrence's book.
For those unfamiliar with the novel, "Lady Chatterley's Lover" was Lawrence's final book before his death in 1930 at the age of 44. It was banned for obscenity in the U.S., Canada, Australia, Japan, and India, and became the subject of an obscenity trial in the U.K., where it was not officially published until 1960. Corrin's character, the titular Lady Chatterley, has a husband who suffers paralysis from the waist down due to a World War I injury, which leaves her sexually unfulfilled until she begins a torrid affair with the gamekeeper. Needless to say, they didn't have the MPA rating system in Lawrence's day, but "Lady Chatterley's Lover" is rated R and the trailer for it could be considered mildly NSFW.
Lady Chatterley's Lover trailer
"Lady Chatterley's Lover" has been making the rounds on the festival circuit this fall, having premiered at the Telluride Film Festival back in early September. The movie currently boasts a 92% rating on Rotten Tomatoes, and if nothing else, it looks like the kind of film tailor-made for the concept of Netflix and chill, whereby you relax with a partner for some streaming entertainment with the potential for real-life romance (not unlike Lady Chatterley, entering the gamekeeper's cottage under polite pretenses). 
"Who do you think's taking care of her while she takes care of you?" The gamekeeper: that's who.
Here's the official synopsis for "Lady Chatterley's Lover" via Netflix:
Connie, born into wealth & privilege, finds herself married to a man she no longer loves. When she meets Oliver, the estate's gamekeeper, their secret trysts lead her to a sexual awakening. She faces a decision: follow her heart or return to her husband and endure what society expects of her.
"Lady Chatterley's Lover" is due out on December 2, 2022.