Quentin Tarantino's Final Film Will Be An Entirely Original Story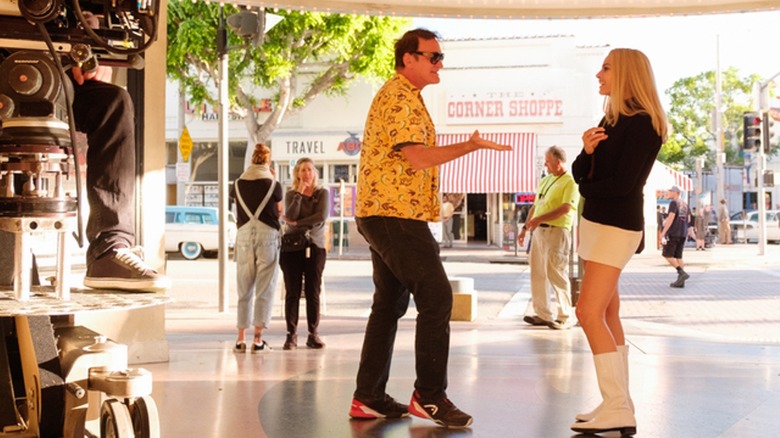 Sony
If you wish to be a writer, write. Quentin Tarantino has always considered himself a writer first and a filmmaker second. With his long-rumored tenth and final film on the horizon, and his newfound life as a family man, Tarantino is finally starting to wind down the purring motors of his director mind in order to transition to a more sedentary lifestyle as an author. Speaking to Rolling Stone's Peter Travers when his ninth film,"Once Upon A Time in Hollywood," was nominated for 10 Oscars in 2020, Tarantino shared his vision for the next phase of his career.
"I kind of feel this is the time for the third act [of my life] to just lean a little bit more into the literary, which would be good as a new father, as a new husband," he reflected. "I can be a little bit more of a homebody, and become a little bit more of a man of letters." With his new novel, "Cinema Speculation," out now, Tarantino recently sat down with critic Elvis Mitchell in New York City during a lengthy book tour. Tarantino likes to write, but he loves to talk, telling Mitchell (via IndieWire) that his final film will be based on an entirely new, original screenplay.
That's good news for fans who maybe weren't too enamored with the idea of a third "Kill Bill" film that would have seen Vernita Green's (Vivica A. Fox) daughter Nikki Bell hunting down The Bride (Uma Thurman) to avenge her mother's death. Technically, Tarantino could probably get away with calling a potential "Kill Bill 3" an original work, but speculatively speaking, that's probably not what he has in mind.
The film adaptation that never was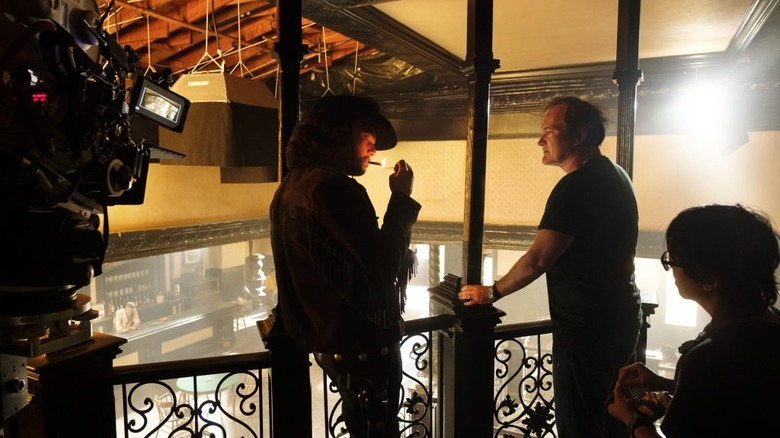 Sony
Still, the opportunity to contemplate what Tarantino's last movie would look like is fun to talk about, just as it's enjoyable for Tarantino to ponder and endlessly tease his fans about the subject. Will the pop culture auteur direct a horror movie? A "Star Trek" movie? Or perhaps a reunion with Timothy Olyphant to lens a sequel series to "Justified?" One thing Tarantino did confirm during the discussion with Mitchell is that he had been tempted to adapt Elmore Leonard's 1985 noir novel "Stick" after transforming the pulp author's "Rum Punch" into "Jackie Brown." 
Cliff Booth (Brad Pitt) in "Once Upon a Time in Hollywood" was also inspired by "Stick" according to Tarantino. Interestingly, Burt Reynolds directed and starred in a film version of "Stick" already. Reynolds was originally set to play ranch owner George Spahn in "Once Upon a Time in Hollywood" before Bruce Dern assumed the role after Reynolds's untimely death. If Reynolds had appeared, that could have been another subtle homage to Elmore Leonard's novel.
Tarantino also announced during the conversation that he has plans to shoot a TV series sometime next year, so his original "magnum opus" is probably still a ways away from seeing any real development. As far as Tarantino as a "man of letters," "Cinema Speculation" is the first book in a two-book deal with HarperCollins, so it will also be fascinating to see what shape the second novel takes. Tarantino also considered remaking "Reservoir Dogs" or adapting it as a play at one point as well. "I won't do it, internet, alright, but I considered it."