Quentin Tarantino's First 'Disturbing' Movie Experience Didn't Come From A Horror Film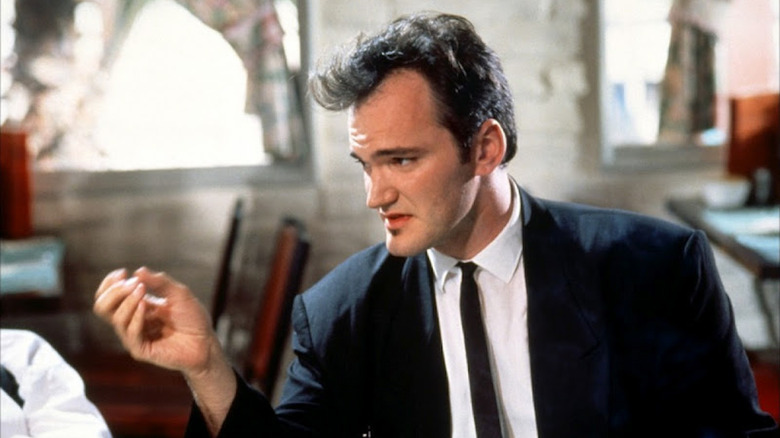 Miramax
We may receive a commission on purchases made from links.
Quentin Tarantino exploded onto the filmmaking scene in 1992 with "Reservoir Dogs," a hang-out film in which eight gangsters hole up in a warehouse after a diamond heist gone horribly wrong. His gift for profane dialogue riddled with pop-culture references was pitched straight to the wheelhouse of Gen X couch potatoes who grew up on syndicated TV series and MTV, but it was his penchant for casual brutality that drew the admiration/ire of critics and moviegoers. People were howling one second and aghast the next. Who was this weirdo? What warped his brain to such a degree that he thought people would get off on this macabrely funny collision of sensibilities?
It was, as he's explained hundreds of times throughout his career — but never more cogently than in his just-released book "Cinema Speculation" — trips to the movies. His mother partially encouraged his cinephilia, but Tarantino was largely a self-taught movie buff. 
As a kid who marveled over books stuffed with glossy photos of monsters from Murnau's Nosferatu to Hammer's Dracula, and stacks of Fangoria issues laden with the gory inventions of masters like George A. Romero and John Carpenter, I felt I'd found a kindred, blood-spattered spirit in Tarantino. What I couldn't have guessed in 1992 was that his path to grossing out audiences was rooted in the freakish death of modern dance legend Isadora Duncan.
The death of a modern dancer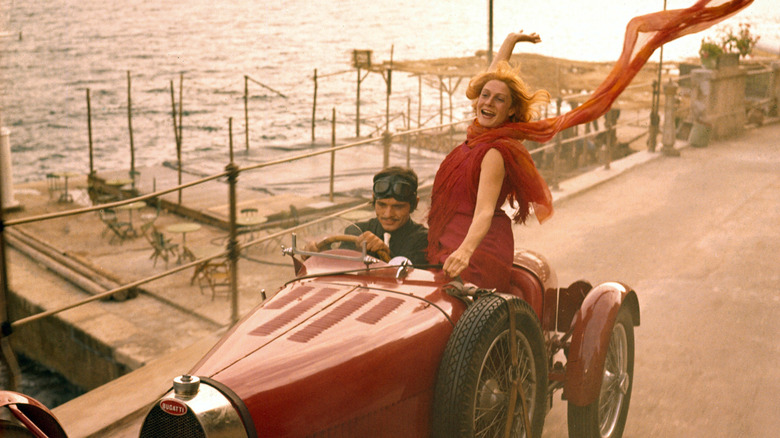 Universal
When you're young and your parents forgot to spring for a babysitter, you'd occasionally get dragged to a movie that is of zero interest to you. Tarantino experienced this at some point, presumably, in the late 1960s when his mother and stepfather took him to see Karel Reisz's "Isadora," a biopic about the aforementioned artist starring Vanessa Redgrave in the title role. I've never seen the movie, but while I adore Reisz's work as an adult (particularly "The Gambler," "Who'll Stop the Rain," and "The French Lieutenant's Woman"), I don't think I would've gotten a great deal out of the film. Save for the end.
If you don't know how Duncan died, here's how Tarantino described the final scene of Reisz's film on "Late Night with Seth Meyers":
"So, the ending is, she's in the back of a roadster and she's wearing this long, flowing scarf that's just hanging down. And– 'Ha ha ha ha ha!' They're driving around. I think she even has a champagne glass in her hand. 'Ha ha ha!' And then the scarf gets caught in the wheel of the roadster and [pantomimes choking] strangles her to death."
A young artist's violent awakening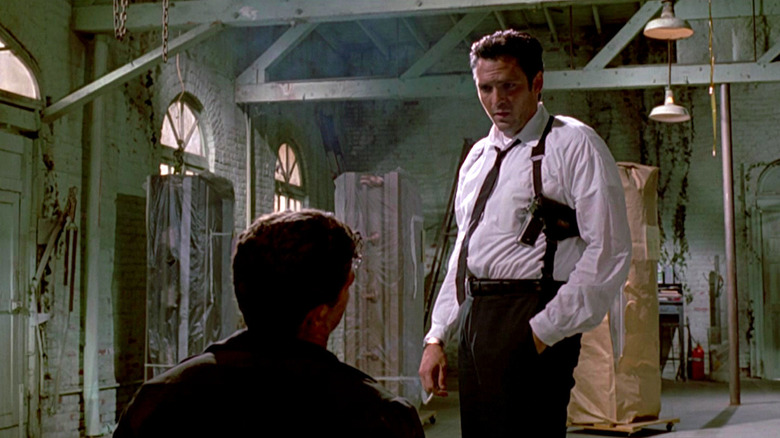 Miramax
This is a shockingly random way to exit this mortal coil, and if you don't know how Duncan died (as I'm certain a seven- or eight-year-old Tarantino didn't), this ending can only arrive as a shock. It made an immediately deep impression on a young Tarantino, who, on the way home from the film, quizzed his mother about the logistics of Duncan's dispatch. "All of a sudden, I'm so afraid of this," he told Meyers. "And my mom says, 'Quentin, you have nothing to worry about. I would never, ever, under any circumstances, let you wear a long, flowing scarf in a convertible roadster.'"
It's a long, circuitous road from Isadora Duncan's automotive strangulation to Michael Madsen slicing off the ear of a cop while dancing to Stealers Wheel's "Stuck in the Middle with You," but synapses fire in peculiar ways. We are the sum total of our childhood traumas, major and minor. Some people pick up shifts at the local Denny's, and a handful of human beings win multiple Academy Awards. None of it makes sense. It just is.