Justified: City Primeval Sets Cast, Confirms Quentin Tarantino Not Directing Pilot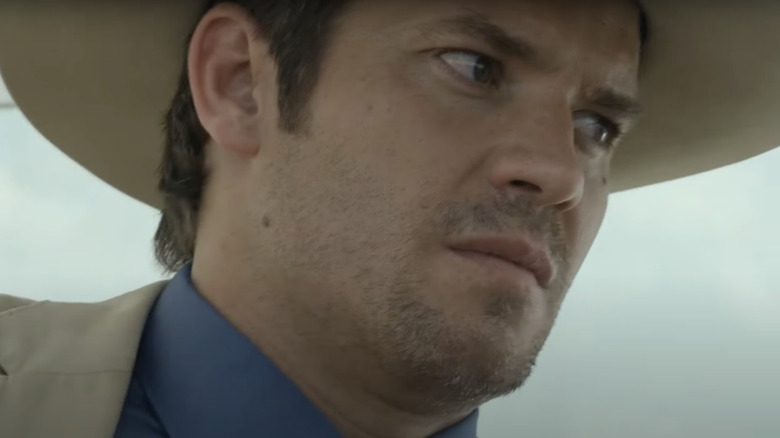 FX
"Justified: City Primeval," FX's upcoming "Justified" limited-series revival starring Timothy Olyphant, has added eight new cast members, including Boyd Holbrook ("Logan") and Aunjanue Ellis, the latter of whom received an Academy Award nomination this year for her performance in "King Richard." And though Quentin Tarantino was in talks to direct one or more episodes of the series, there's no mention of him in the latest trade reports.
"Justified: City Primeval" is gearing up to begin shooting in Chicago this week, and in late April, the Chicago-based Screen Magazine indicated that, according to its sources, Tarantino was no longer attached to the project and "Justified" alum Michael Dinner would be directing the pilot instead. Now, a new Variety report with fresh cast details would seem to confirm that Dinner is directing, though the report doesn't specify which episodes he will helm.
Dinner and Dave Andron will act as writers, showrunners, and executive producers on "Justified: City Primeval." Andron is a showrunner on FX's "Snowfall," which just wrapped up its fifth season last month. Both he and Dinner served as executive producers on the original "Justified" series, with Dinner also directing the series premiere, the season 2 finale, and the 3rd through 6th season premieres, along with a couple of other episodes throughout the show's six-season run.
In addition to Holbrook and Ellis, "Justified: City Primeval" will costar Marin Ireland ("The Dark and the Wicked") and Vondie Curtis Hall ("Daredevil," "The Night House") along with Adelaide Clemens, Norbert Leo Butz, Victor Williams, and Olyphant's own daughter, Vivian Olyphant. "Justified" creator Graham Yost will co-executive produce with co-writers Taylor Elmore and Chris Provenzano, among others.
'A walking anachronism'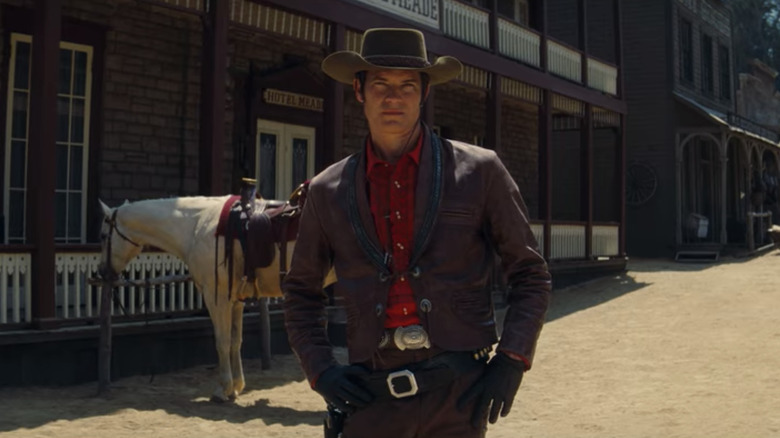 Sony Pictures Releasing
Tarantino already helmed one Elmore Leonard adaptation, "Jackie Brown," and he worked with Olyphant in "Once Upon a Time in Hollywood," so he seemed like a natural fit for "Justified: City Primeval." If he really has stepped away from the project, that's a bummer, but it's always possible, given the relative vagueness of the Variety report, that he could still be circling the project, though Screen Magazine's sources would appear to indicate otherwise.
"Justified: City Primeval," is adapted from the Leonard novel "City Primeval: High Noon in Detroit," with Olyphant's character, Raylan Givens, substituting for the book's original protagonist, Detective Raymond Cruz. Holbrook will play Clement Mansell, aka The Oklahoma Wildman, with Ellis playing Carolyn Wilder and Vivian Olyphant playing Given's daughter. Here's the synopsis:
Having left the hollers of Kentucky eight years ago, Raylan Givens now lives in Miami, a walking anachronism balancing his life as a U.S. Marshal and part-time father of a 14-year-old girl. His hair is grayer, his hat is dirtier, and the road in front of him is suddenly a lot shorter than the road behind.

A chance encounter on a desolate Florida highway sends him to Detroit. There he crosses paths with Clement Mansell, aka The Oklahoma Wildman, a violent, sociopathic desperado who's already slipped through the fingers of Detroit's finest once and aims to do so again. Mansell's lawyer, formidable Motor City native Carolyn Wilder, has every intention of representing her client, even as she finds herself caught in between cop and criminal, with her own game afoot as well. These three characters set out on a collision course in classic Elmore Leonard fashion, to see who makes it out of the City Primeval alive.
"Justified: City Primeval" does not have a release date yet, but production will reportedly last through September. We'll keep you posted.