Authenticity Was Key When It Came To The Horror Of Nanny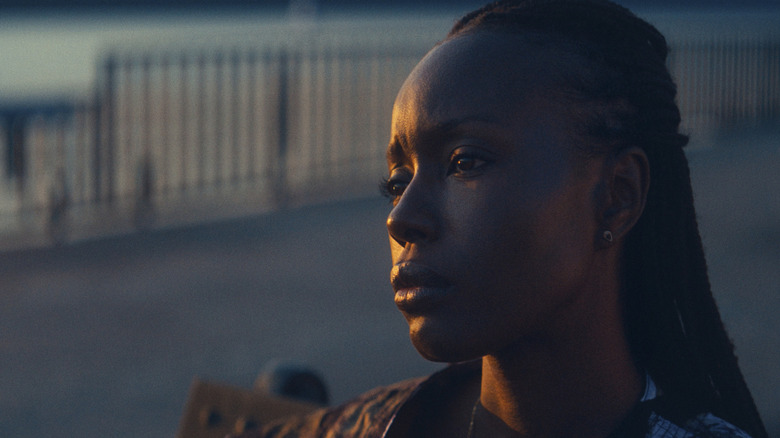 Prime Video
While the more traditional horror aspects of Nikyatu Jusu's indie horror hit "Nanny" is perhaps too spoilery to discuss right this moment, there are certainly real-life horrors that the film showcases. Seriously, some of the human interactions seen throughout the Prime Video release are more squirm-inducing and uncomfortable than any creature or jump scare. Of course, this was an intentional decision, as "Nanny" is a layered horror experience that commands your attention.
Much of the horror in the film comes from the social status of its lead, Senegalese immigrant Aisha (Anna Diop). Having left her home country to build a new life for her son Lamine (Jahleel Kamara), she experiences homesickness, uncomfortably normalized racism, and exploitation from the Upper East Side couple (Michelle Monaghan, Morgan Spector) that employ her. When speaking to MovieWeb to promote the film, Diop said that these horrific elements derived from Jusu's real-life experiences.
"Jusu has a very original point of view," she explained. "She does things in ways we aren't used to seeing. She's inspired by the truth of her experience in her life. And because of that, things come across as authentic."
Transforming experiences into art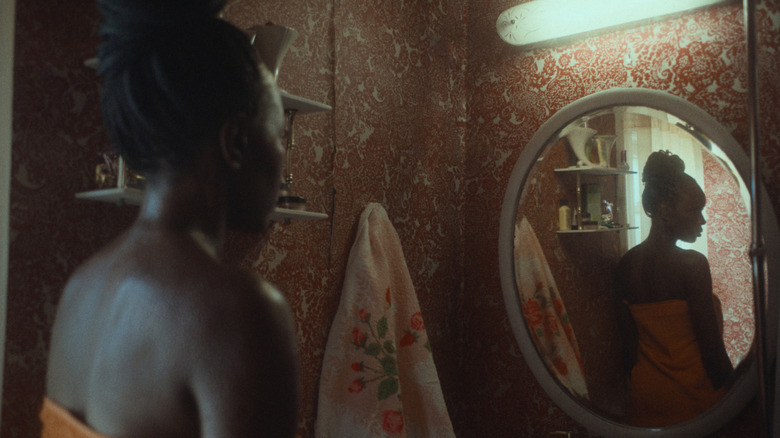 Prime Video
Jusu was born in Georgia to Siera Leonean immigrants. In an interview with The Guardian, she discussed how her mother held several different jobs, from self-publishing books to domestic care, in order to support their family. Her mother still continues to provide these services, currently working with elderly women as they "transition," as she says, into the next life.
"[Domestic care is] one of the most accessible forms of work for African women in America," Jusu explained.
However, arguably the bulk of the inspiration for "Nanny" came from Jusu's own observations. She attended New York University as a film graduate student when she began noticing a pattern with the nannies and other domestic workers in the city.
"All these Black and brown women pushing strollers along the streets," Jusu recalled. "You had the Filipino nannies here, the Jamaican nannies, the Haitian nannies. It was like the United Nations of nannies. That was the catalyst for me to begin to map out my story."
Not only did Jusu's experiences give "Nanny" the claustrophobic and alienating horror utilized in the film, but Diop did, as well. When speaking to GoldDerby, she explained how connected she felt to Aisha and her struggles. She said she wanted to do the character justice, as her story mirrored that of her real-life mother.
"The character had so many parallels to my own mother's story," she told the website, "so it was a script and a story that one, felt deeply personal, and two, was executed so well."
"Nanny" arrives in theaters on November 23, 2022, before dropping on Prime Video on December 16, 2022.