Nanny Review: Nikyatu Jusu's Haunting Parable Highlights The Pitfalls Of The American Dream [Sundance 2022]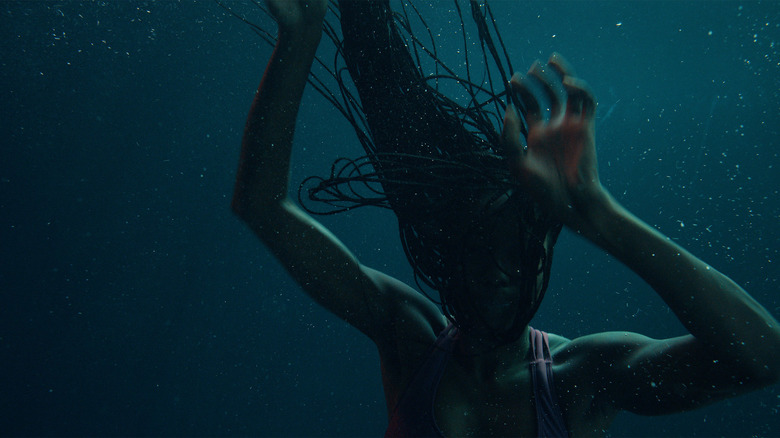 Sundance Institute
The American Dream is a longheld myth, passed between generations and shuffled across cultures. Work hard enough and your dreams will come true, the lore promises. You're the only thing standing in your way. Work harder. Do better. Be patient. But patience is a complicated luxury afforded to very few, a fact that "Nanny" deftly unpacks as it digs into the American Dream, exploring the murky depths of its reality. Armed with mythology and its evocative atmosphere, Nikyatu Jusu's directorial debut revels in slow-simmering horror, haunting with its shadows. From one angle, its a slow-burn drama about an immigrant mother's struggle to bring her son abroad. Yet at its core, supernatural horror overtakes, a lens to explore the power of myth.
Anna Diop gives a career best performance as Aisha — the mother in question — an undocumented Senagalese immigrant who lands a nanny job for a wealthy Manhattan couple. Haunted by the absence of the son she left behind in Senegal, Aisha grounds herself in determination: this well-paying job, however grating on the daily, will allow him to join her in due time. This is where patience comes in — an impossibility as time inches forward. We later learn that Aisha has been apart form her son for a year, to which another character notes "that is like a lifetime for a child." The weight of the world is on Aisha's shoulders when she nods. The distance between them threatens to overwhelm, leaving Aisha submerged in dread. And she's not the only one drowning.
In her new position, Aisha looks after Rose (Rose Decker), the daughter of a white power-couple in the midst of a collapsing marriage. In a perfect world, the job would be simple — after all, her young charge immediately adores her and Aisha is both a mother and a teacher, well equipped for the work. But Amy (Michelle Monaghan) creates trouble, jealous of their bond despite being happy to have caretaking off her plate. Clearly overwhelmed by her failing marriage and struggling to fit into the "boys club" of her high-powered office job, Amy's issues bleed into Aisha's life.
Amy has the luxury of sinking to the floor of her shower, ignoring her child and staggering home at all hours of the night, with little regard for her nanny. Aisha is left working late nights, including hours that her pay doesn't account for: Amy is yet another current, threatening to pull Aisha under. But she fights for her son, logging her hours, tracking the pay she deserves, and figuring out how to battle Amy's intangible power. In the long run, Amy is nothing compared to the ominous forces haunting Aisha's daily life.
Nanny Innovates With Lore And Form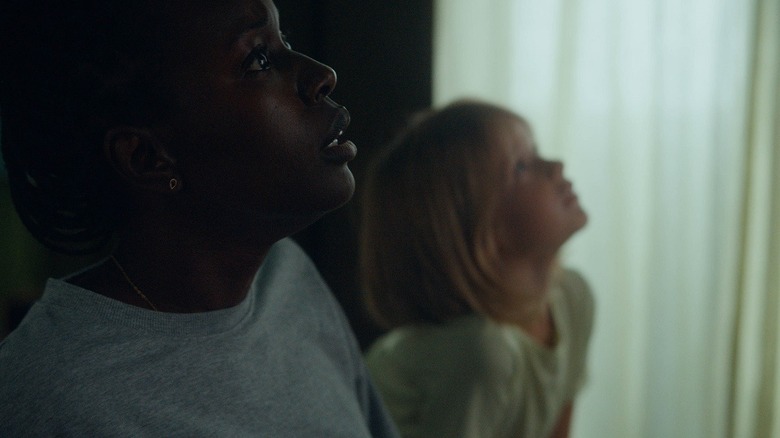 Sundance Institute
Masterfully woven into the troubling parable of "Nanny" is West African folklore — the stories of trickster Anansi and water spirit Mami Wata. Aisha manifests them in nightmares and visions. Spiders creep along her walls, and snakes slither into her consciousness, effectively distorting reality. "Nanny" is packed with aquatic imagery and Mami Wata is the culprit, calling out to Aisha, threatening to drown her in more than just despair. The film packs a punch with these visuals, the folklore a catalyst for larger themes. Jusu's narrative uses the folktakles to powerful effect, as Aisha battles the pain of her son's distance and the horrors rooted in her own past.
"Nanny" innovates with both lore and form: while American cinema often marks the immigrant experience through sallow-skinned exhaustion, this film never shies away from the power of vibrance. "Nanny" maintains its moody atmosphere, but makes room for Rina Yang's lush cinematography to shine. Even in the midst of literal horrors haunting her protagonist, Jusu finds beauty and warmth in Aisha's world. When free of the stark white walls and suffocating microaggressions of her employers' apartment, Aisha grounds herself in community. She escapes to the beauty salon, lamenting her troubles while watching a friend braid hair. She chats with two West Indian nannies offering advice. She calls home, attends birthday parties, and even finds new love with the charming Malik (Sinqua Walls), who introduces Aisha to his spiritually attuned grandmother, Kathleen (the great Leslie Uggams). In community, Aisha finds some saving grace, grounding her in the familiar even as she longs for her son.
The film doesn't always stride, at times meandering from scene to scene, but the end marks an abrupt change of pace. "Nanny" screeches into its final moments, which hit like a devastating gut punch. For a film that so cleverly lets it tension simmer, the ending lets some of the air out — though not enough to mar all that came before. Jusu centers cultural connectivity, building to a climax that hits suddenly, but is backed by its story. Despite her job piling on pressure and spirits blurring the lines between fear and reality, Aisha is resilient. The crux of the film questions her follow-through — what will Aisha's strength manifest? Will she wield rage or resistance? Still tempted by the possibility of Americas fantastical dream, the answer is a bittersweet bid for reality.
/Film Rating: 8.5 out of 10