Nanny Star Anna Diop On Taking Up Space And Perfecting Her Accent [Exclusive Interview]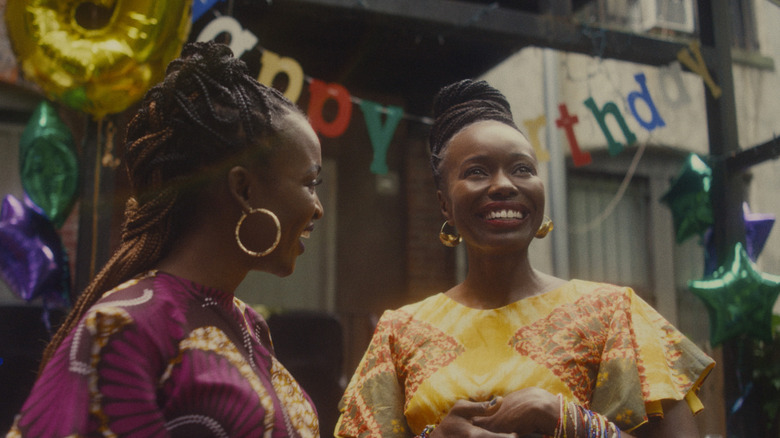 Prime Video
When it comes to Internet sweethearts, very few are doing it like Anna Diop. The Senegalese-American actress is a relative newcomer, but since breaking out in the DC Universe series "Titans," Diop has proven that she's absolutely one to watch — and one to root for. As Starfire, Diop has faced her fair share of backlash. She knows what it is to be a Black woman in America, in an industry that largely centers white narratives and feelings over marginalized voices. But support for the actress has been just as strong, and it's only grown in recent years.
Fans have advocated to see Diop pop up in the biggest franchises imaginable. Of course, the scale of the project doesn't matter so much as the chance to see Diop's potential finally realized, which makes her starring turn in the psychological thriller "Nanny" such an exciting prospect. In "Nanny," Diop plays Aisha, a young mother from Senegal who becomes a caregiver in order to make enough money to bring her son, Lamine, to the United States. Apart from the quiet hostility in her employer, Amy (Michelle Monaghan), Aisha also grapples with the guilt that comes with leaving her child behind. Both sensations manifest in unorthodox ways, culminating in a surreal, pulse-quickening performance from Diop.
On a personal level, Diop understands this story well: Her mother worked as a nanny upon immigrating to the States. The experience of an immigrant navigating the American Dream is one that Diop is incredibly grateful to have explored with writer-director Nikyatu Jusu. "Nanny" marks a partnership between two storytellers that are completely on the same page, and given Diop's history in Hollywood, it's clear she doesn't take such partnership lightly.
I recently sat down with Diop to discuss "Nanny" and the future for Black women in film and television.
'The role was nuanced and layered and full...'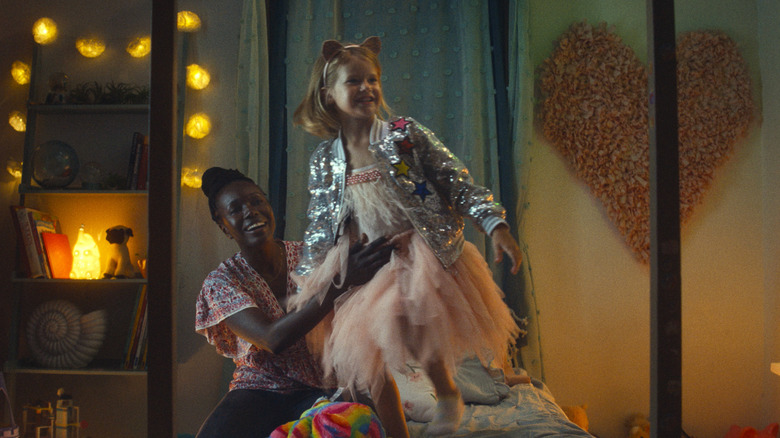 Prime Video
Let's start from the beginning. How did this project come into your path? Were you a big fan of psychological thrillers before "Nanny?"
I was a fan of Nikyatu. Someone had sent me her short film, and I watched it and was so impressed by the film, the story, how original it was. I had never seen anything like it, and so I was excited to know who this person was. And I told my agents, I was like, "Yo, there's this filmmaker. I need to meet her." But then they never set it up. And then cut to a year and a half later, "Nanny" is green lit, and I received the audition to read for the role of Aisha, and then finally got to meet her over Zoom and just really hope that she chose me to play this role, because the script was brilliant. And the role was nuanced and layered and full and emotional and stunning. So that's how we finally met. I finally got to meet her by being in the film.
It sounds like it was fate, though. That's amazing.
Yeah, she told me after that she had known of me too and wanted to work with me and had even tweeted about it, and I had no idea. So it really was fate in a lot of ways.
I know that the story and the material were probably more or less familiar to you and to Nikyatu, but was there anything specific that you did to prepare for the role?
Well, one of the things I worked on was the accent, because though I am Senegalese, I sound like this because I've been here since I was five. And so I worked with a Senegalese professor and linguist and rapper. His name is KD Sene. And we worked three, four hours a day for two weeks on the accent because I know how to do it good enough, but I wanted it to be exactly right. Aisha has a master's degree in English. Aisha's been in the States for about a year. I wanted to strike the right balance and really be practicing it so that by the time we came to shoot, I was very comfortable with it. So that was one thing that I've never had to do for a role before that I did.
'That's how it is in real life'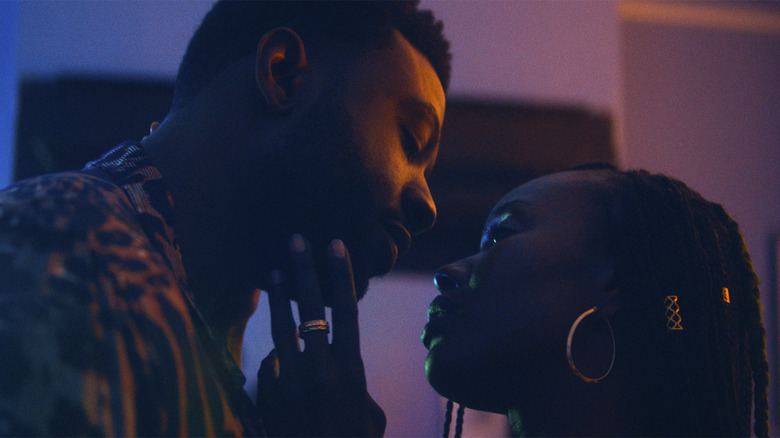 Prime Video
I wanted to talk about the non-stop barrage of microaggressions throughout the film. That's one of my favorite parts about Black horror as a subgenre: It injects this film with a constant specter of dread. How did you guys work to strike that balance between that and the more overt horror in the film? Because for some it can be kind of blink and you'll miss it.
That's really a question for Nikyatu. And it's a testament to her talent, not only as a writer — because it's in the script when you read it — but to also be able to execute it, of course, and bring it to screen, is also a separate skill. It's really a testament to her ability to execute those moments so that audiences like yourself, that are sensitive enough, catch it. And like you said: If you blink, you do miss it. But that's how it is in real life, too. So again, it's just a testament to her ability to execute nuance in such an intelligent way, in such an accurate way.
Without spoiling anything, I also want to talk about Aisha's dynamic with [Amy's husband], Adam, was probably one of the scarier parts of the film for me — probably because if you've lived that, you can recognize that character instantly. What was it like building that dynamic with Morgan?
Such a great question. My feeling about Adam is that he's kind of a man-child. He's very immature in a lot of ways. He leaves home and leaves his wife and daughter alone so that he can pursue this career that doesn't bring enough income to actually support their life. And as we learn, it's Amy who is really financially the backbone of the family. On top of that, he's unfaithful to her. And one of the things that struck me, and one of the things I was able to use, or that I decided on was [Aisha] had gone through an experience with Lamine's father that was very heartbreaking and disappointing, too, in that he was an absent father. That he was a predator in a lot of ways.
So the moment where Aisha first learns or notices that Adam is a dishonest and disloyal partner, she feels for Amy better. She recognizes how disappointing it is to then be in the company of a man that's like this. But Morgan is a lovely human being. [Laughs] And he just faked it so well. That is a testament to his capacity as a performer to really play a character that wasn't a caricature, but quite honest in who I recognize. I know Adam in real life, and I recognize Adam in real life as a performance because he did it so well and did it without being caricature-y.
'I don't love playing small characters anywhere'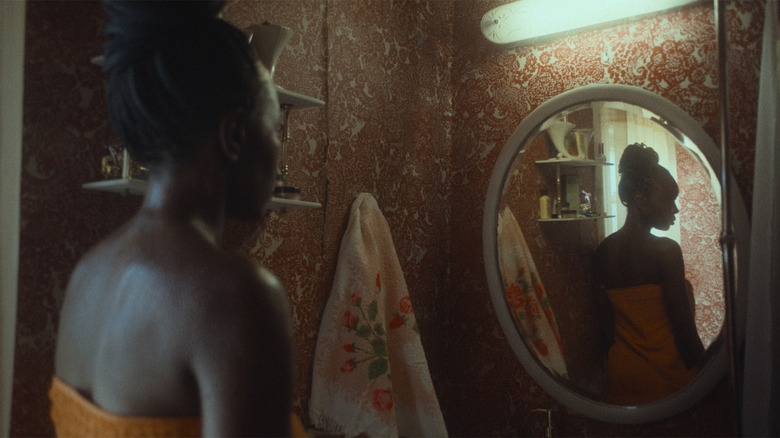 Prime Video
The cinematography throughout the film is also just absolutely breathtaking. I know you obviously didn't have everything to do with that, but I heard that you worked with the cinematographer to achieve that kind of "silhouette, lit-but-not-lit, reflecting off of your skin" kind of vibe.
All I did was show up and stand where Rina asked me to stand and look where Rina asked me to look because that is all her. That's all Rina Yang, and that's all Nikyatu Jusu for having the eye to recognize Rina's talent and the intelligence to know that she needed to hire someone that has the capacity to shoot Black skin. I've been shot terribly so often in my career. I show up now to sets not expecting too much from the lighting because it's happened so many times. So to see what she did, I was so moved by it, and now I'm going to demand it because I know it can be done.
I'm glad this film was such a good experience, and it's so incredible to see more Black women taking up space in leading roles and as directors because I, for one, I did not think I'd ever — this is so sad, but I didn't think I'd ever live to see the day when this is more normal, [seeing] richer perspectives.
Same. I didn't know I would live to see the day that I met someone like Nikyatu, and that we'd make something together. I know.
I know moving forward, you've probably got your hands full with "Titans," but is there any kind of perspective or genre that you'd just love to sink your teeth into next?
Me and Nikyatu keep threatening to make Storm together, which is also a superhero. But with her doing it, it would be so elevated and so mind-blowing. So that's something we chat about from time to time. Nina Simone's a character that I haven't shared that I would love to step into. She, as an actor, has such a rich emotional life, and her story is so stunning as it is. And so even if it's not Nina, just playing these characters that are really bold women and really dynamic women, that's all that I want to do. I don't love playing small characters anywhere. I hope to take up more space.
"Nanny" hits theaters on November 23, 2022 before heading to Prime Video on December 16, 2022.