Live-Action 'Teen Titans' Series Casts Anna Diop As Starfire: Why This Color-Blind Casting Is Great News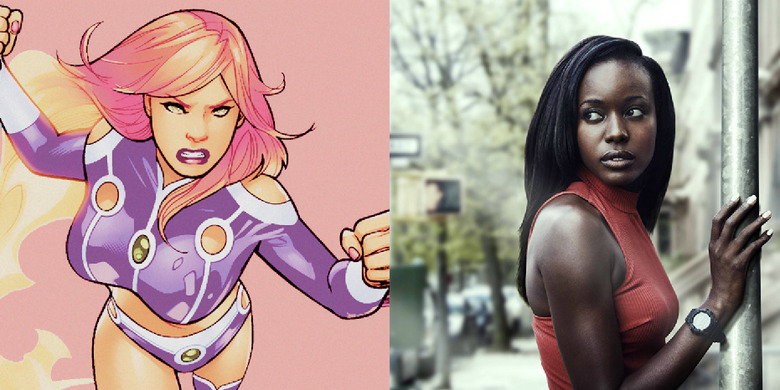 The live-action Teen Titans series, currently named Titans, is starting to get off the ground, with a newly cast Starfire joining the team after Australian newcomer Teagan Croft was cast as Raven.
With the news that Anna Diop, a relatively unknown actress from 24: Legacy, was cast as Starfire in the live-action Teen Titans series to premiere on Warner Bros.' new digital service, there were the usual racist rumblings of "she looks nothing like the comic book character." First, ahem, Starfire is orange and has the body proportions of a Barbie doll. Second, this is a good thing.
Deadline reported that Diop has landed the series-regular role of the alien princess from Tamaran in Titans, the live-action series from DC TV maven Greg Berlanti, DC Films co-head Geoff Johns, and Akiva Goldman and Sarah Schechter. Starfire is part of a group of young superheroes led by Dick Grayson (presumably in Nightwing form), Raven, and Beast Boy. Nightwing — who is also reportedly getting his own DCEU movie in the future, though who knows at this point — and Beast Boy have not been cast yet. Cyborg will be sitting this one out since his promotion to the Justice League in the movies and comics.
The series is set to be one of the first DC-branded series to premiere on Warner Bros.' new digital service, debuting in 2018.
Not much is known about the series, though it is a familiar story to anyone who grew up on Cartoon Network's underrated Teen Titans (and to the unfortunate ones who grew up on Teen Titans Go!). It will reportedly follow the fearless band of not-so-teen heroes led by Dick Grayson, who will reportedly give up life as a cop to return to the life superhero vigilantism.
But I'm not here to talk solely about Titans. I'm here to be excited about the casting of a black actress being cast in a lead role of a superhero who has often been coded as caucasian (though again, she's orange). But if you're familiar with any of Berlanti's shows, The Flash, Arrow, Legends of Tomorrow, Supergirl, you'd know he's on the forefront of progressive casting for people of color.
Greg Berlanti and Color-Blind Casting for Superhero Shows
While Arrow did little to veer beyond its comic book counterparts, and indeed dealt out some whitewashing regarding Caity Lotz as the traditionally Asian White Canary, it was The Flash where Berlanti started to take more creative license with the characters' races. Iris, traditionally red-headed white character, was cast as black actress Candice Patton, with her father played by Jesse Martin. And amazingly, no one made a peep about this casting!
He's continued his streak with characters like Firestorm, casting the second incarnation of the hero with black actor Franz Alhusaine Drameh, and most importantly, introducing major sidekick-turned-superhero Wally West as black actor Keiynan Lonsdale. This was the boldest move Berlanti could make considering Wally held the title of the Flash for a good 20 years in the comics and is arguably the most well-known incarnation of The Flash. But again, this was met with few grumbles because Berlanti had made this diverse, color-blind set of superheroes common. It was the norm, as Berlanti too made sure that original characters were diverse, as well as the directors and writers behind the camera.
So it's no surprise that this diversity would continue onto projects that aren't even under the CW umbrella, and will kick off Warner Bros.' new digital era.
The Zoe Saldana Effect
One caveat with this casting is that it follows the Zoe Saldana effect: Namely, hiding a black actress under piles of alien make-up or CGI. Saldana isn't necessarily to blame for this, but it's unfortunate that she is often cast in big budget sci-fi or superhero movies, and rarely gets to show her actual face, barring Star Trek. As Gamora she's green, as Neytiri, she's a blue CGI creature.
Diop will likely be covered in orange make-up and given contact lenses to imitate the green eyes that Starfire shoots lasers out of, which feels like another instance of genre shows' inability to give black actresses the spotlight. Just look at the Oscar-nominated Lupita Nyong'o, who plays a CGI character in Star Wars: The Force Awakens who was so unpopular that her 5 minutes of screen time will be even less in Episode 8.
This may seem like I'm walking back all the compliments I was just raining down on Berlanti and color-blind casting earlier, but I wanted to address this. Black women deserve more than to have their skin color covered.
A Step in the Right Direction
The majority of color-blind casting in superhero shows and movies has been for supporting characters or love interests — never has a main hero deviated from the appearance of his comic book counterpart. The only exception I can think of his Chloe Bennet as Daisy Johnson. Bennet is a half-Chinese actress cast as the lead in Agents of S.H.I.E.L.D (we can argue over whether Clark Gregg's Phil Coulson is actually the lead later) as a character who has traditionally always been Caucasian in the comics. Daisy Johnson, aka Quake, is a lesser-known superhero but a superhero nonetheless, and to have an actress of Asian descent be the lead in a superhero show is major news. I guess, major news for any of us who actually watch Agents of S.H.I.E.L.D.
TV is where the color-blind casting is happening, and could eventually — hopefully — trickle up to the movies. While it may be decades before we see Miles Morales don the Spider suit, it's casting like these that give me hope that we can see him on the big screen someday.