Nikyatu Jusu Hopes Nanny Has A Lasting Impact On America's 'Horror Paradigm'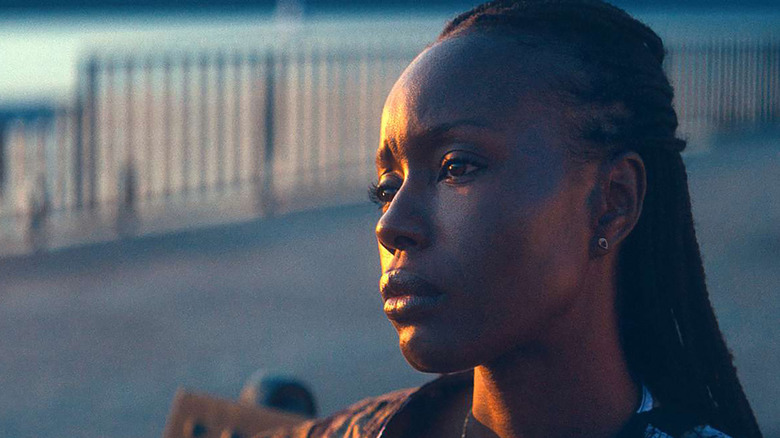 Amazon Studios
A lot of fans like to wax poetic about what it would have been like to see the opening weekend releases of classic horror films like "Halloween" or "The Texas Chain Saw Massacre," believing that it would have bordered on a religious experience getting to see the career of a horror master beginning in real-time. Fortunately, all of us alive and able to see Nikyatu Jusu's Sundance Grand Jury Prize Winner, "Nanny," can do just that, as Jusu is undoubtedly one of the future pillars of horror filmmaking.
Jusu has been making short films for nearly 15 years, with her phenomenal vampire short film "Suicide by Sunlight" inspiring us to name her as one of the directors we'd love to see tackle the new "Blade" movie for Marvel. Now, Nikyatu Jusu is the second Black woman director to ever take home the biggest prize at Sundance (following Chinonye Chukwu's "Clemency"), and she's also set to helm a remake of George A. Romero's "Night of the Living Dead" with Village Roadshow and Christine Romero.
For the uninitiated, "Nanny" is a stunning horror story about a Senegalese immigrant (Anna Diop) who cares for a white family in New York while enduring unexplainable, violent supernatural forces that invade both her dreams and reality. Jusu has taken the familiar horror themes of women forced to reckon with unimaginable terror while adjusting to a new life but presented it through the lens of both immigration and Blackness, a perspective that horror films have struggled to portray with authenticity for many, many years. In a recent interview with IndieWire, Jusu discussed her film "Nanny," and her hopes for the voice of American horror cinema.
Remixing horror with a new voice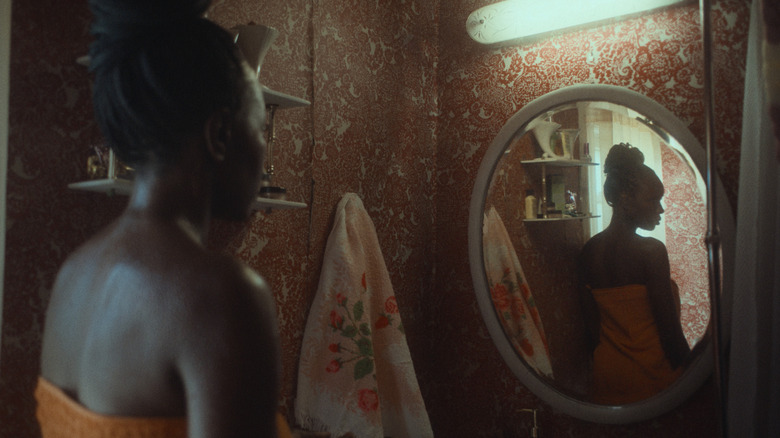 Amazon Studios
During her interview with IndieWire, Nikyatu Jusu called "Nanny" a labor of love and highlighted the film's specificity to her culture and the personal life of her mother. "I knew that I didn't want to tell a straightforward genre story," she said. "I wanted to remix this story of a domestic experience with genre." Jusu mentioned that many of her favorite films remix styles and that she wanted "Nanny" to be a remix of genre films and "the American immigrant experience." She also noted the connective tissue many viewers would have, "whether you were raised by a nanny or your mother was one. There were so many entry points for people."
She found it fortunate that during the development of "Nanny," the social and cultural conversations surrounding horror, and in particular, who gets to tell horror stories, were changing. "There were questions arising about where the Black women in horror were hiding," she said. "So all of a sudden it seemed like there was an appetite for non-white male points of view in the horror realm." Jusu called the timing "serendipitous," and she's absolutely right.
In the last few years, films like Nia DaCosta's "Candyman," Mariama Diallo's "Master," Mati Diop's "Atlantics," the segments of "Horror Noire" directed by Zandashé Brown, Kimani Ray Smith, and Robin Givens, and even Misha Green's Emmy-winning HBO series "Lovecraft Country," were all released to critical acclaim. "In my case, I wanted to introduce African folklore to the American horror paradigm," said Jusu. "I happen to straddle this line as an American kid raised by African parents." 
As much as we love the horror genre, the time for non-white, male voices at the center is long overdue. If "Nanny" is any indicator, Nikyatu Jusu deserves to be at the forefront of the next era of horror.