The Best Movies Starring The Stranger Things Cast You Need To See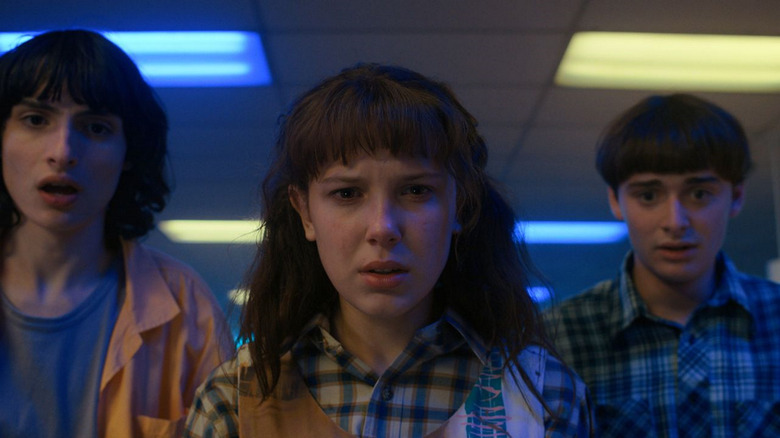 Netflix
When "Stranger Things" launched in 2016, most of its cast were virtual unknowns. Aside from veteran stars like Winona Ryder, the show was the first leading role for many of its cast members, especially the younger kids. Part of what made the show work so well was the fact that all those young kids were supremely-talented. The Netflix hit asks a lot from its stars — lots of action, lots of emotion — and every member of the ever-growing ensemble is up to the task, which makes for a fun watch.
It's also a useful launching pad for further stardom. The series tends to take breaks between seasons — three years passed between Seasons 3 and 4 — leaving the cast free to pursue other acting opportunities. This raises their profiles, providing them a solid base from which to hopefully continue their careers after "Stranger Things" comes to an end with its fifth season. Unsurprisingly, a lot of cast members have done excellent work outside of the show, suggesting good things are on the horizon. These are the best movies starring the "Stranger Things" cast that you need to see.
Yes, God, Yes (2019) — Natalia Dyer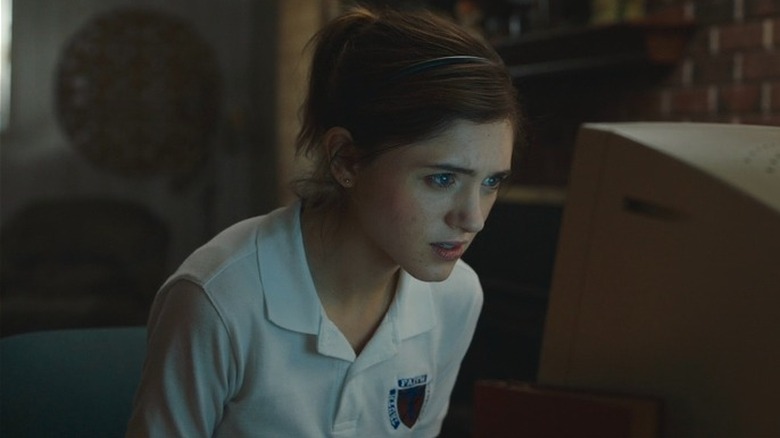 Vertical Entertainment
In "Stranger Things," Natalia Dyer plays Nancy Wheeler, a headstrong girl willing to battle demons to save her family and friends. However, in Karen Maine's "Yes, God, Yes,"  her character is far meeker. Dyer plays Alice, an innocent girl at a Catholic school in the early 2000s. She tries to be as good as her family and community expect, but the allure of the then-new Internet proves difficult to resist. Soon, Alice discovers the world of thrilling sexuality that awaits her in online chat rooms. To focus on the church, Alice attends a spiritual retreat, but she discovers that temptation awaits her at camp, too ... mostly in the form of Chris (Wolfgang Novogratz), a handsome older boy.
This is a real zinger of a movie. The film's period setting provides a ton of laughs for those of us who were there. There's a "Pen15"-like delight in the ultra-specific milieu of that era, skewering everything from cell phones that play "Snake" to that specific feeling of not quite understanding what a cooler person's txt-speak meant on AIM. During one memorable sequence, Alice fantasizes about running her fingers through Chris' comically-long arm hair as a sultry cover of Christina Aguilera's "Genie in a Bottle" plays.
Dyer is excellent in the role. She's game to look dorky and awkward — a valuable trait in an actor — and "Yes, God, Yes" proves she has a future to look forward to after "Stranger Things" ends.
Spree (2020) — Joe Keery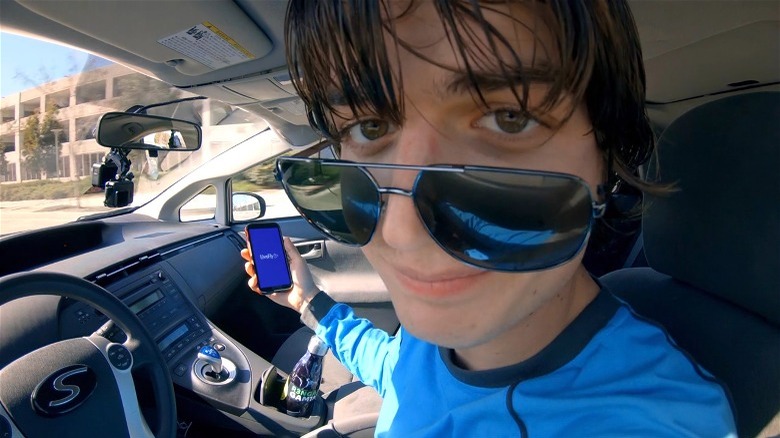 RLJE Films
We live in a world that is oversaturated with screens. At this point, most of us are constantly switching between apps, flipping from Twitter to Instagram to TikTok to Google Maps and back again, depending on what we're up to. "Spree" is a found-footage horror movie that recognizes this. Its frame is constantly chopped into smaller frames, showing us a GoPro live stream view of rideshare driver Kurt (Joe Keery) and his text messages and a live view of where he is on a map. It's an onslaught of ever-changing visual information that is impressively kinetic in a way that matches the narrative's forward momentum. 
Kurt is a driver and content creator. He wants to gamify the mind-numbing experience of offering rides, turning memorable customers into content that draws clicks. The possibility of online fame has gone to his head, though, and despite being on screen for nearly every second of "Spree," Kurt is not the hero. He's the villain. He's decided the best way to get eyes on his videos is to do shocking, unforgivable things to his passengers, and he's determined to go out in a blaze of glory.
Keery puts every ounce of the magnetism that has made him a "Stranger Things" breakout into his role in "Spree." Kurt is like an evil funhouse-mirror version of Steve Harrington. In Keery's hands, Kurt is desperately pitiful but also someone you can't stop watching. He's a broken man, a man who is doing awful things, and yet ... he's funny!
Better Watch Out (2020) — Dacre Montgomery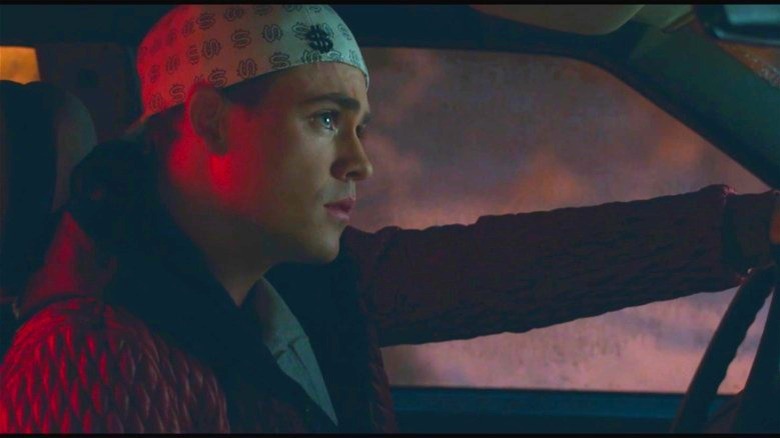 Well Go USA
Australian actor Dacre Montgomery had a busy 2017. In addition to joining the cast of "Stranger Things" as Billy Hargrove, he also played the Red Ranger in the big-screen "Power Rangers" film. Fans of Montgomery's performance as bad-boy Billy will especially want to check out "Better Watch Out," a holiday-themed home invasion horror film from that same year.
Filmmaker Chris Peckover's movie is about a babysitter named Ashley (Olivia DeJonge), who finds herself in a difficult situation while watching her charge, Luke (Levi Miller). Someone is lurking around the house, and when a brick crashes through the window, they find a message reading, "U LEAVE, U DIE." Luke, who has a major crush on his babysitter, is all too happy to huddle together with her while the intruder draws closer. Ashley, meanwhile, is laser-focused on figuring out how to survive the night. It's part "When a Stranger Calls" and part "Home Alone," full of madcap energy and lit by Christmas lights.
Montgomery has a relatively small but memorable role as Jeremy, Ashley's ex-boyfriend, who still desperately wants her to take him back. This is a movie about men who feel entitled to the attention of women, and Montgomery is pitch-perfect as a swaggering jackass who can't believe his ex is enforcing consequences for his bad behavior. It's a solid film and a solid supporting turn from the "Stranger Things" actor that's very much worth watching.
Overlord (2018) — Joseph Quinn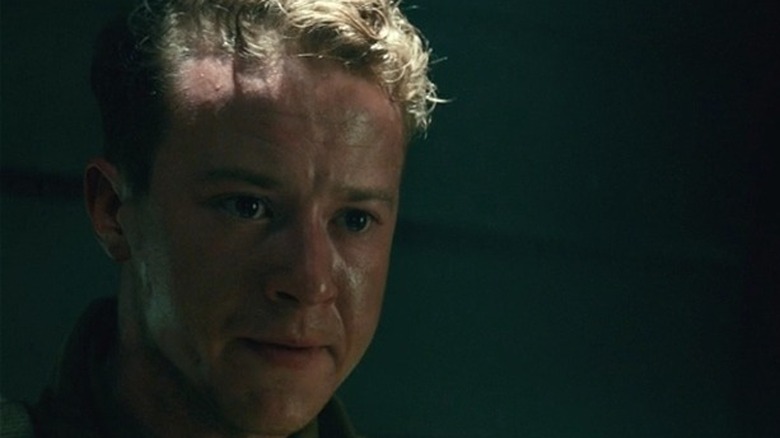 Paramount Pictures
Joseph Quinn's role as Eddie Munson in the fourth season of "Stranger Things" made him an instant fan favorite. Within weeks of the season dropping on Netflix, he was making sold-out appearances at fan conventions around the world. At one stop in London, the actor even broke down in tears while a fan told him how much his work meant to them.
Fans who are looking for more from their newest "Stranger Things" fave should check out "Overlord," a 2018 horror film produced by J.J. Abrams. Quinn has a small role and only a handful of lines, but the movie around him is excellent. He plays a member of a military unit airdropped behind enemy lines in advance of D-Day to take out a Nazi communications tower so that the invasion can go ahead. To their horror, they find that the town is under siege by Nazis who are performing deeply-unethical, deeply-disturbing experiments on human beings.
Without giving too much away, this isn't just a war movie. It's a monster movie. "Overlord" starts with an unbelievably claustrophobic and chaotic battle sequence, and the thrills never stop coming. As the plot slowly unfolds and the Americans learn more about what's going on, it becomes a grotesque splatterfest of a movie that leans heavily into creature effects and gore. Quinn's career is just getting started. "Overlord" is essential viewing to catch up with this star on the rise.
Godzilla vs. Kong (2021) — Millie Bobby Brown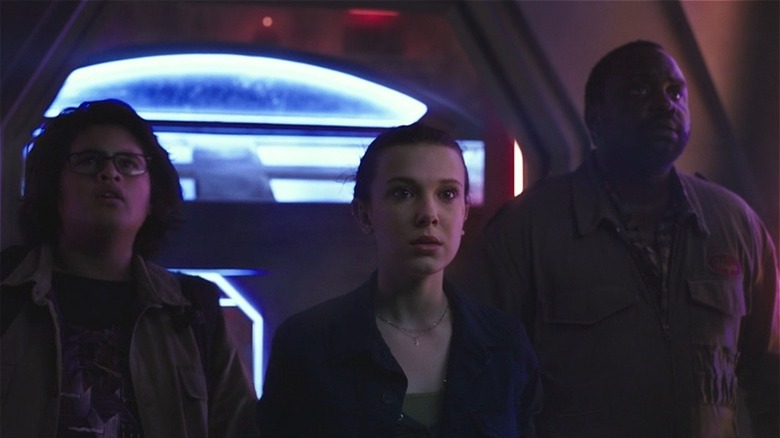 Warner Bros.
From the moment Eleven ate her first Eggo, Millie Bobby Brown has been the breakout star of "Stranger Things," and she's proven herself to be quite a talent. She's always compelling, even when "Stranger Things" seems unsure what to do with her character, and she's the glue that holds the ensemble together. Outside of "Stranger Things," Brown has had a few opportunities to prove her star power. She stars in the "Enola Holmes" franchise for Netflix, and while the movies themselves are fine, she's a ton of fun in them.
Fans looking for more Millie Bobby Brown will want to check out her appearances in the Warner Bros. MonsterVerse movies. In 2019's "Godzilla: King of Monsters," she plays Madison, the daughter of a scientist who is involved with a project to study monsters like Godzilla and Mothra. "Godzilla vs. Kong" is the better movie, though, because it's significantly sillier. Instead of focusing on the science of it all, "Godzilla vs. Kong" mostly just lets the giant monsters destroy a bunch of stuff. Thanks to some stunning, neon-drenched cinematography from Ben Seresin, they even look cool while doing so. 
Brown's character is more adventurous this time around. She and her friend Josh (Julian Dennison) team up with conspiracy podcaster Bernie Hayes (Brian Tyree Henry) to get to the truth about what's going on with the apex monsters, and Madison's spunk is enjoyable for fans who like seeing Eleven and her friends work together.
Do Revenge (2022) — Maya Hawke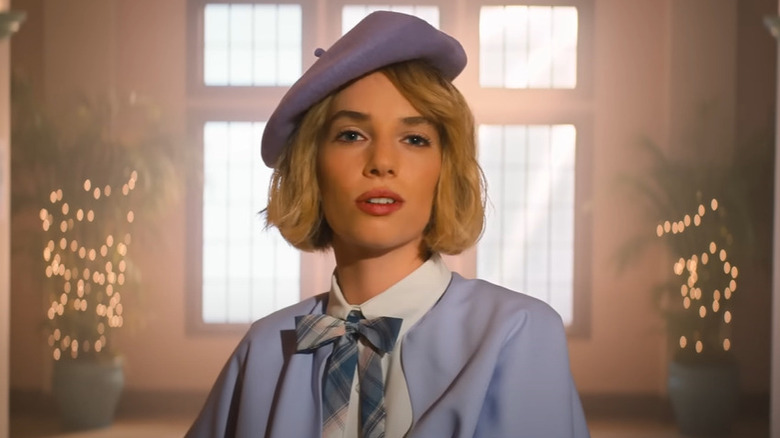 Netflix
When Maya Hawke joined the cast of "Stranger Things" in the show's third season, her character, Robin, became an instant fan favorite. Unlike the show's occasionally frustrating slow-burn storyline about the closeted Will Byers (Noah Schnapp), Robin is a lesbian and is open about her sexuality to her friends.
Fans who enjoy watching Hawke play a queer character should check out her role in "Do Revenge," a Netflix thriller that updates Hitchcock's "Strangers on a Train." Hawke's character, Eleanor, can be glimpsed reading the original Patricia Highsmith novel early in the film before she and Drea (Camila Mendes) agree to swap revenge plots so that no one will suspect a connection. Eleanor is still hurting because a student named Carissa (Ava Capri) outed her at camp when she was younger, while Drea has become a social pariah after her popular ex-boyfriend Max (Austin Abrams) leaked a nude video of her.
"Do Revenge" is a fun film that positions itself as the successor to fashion-forward mean-teen faves like "Heathers," "Jawbreaker," and "Clueless." It isn't quite as successful as those classics. It's a bit overlong, and the violation of Drea's privacy is never treated with the gravity it deserves. Still, it's a valiant effort, and Hawke is particularly fun as Eleanor. She starts "Do Revenge" dressed down, but after a winking makeover scene, Eleanor spends the film looking increasingly fabulous as the revenge plot spirals out of control. Fans of Robin won't be disappointed.
Concrete Cowboy (2020) — Caleb McLaughlin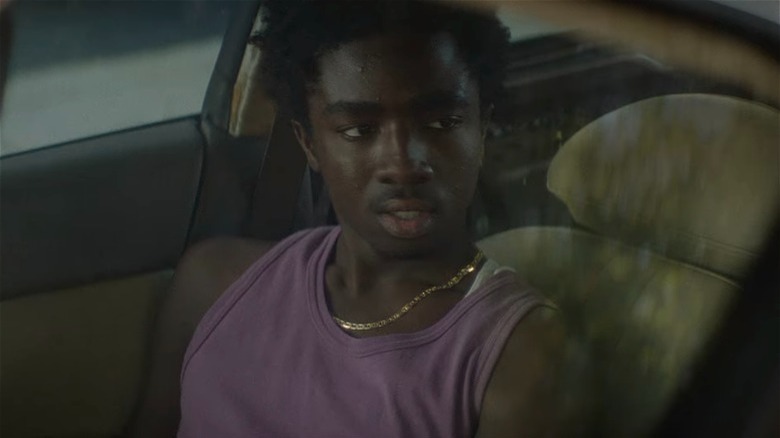 Netflix
Like several of his "Stranger Things" co-stars, Caleb McLaughlin stayed in the Netflix family for one of his biggest films. In "Concrete Cowboy," he plays Cole, a troubled kid sent to live with his father (Idris Elba) for the summer. His father runs a horse stable out of a warehouse, where the horses live among the dilapidated houses and rundown people of North Philly. At first, Cole is resistant to his father's lessons, preferring instead to spend time with his friend Smush (Jharrel Jerome) despite his father's warnings. Slowly but surely, as Cole gets to know the horses and learns the value of hard work at the stable, he and his father begin to connect.
Movies for fans of horses are a tried-and-true genre, but they tend to be about girls, and they're almost always about white people. "Concrete Cowboy" aims to upend the genre. As neighborhood resident and horse enthusiast Nessie (Lorraine Toussaint) notes, "Hollywood has whitewashed us. They just deleted us right out of the history books." She goes on to explain that Black people understood that the way to break a horse wasn't to crush its spirit but to show it love.
Of course, that is a metaphor for what happens to Cole. Amid some gorgeously-photographed horse riding sequences (and some harrowing, action-packed scenes of life in the streets), McLaughlin gets a chance to shine in a way he rarely does on "Stranger Things."
Bridge of Spies (2015) — Noah Schnapp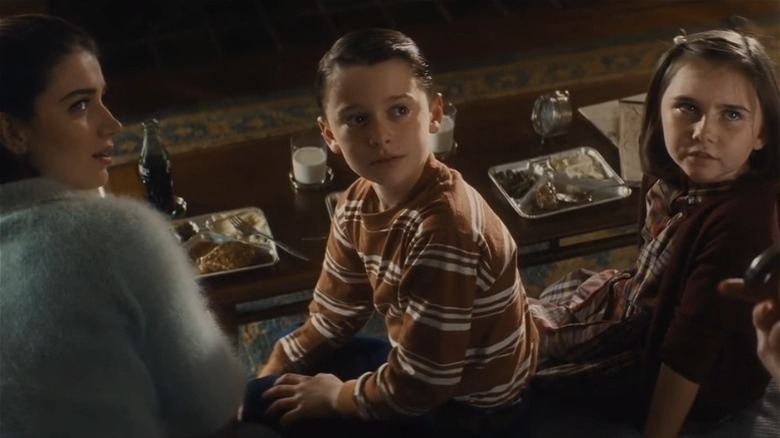 Touchstone Pictures
"Stranger Things" rocketed Noah Schnapp to instant fame, but the young star had been working in Hollywood for a few years before he played Hawkins, Indiana's Will Byers. Completionist fans of his work should be sure to check out his first-ever screen credit. In Steven Spielberg's "Bridge of Spies," a young Schnapp plays Roger Donovan, the son of Tom Hanks' character, James B. Donovan.
"Bridge of Spies" is a tense Cold War drama about a lawyer (Hanks) who finds himself involved in prisoner swap negotiations between the United States and the Soviet Union. The script by the Coen Brothers and Matt Charman features a lot of talking, but it's never boring. Instead, the film's setting — taking place just as the Berlin Wall is being built — provides a thrilling energy, with the world teetering on the edge of nuclear disaster. Roger is a paranoid kid, obsessive about all of the ways that nuclear war might destroy their lives, and Schnapp does an excellent job portraying the little guy's fears. He's not the main character, but he puts in a solid turn that hints at the talent he would soon show off on "Stranger Things."
Brokeback Mountain (2005) — David Harbour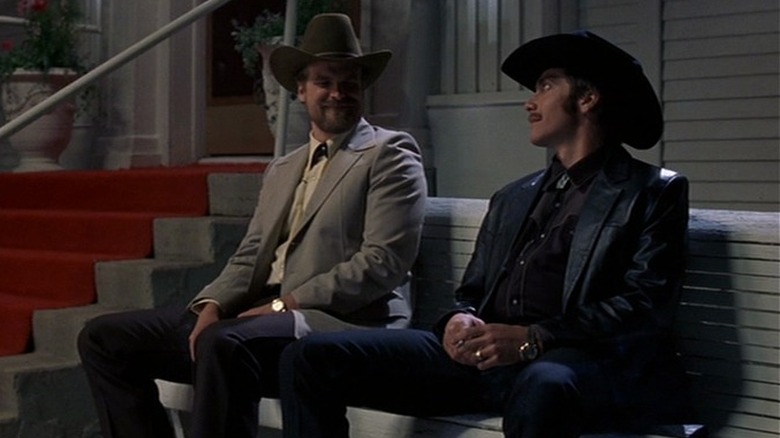 Focus Features
David Harbour has enjoyed considerable success since getting cast as Sheriff Hopper in "Stranger Things." He's part of the MCU now as Alexei Shostakov, the Red Guardian, in "Black Widow." He starred as Hellboy in the 2019 "Hellboy" reboot (although that one wasn't great), and he even plays Santa in the 2022 holiday thriller "Violent Night." David Harbour's best movie, however, (and, for my money, the best movie any "Stranger Things" alum has been involved in) is "Brokeback Mountain."
Ang Lee's sweeping Western is about the relationship between two ranch hands, Ennis Del Mar (Heath Ledger) and Jack Twist (Jake Gyllenhaal). They meet one summer herding sheep on Brokeback Mountain. There in the wilderness, away from the confines of a disapproving society, they are free to explore their attraction to one another. What happens that summer reverberates through the rest of their lives. The movie follows Jack and Ennis as they age, get married, have kids, and continue to meet up with one another several times a year to return to Brokeback Mountain.
Ennis and Jack's love for one another is all-consuming, but while Ennis wallows in his repression, Jack occasionally has dalliances with other men. David Harbour shows up late in the film as one such man, Randall Malone. While their wives (Anna Faris and Anne Hathaway) chatter away, Randall propositions Jack. This was one of Harbour's first roles, and this sweet scene provides an intriguing glimpse at the actor who would become Hopper.
It: Chapter One (2017) — Finn Wolfhard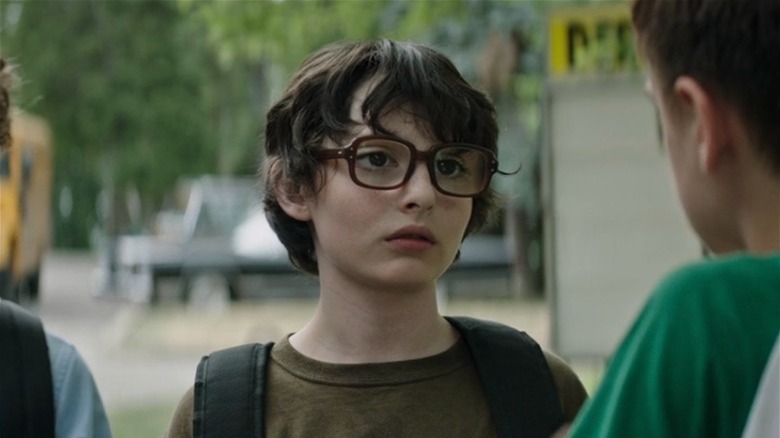 Warner Bros.
Aside from Millie Bobby Brown, Finn Wolfhard is the "Stranger Things" star who has had the most opportunities outside of the show. He's appeared in films like "Ghostbusters: Afterlife" and "The Turning," but fans of his work on "Stranger Things" will want to make sure to watch his performance in "It: Chapter One."
Like "Stranger Things," Andy Muschietti's Stephen King adaptation is about a group of kids who team up to battle an unimaginable evil that has overtaken their small town. (After all, "Stranger Things" creators the Duffer brothers have admitted to The Hollywood Reporter that "It" was a major influence on the hit Netflix show. Having Wolfhard star in both just highlights the thematic connection between the two stories). In this case, evil comes in the form of a clown named Pennywise, a sewer-dwelling monster who preys on the deepest, darkest fears of the town's inhabitants. Wolfhard plays Richie Tozier, a wise-cracking youngster who wears thick glasses that make him look adorably bug-eyed. The movie is also legitimately frightening. There's a reason it's the highest-grossing horror film of all time.
Wolfhard also appears in the sequel, "It: Chapter Two," but by that point he had started to grow up. The second film makes use of some clunky de-aging technology to keep him looking the same as he did in the first movie, to unfortunate results. Still, we'll always have "It: Chapter One."
Fear Street: Part Two - 1978 (Sadie Sink)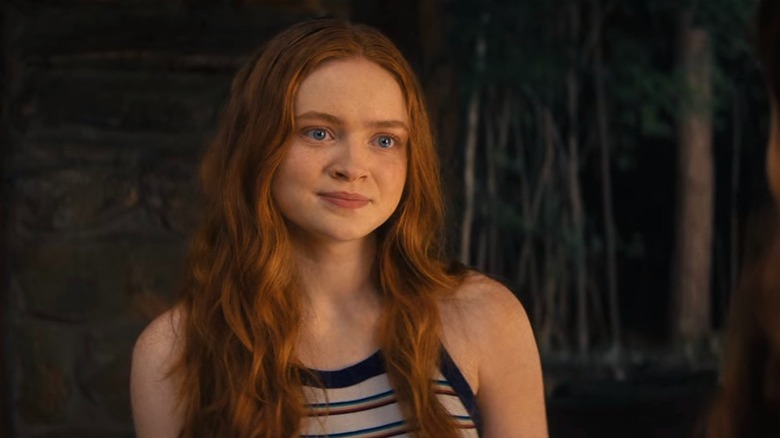 Netflix
Sadie Sink joined "Stranger Things" in the show's second season, and she quickly became such an integral part of the ensemble that it's surprising to remember she hasn't been around since the beginning. Her projects outside of the show have positioned her as one of the show's biggest breakouts. She starred in Taylor Swift's music video for "All Too Well (10 Minute Version)(Taylor's Version)[From the Vault]," and she is also a lead in Darren Aronofsky's drama "The Whale." However, fans who are looking for more spooky mayhem starring Sink will want to check out her part in "Fear Street: Part Two — 1978."
Netflix released a trilogy of "Fear Street" films in 2021, inspired by the book series by "Goosebumps" author R.L. Stine. In the middle film of the trilogy, Sink plays Ziggy Berman, a troublemaking kid at Camp Nightwing. The towns of Sunnyvale and Shadyside are cursed by a witch named Sarah Fier, and "Fear Street: Part Two — 1978" sees the spirit of the witch turn one of the campers into an axe-wielding murderer. What unfurls is a fun, R-rated slasher film the likes of which we rarely see these days. The gore is impressively nasty, and some of the kills are genuinely shocking.
As on "Stranger Things," Sink anchors the proceedings with an impressive self-assuredness for someone her age. She's sarcastic, witty, and wounded, making Ziggy Berman a perfect character for fans of Max Mayfield.
Marrowbone (2017) — Charlie Heaton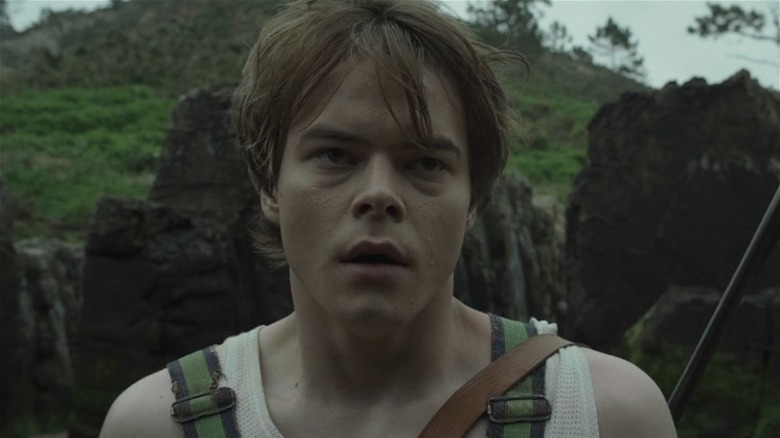 Magnet Releasing
Charlie Heaton plays Jonathan Byers on "Stranger Things," son of Joyce and older brother of Will. He's protective of his family, charging headfirst into danger any time a creature or supernatural bad guy threatens the town of Hawkins. Fans of his performance on the hit Netflix show should check out the spooky chiller "Marrowbone."
The horror film is the debut feature from Spanish director Sergio G. Sánchez, who is probably best known for writing "The Orphanage." Heaton plays Billy, the middle Marrowbone brother. Aside from Heaton, the film features an excellent cast of up-and-coming young actors: The oldest brother is George McKay ("1917"), the sister is Mia Goth ("X" and "Pearl"), and a family friend is played by Anya Taylor-Joy ("The Menu"). In many ways, it's a haunted house movie, and it makes excellent use of setting and sound design to deliver shiver-inducing fright. It's also deeply sad thanks to all of the actors imbuing their relationships with striking emotional cores.
As in "Stranger Things," Heaton is a fiercely protective sibling. It's a role Heaton plays very well. His ferocity in his efforts to keep his family safe occasionally surprises them, but as an audience, we can't help but root for him to succeed.
Black Swan (Winona Ryder)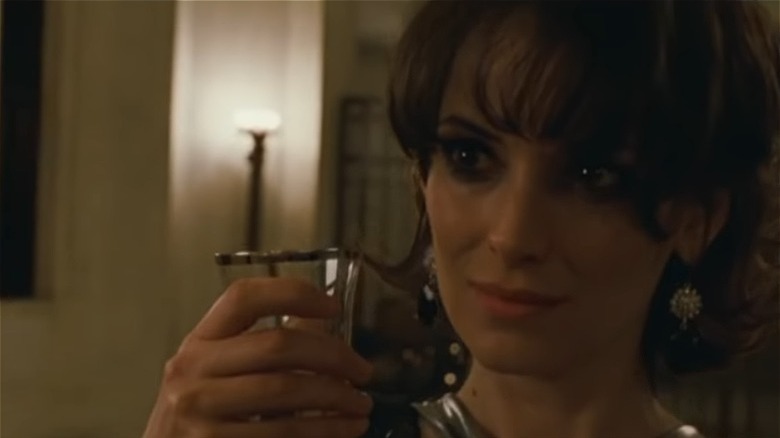 Fox Searchlight Pictures
When "Stranger Things" premiered back in 2016, the biggest name in the cast was Winona Ryder. Early in her career, she starred in numerous classics, including "Beetlejuice," "Heathers," "Little Women," and "Edward Scissorhands." In the early 2000s, however, her career hit a rough patch after she was arrested for shoplifting at a Beverly Hills store. Before "Stranger Things" fully revitalized her star power, Ryder put in a deliciously-campy turn in Darren Aronofsky's 2011 ballet thriller, "Black Swan."
The film is about a dancer named Nina (Natalie Portman), who does everything in her power to succeed in her company's production of "Swan Lake." As Nina finds herself drawn into a psychosexual game of manipulation and deceit, she loses herself in her work, devoting herself entirely to the dance. Part of this means involving herself with the production's director, Thomas (Vincent Cassel). She winds up angering a former ingenue whose career is on the outs. Her name is Beth, and she's played by Winona Ryder.
Ryder's scene-stealing performance is all smeared mascara and alcohol. Beth is a far cry from the lovable Joyce Byers, and it's a treat to watch Ryder chew the scenery, devouring every delectable line. Hiring her to play a faded star is a savvy bit of casting, considering many may have thought Ryder past her prime while Portman was a budding superstar. In "Black Swan," she proved she was still around, and thanks to "Stranger Things," she's here to stay.
Save Yourselves! (2020) — John Reynolds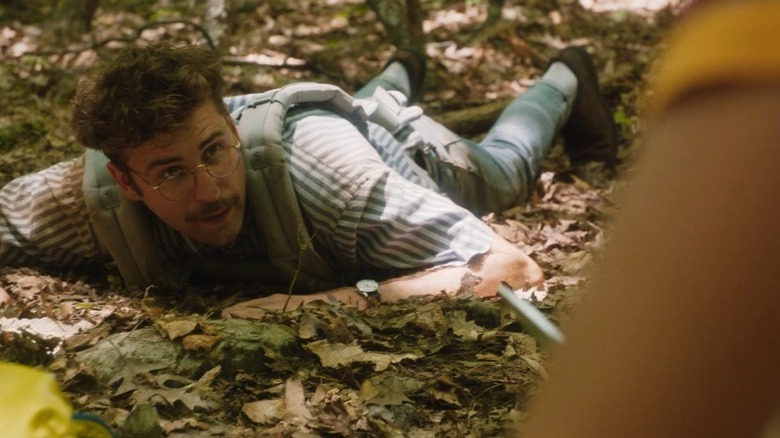 Bleecker Street
"Search Party" star John Reynolds has appeared in numerous episodes of "Stranger Things" as Officer Callahan. The mustachioed policeman tags along with Chief Hopper (David Harbour) on various investigations, and he's a memorable character who builds out the world of Hawkins, Indiana, outside of the main group of kids.
Anyone looking for more of Reynolds should check out "Save Yourselves!," a sci-fi alien-invasion comedy he led in 2020. The film is about Jack (Reynolds) and his girlfriend Su (Sunita Mani), a couple on the outs who decide to head to an upstate cabin to get away from it all. They've been arguing lately and drifting apart, so a weekend in the woods with no phone service seems like a good way for them to reconnect. Unbeknownst to them, the minute they leave society, aliens attack. The aliens in question: furry little fluff-balls with attitude.
Reynolds shows off the dry sense of humor he hints at on "Stranger Things" and uses so well on "Search Party." The situations get more and more absurd as the couple slowly realizes that the world is under attack, and Reynolds is suitably silly as the hapless Jack. He and "Glow" star Mani have excellent chemistry, making "Save Yourselves!" a must for any fan of "Stranger Things."