Stranger Things' Noah Schnapp Has A Definitive Answer About Will's Sexuality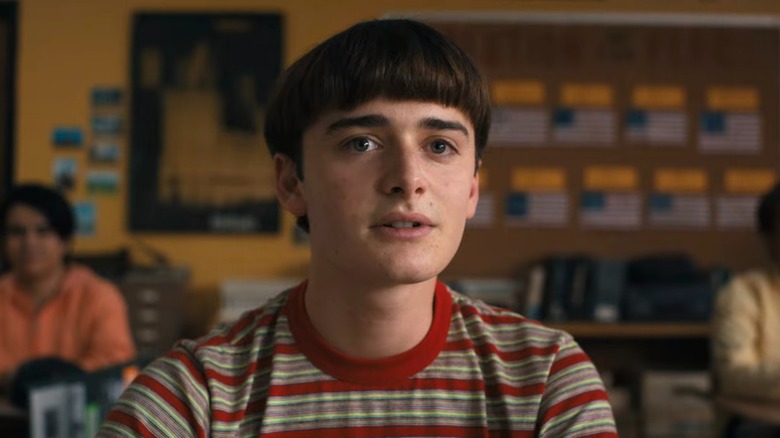 Netflix
Will Byers (Noah Schnapp) has been having a really rough time since he was first introduced in season 1 of "Stranger Things." The poor kid faced the horrors of the Upside Down firsthand in the first two seasons, and since then, the show does not quite know what to do with him. Season 4 saw Will feeling constantly ill at ease, between him awkwardly tagging along on Mike (Finn Wolfhard) and Eleven's (Millie Bobby Brown) dates and his inability to express his very obvious romantic feelings for Mike.
Although the Duffer Brothers had promised that Season 4, volume 2 would definitely address Will's sexuality, the scenes that highlight this aspect never explicitly spell out that Will is gay (although it is heavily implied). While Schnapp had previously said a while back that Will's sexuality was "up for interpretation," the actor recently told Variety that it is "100% clear" that Will is gay and "does love Mike:"
"I mean, it's pretty clear this season that Will has feelings for Mike. They've been intentionally pulling that out over the past few seasons...Obviously, it was hinted at in Season 1: It was always kind of there, but you never really knew, is it just him growing up slower than his friends? Now that he's gotten older, they made it a very real, obvious thing. Now it's 100% clear that he is gay and he does love Mike."
Not that there was any doubt about the nature of Will's feelings for Mike, especially in volume 2 of season 4, but it is nice to have Schnapp confirm this, as opposed to the showrunners cautiously skirting about the topic without really confirming anything.
A longtime queer-coded character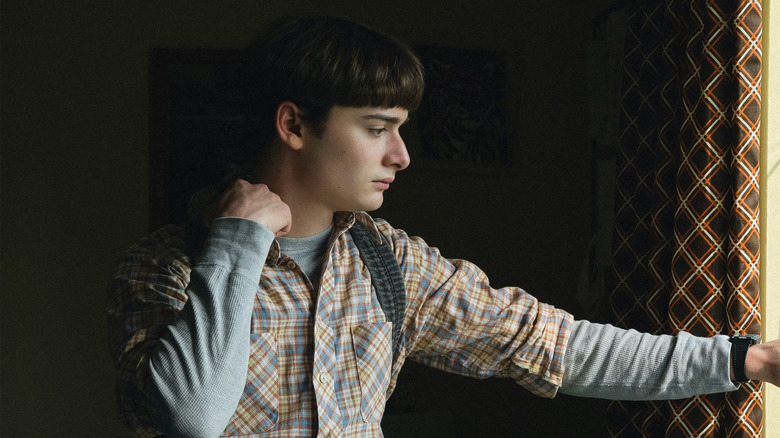 Netflix
Will's character has been queer-coded ever since season 1, although those allusions are mostly iffy, for the lack of a better word. When Joyce (Winona Ryder) tells Hopper (David Harbour) that Will is different, he jokingly asks whether he is gay. We also see the school bullies hurling homophobic slurs at Will and his own father projecting a skewed, toxic sense of masculinity onto the poor kid. During a season 3 argument with Mike, Mike hurtfully blurts out, "It's not my fault you don't like girls!"
Will has always felt alienated (both due to his introverted disposition and sexual identity), never able to completely express himself without the fear of being judged, or shunned by his friends.
The backgrounding of Will Byers is one of the show's greatest failures, and its haphazard depiction of his sexual identity is a key aspect of that. Will started as the heart of the series — the character whose disappearance motivated his friends to embark on a world-saving mission (with the help of a superpowered girl) — but by season 4, has become little more than background extra. Even his budding feelings for Mike are given little screen time apart from Eleven's assumption that he has a crush on someone, and a painting that Will made that appears to be for Mike. Will Byers appears to be stuck not only in the figurative closet, but in the narrative closet. 
Will Byers deserves to come out in a safe space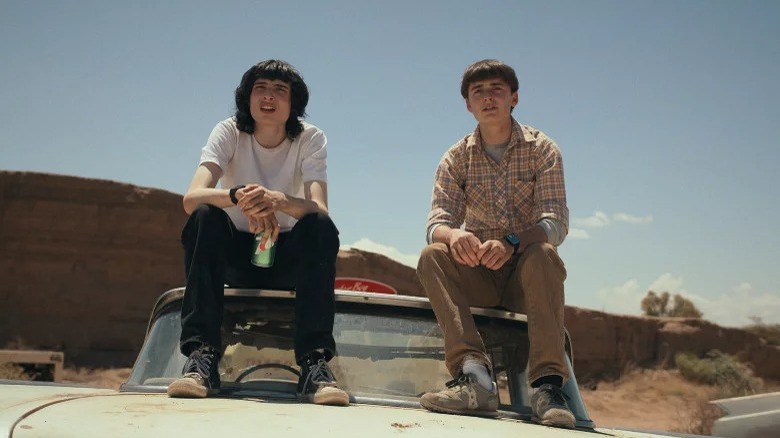 Netflix
Schnapp spoke to Variety about how this aspect of Will's feelings culminate in season 4, and how he struggles to navigate his love for Mike:
"I think for Season 4, it was just me playing this character who loves his best friend but struggles with knowing if he'll be accepted or not, and feeling like a mistake and like he doesn't belong. Will has always felt like that. All his friends, they all have girlfriends and they all fit into their different clubs. Will has never really found anywhere to fit in."
It's a shame that even the show doesn't appear to have found a place for Will and his sexual identity to exist comfortably. "Stranger Things" should allow its most queer coded character to take the subtext and turn it into text.
Robin (Maya Hawke) had a beautiful coming-out scene in season 3, and Steve (Joe Keery) is her safe space — she can speak freely about her sexual identity without being judged. Will deserves the same treatment when it comes to his sexuality. It is important for his friends/family, especially Mike, to tell him it is okay to be gay, and that he is loved and accepted for who he is. While Jonathan does this to an extent rather wordlessly and reassures Will that he is not alone, a moment of explicit support would do justice to the character in season 5.