The Duffer Brothers Promise Will's Sexuality Is Addressed In Part 2 Of Stranger Things Season 4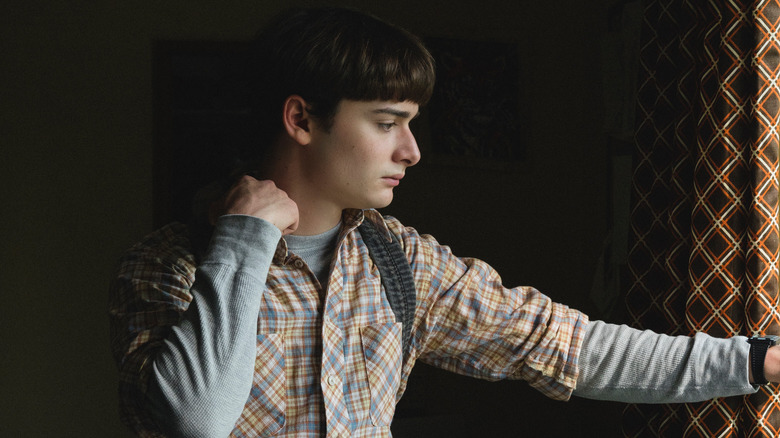 Netflix
Nearly four-fifths of the way through its run, "Stranger Things" still doesn't know what to do with Will Byers (Noah Schnapp) beyond trapping him in the Upside-Down or making him a vessel for the Mind Flayer. This issue has really come to a head in "Stranger Things" season 4 Vol. 1. When he isn't looking on sadly as Eleven (Millie Bobby Brown) is bullied at school or moping around as the third wheel on her dates with Mike (Finn Wolfhard), Will spends his time shooting longing glances at Mike while waiting for a chance to finally give him the painting Will clearly made for him.
Far from a new development, sensitive Will has always been queer-coded on "Stranger Things," with mentions of him being called homophobic slurs at school (and by his own terrible dad) going back to season 1. The show's hints about his sexuality have only gotten more heavy-handed since then, to the degree that it really just feels like queer-baiting at this point. Not helping matters, the show's cast and creatives have been reticent to discuss the matter, with Schnapp having once said, "It's really up to interpretation" if viewers believe Will is queer or not.
Speaking to TVLine, "Stranger Things" creators Matt and Ross Duffer promised the show will, at long last, shed some light on the matter in season 4 Vol. 2. Said Matt Duffer:
"This is where it gets tricky since we haven't released the whole season yet. I just want people to watch the final two episodes [of season 4]."
Justice for Will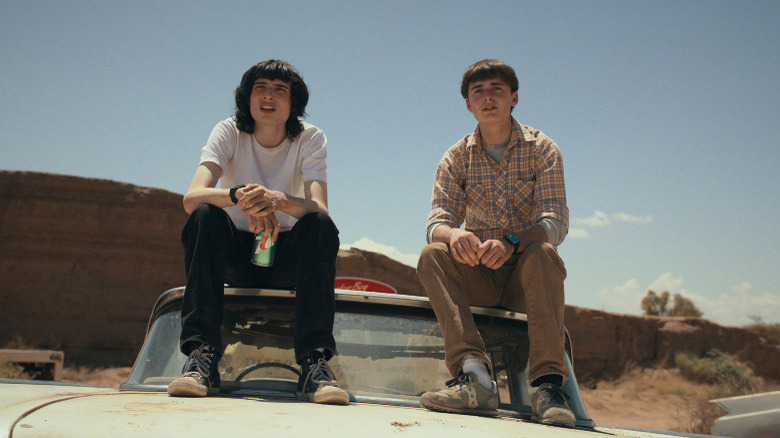 Netflix
The ambiguity around Will's sexuality is far from the only reason "Stranger Things" owes the character an apology. So far, the poor kid has spent season 4 looking, to put it bluntly, like a reject from "Dear Evan Hansen," between his ill-fitting clothes and bad haircut (one that isn't even, per se, accurate to the show's 1980s backdrop). Be these an attempt to disguise how much Noah Schnapp has matured since season 3 came out in 2019, or, as /Film's Deshawn Thomas suggests in her season 4 spoilers review, a way to show that Will is struggling to grow as a person, the series has simply dropped the ball when it comes to Will in its latest batch of episodes.
Is there anything season 4 Vol. 2 can do with Will that would make the character's journey this season more satisfying in hindsight? That seems like a tall order, but Ross Duffer has assured that payoffs are coming in season 4's final two super-sized episodes:
"We have story arcs and we have character arcs. How we structured [the season], we've released the first two acts of this story. The final act, which is the last two episodes, resolves a lot of things, both character and story, and then some of it is also setting up for our final season."
We will just have to wait and see how things play out when "Stranger Things" season 4 Vol. 2 drops on July 1, 2022. In the meantime, if you're looking for a show that does right by its sensitive queer teen lead to celebrate Pride Month, "Love, Victor" is right over there on Hulu and will premiere its third and final season on both Hulu and Disney+ on June 15, 2022.