Dear Evan Hansen Review: A Misguided Adaptation Of A Messy Musical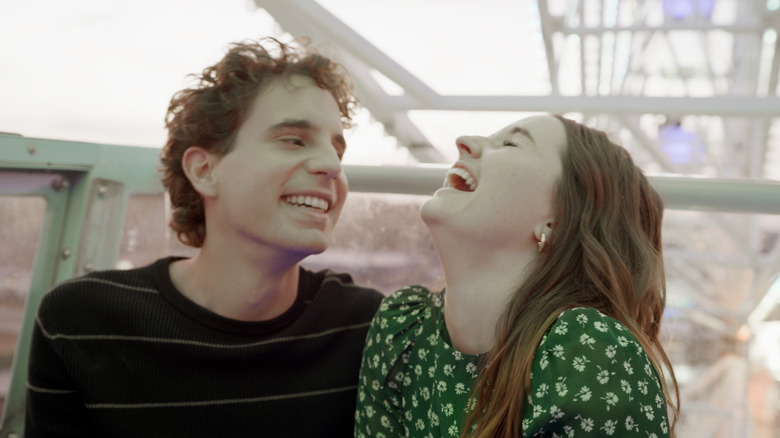 Universal Pictures
The most appropriate word to describe "Dear Evan Hansen," the film adaptation of the Broadway musical of the same name, is "misguided." On paper, it would seem as though "Dear Evan Hansen" knocks off all the right boxes on the checklist. For an adaptation of a Tony-winning musical, it's got an impressive cast and crew, including the director of the well-liked teen drama "The Perks of Being a Wallflower," A-list performers like Amy Adams and Julianne Moore, and even the award-winning actor who originated the title character. But "Dear Evan Hansen," for all the plaudits it received on stage, is a hollow attempt at broad-based sincerity that felt hollow even before it became a big-screen adaptation. And the film version of "Dear Evan Hansen" leans into the same problems the show has, simply heightening them and making for an immensely painful and awkward viewing experience.
Ben Platt, perhaps best known in movies for his role in the "Pitch Perfect" series, plays Evan Hansen, a shy teenager who suffers from intense social anxiety and walks around his school sporting a cast on his arm from an injury that may or may not have been an accident. (Don't feel like you have to gamble: put all your money on "may.") Evan is besotted with Zoe Murphy (Kaitlyn Dever), a beautiful girl at his high school who doesn't seem to know he exists. An accidental run-in with Zoe's emotionally aggressive brother Connor (Colton Ryan) snowballs into something very big very quick, though: Connor commits suicide off-screen and was found with a note Evan wrote to himself (hence the title of the story) as a therapy assignment. But Zoe, her mother (Adams) and her stepfather (Danny Pino) all believe Connor wrote that note as his last words. And Evan, presented with a seemingly perfect family compared to his workaholic single mother (Moore) and the chance to get to know Zoe better, goes along with their presumption.
If you're unfamiliar with the stage show, much of the film — directed by Stephen Chbosky and written by Steven Levenson — follows in its exact footsteps, plot-wise. Evan's isolation and sadness are communicated as much through his speedy, uncomfortable manner of speech, as through bombastic musical anthems written by Benj Pasek and Justin Paul. But "Dear Evan Hansen" the movie fails to reckon with the same issue raised by the stage show: specifically, that what Evan Hansen does is pretty horrible, good intentions or not. It is perhaps a worse thing that Platt and the rest of the cast are throwing their all into this story, because they are all sidestepping the grim and nakedly self-serving con that Evan is trying to pull on the Murphy family, to the point where you can watch this as if it's the origin story of a scammer like Professor Harold Hill from "The Music Man," if Harold Hill really thought he wasn't doing anything too wrong.
Painful to the End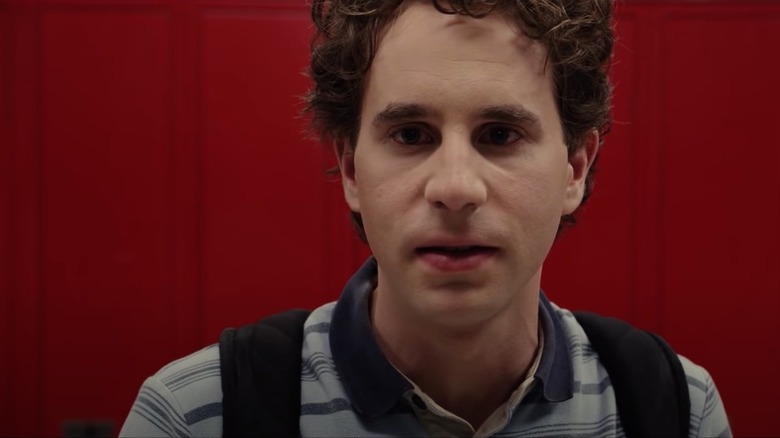 Universal Pictures
Now, much has been made since "Dear Evan Hansen" first revealed its marketing campaign about the fact that Ben Platt (who coincidentally turns 28 the day this film opens in theaters) is playing a high-school student in spite of his age. Though not an unfair criticism — both Evan and his "family friend" Jared are played by men who are very close to turning 30, and it's never not noticeable — it's worth noting that this would only be the billionth film or TV show that casts actors who are way too old to play high-school students. The problem is less that Platt is too old, and more that Platt's age is hard to avoid, whether it's in scenes like the opening song "Waving Through a Window" or when Evan gets close to Zoe. Platt calls to mind here nothing less than the similarly dour and curly-haired Zach Braff in "Garden State," a film that, for all its flaws, does not have Braff play a teenager.
Surrounding Platt — who's going for raw-nerve emotional energy throughout — are immensely talented actors who give their all to material that absolutely does not earn it. Sometimes, great actors can elevate weak material. Here, in emotionally charged sequences, actors like Amy Adams and Julianne Moore are so overqualified that their presence inadvertently highlights how frustrating "Dear Evan Hansen" is. There's a barbed and nasty commentary that could be made here in targeting how quickly people rally around seemingly good-hearted viral messages online, as in the mid-point song "You Will Be Found," in which Evan sings a heartfelt song at Connor's memorial derived from a friendship that is entirely created in his head. But this movie is asking to be taken seriously, not satirically, which is a fatal mistake (and was on stage as well).
If there's another fatal flaw, it's in how the staging of "Dear Evan Hansen" has changed drastically, if understandably. On stage, the set was primarily comprised of social-media screens, from Facebook feeds to Instagram photos to Twitter timelines. It was an effective visual accompaniment to the spiraling sense that Evan feels throughout his story, and one that is largely absent from the film. Outside of a few key moments, social media is a minimal presence visually in "Dear Evan Hansen" the film. On one hand, it makes sense: by now, how many films and TV shows have we seen where texts pop up on screen or montages of social-media virality are unloaded? This, frankly, hits at the heart of the unsolvable problem of "Dear Evan Hansen." Whether or not this story is inherently darker than it realizes, focusing a story of an emotionally unwell teenager who kills himself onto the face of a bystander who harnesses the emotional aftermath in his benefit, this is an adaptation that is five years too late. "Dear Evan Hansen" has core storytelling issues that would sink it in 2016 or 2021 or any other time. But it's a time capsule of a period of the early 2010s that isn't aware of how untimely, how ungainly, and how excruciatingly awkward it is now.
/Film Rating: 3 out of 10