Pen15 Creators Maya Erskine And Anna Konkle Explain Why They're Ending The Show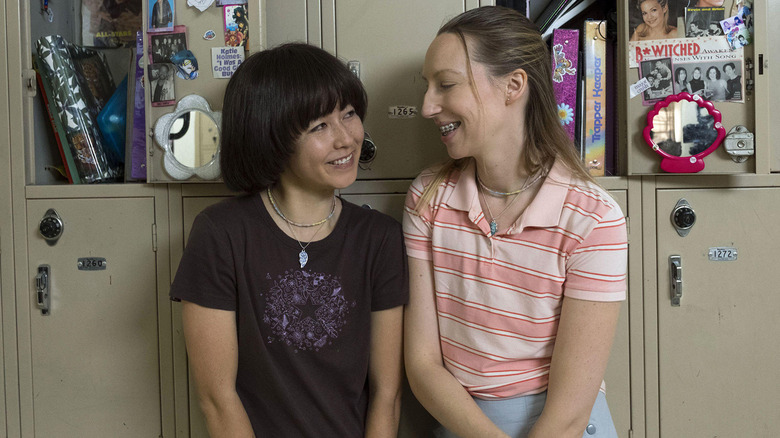 Hulu
Earlier this week the heartbreaking news was announced that after two seasons, the Hulu coming-of-age comedy "Pen15" was coming to an end. Created by and starring Maya Erskine and Anna Konkle as their 13-year-old selves, "Pen15" was a nostalgic journey back to the middle school experience of the 2000s, capturing all of the cringeworthy landmarks of puberty and transitioning into the terrifying world of our teen years. The end of the show is not due to cancellation by Hulu, but a conscious decision made by Erskine and Konkle. Hulu is allegedly still interested in working with the duo on other projects, including the possibility of future seasons of the show if the duo ever decide to return to the characters.
During a recent "For Your Consideration" event for the series (via IndieWire), Erskine and Konkle stressed that the decision to end the show was their own, which honestly earns Hulu some serious brownie points for not forcing creators to keep belaboring on a project at the expense of the story. The duo always envisioned the story being told over the course of three seasons, and with the pandemic splitting the second season into two parts, the team feels like the story has reached its natural ending. Season 1 focused on the girls' "firsts," the first half of season 2 on the exploration and development of identity, and the remainder of season 2 deals with the traditionally more mature subjects encountered while transitioning into teenagers.
'A Recipe for Burning Out'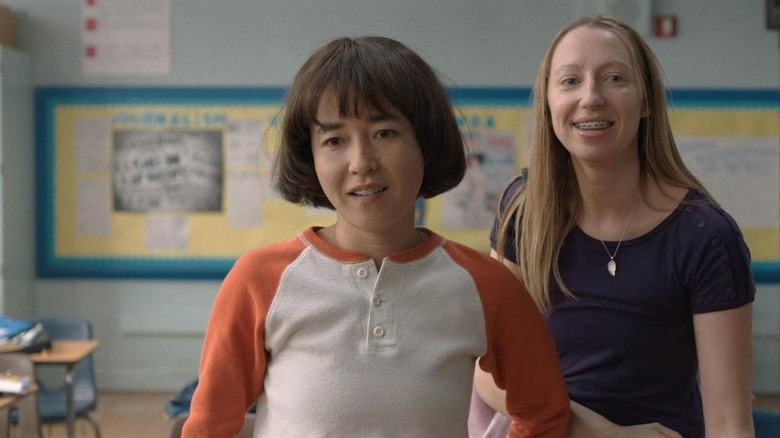 Hulu
Showrunners are always heavily involved in the creative process of their show, but "Pen15" is Maya Erskine and Anna Konkle. The duo executive produce, write, direct, and star in the show, which is taken largely from their own personal experiences, which means they're mining through their own adolescence for material. Erskine directed an episode called "Yuki" that comes completely from the POV of Maya's mother Yuki, played by Erskine's real-life mother Mutsuko Erskine.
And as I was directing, I kept saying, "Mom, stop!" and I would talk to her as a daughter but not as a director. At one point she asked me to stop calling her mom. She's like, "I'm Yuki. Call me Yuki." So she became this actress in front of my very eyes and it became this meta experience with this episode because I was no longer seeing my mom as my mom, but I was seeing her as a strong woman, a smart woman, so beyond talented, it moved me to tears.
For Konkle, writing an episode about Anna and Maya participating in a fundraising walk for cancer landed on the same weekend her own father had been diagnosed with cancer. He unfortunately passed away two months after diagnosis. 
"We've learned that showrunning, acting, producing, it's all the most creatively fulfilling experience I could ever imagine in my entire life and, like, a recipe for burning out," said Konkle. In an era where people are finally putting their needs both physically and mentally at the forefront, it's inspiring to see the two of them set the necessary boundaries they need to continue their lives and careers.
Staying Goodbye to the Show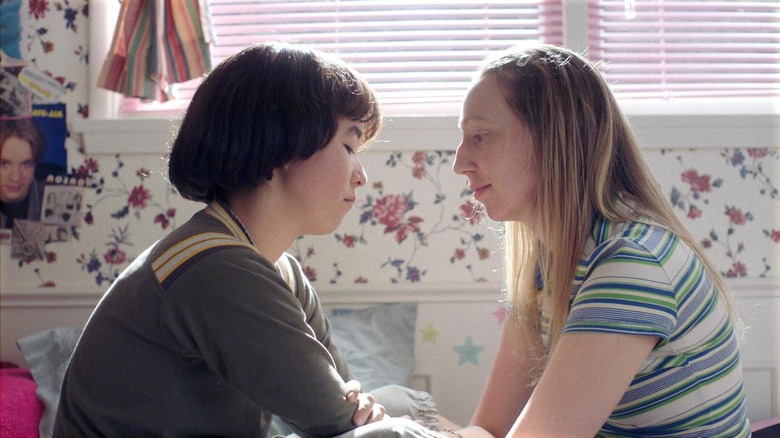 Hulu
In addition to the incredible workload required to keep the show going while Erskine and Konkle both became new mothers, Erskine added that Maya and Anna as characters are supposed to remain in middle school, so the show running longer than what would cover the time period of junior high would betray the very premise of the show. The decision did not come easy, but the two recognized that it was the right time for the show to come to an end. 
"It just never occurred to me that this could be life. To be able to be so creatively fulfilled with your friend," Konkle said. "And we've sort of, I think, gone beyond best friendship, it's definitely..." 
"Family," Erskine finished.
The two spent over a decade coming up with "Pen15," and the fact they were able to bring the project to fruition is definitely work celebrating. "To write and work and manage a business together and a creative endeavor and all that, it's challenging and fulfilling and complicated and beautiful and all these things," said Konkle. The two spoke through tears and expressed their love for the show, but more importantly, for one another. "It's gonna be really sad. But I'm excited to think about us 10 years from now, where we'll be and how we'll look back at it," Konkle said.
"Pen15" season 2B drops December 3, 2021 on Hulu.