Pen15 Season 2, Part 2 Trailer: If You're Lucky Enough To Live, Live.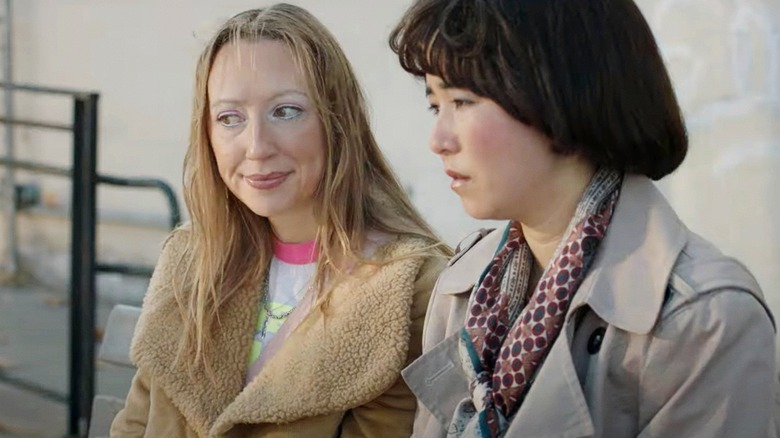 Hulu
After what feels like decades of a 1980s stranglehold on nostalgia properties, millennials were given the relatable gift of revisiting middle school in the form of "Pen15." The groundbreaking comedy created by Anna Konkle, Maya Erskine, and Sam Zvibleman features Konkle and Erskine (both actors in their mid-30s) playing middle school versions of themselves, while everyone else (with the exception of Chau Long as Anna's crush, Steve) played by age appropriate performers. Konkle and Erskine are able to provide an authentic look at coming-of-age in the early 2000s, unafraid to explore every monumental life change, no matter how uncomfortable or cringe worthy.
Halfway through its second season, Hulu has just released a new trailer for the second half of "Pen15" season 2, following the animated special released earlier this summer. "Pen15" season 2, part 2 will drop on Hulu on December 3, 2021. 
Most of the charm of "Pen15" lies with the success of Konkle and Erskine's gimmick of acting like middle schoolers, but the show has successfully managed to capture the dramatic difficulties that go along with growing up as well, and tackles very real topics like puberty, parental separation, self-consciousness, crushes, and bullying with the utmost respect. Check out the trailer below for "Pen15" season 2, part 2.
Pen15 Season 2, Part 2 Trailer
The trailer opens with Anna starting a relationship with Steve, the older boy who helped her stage manage the school play during the first half of "Pen15" season 2. Anna having a boyfriend leaves Maya afraid of becoming a third wheel, and she becomes concerned that their friendship may be in jeopardy. I remember when my middle school best friend got her first boyfriend, and that fear was very, very real. Fortunately, Anna and Maya's friendship is unshakable compared to what mine was with [redacted girl name from junior high], and the rest of the trailer shows our favorite duo supporting each other through difficulties like Anna learning to split time between her recently divorced parents, a funeral, and Maya's brother Shuji getting a cell phone.
Maya's cousin makes a visit in the trailer, and the student population of Trailview Middle School are smitten (or, since they're tweens, probably tokenizing) with the cool new girl from Japan, making Maya feel inadequate in comparison. The rest of the trailer indicates that Maya will later find a not-so-great high school boyfriend, Anna will finally admit she's struggling with her parents' separation, and the duo even run away from home when things feel too hard to handle. 
"Pen15" season 2, part 2 looks to continue the trend of a pitch-perfect examination of the junior high experience in the new millennium, and December 3, 2021 can't get here soon enough.