An RRR Sequel Could Happen, But How Could It Even Top The First Movie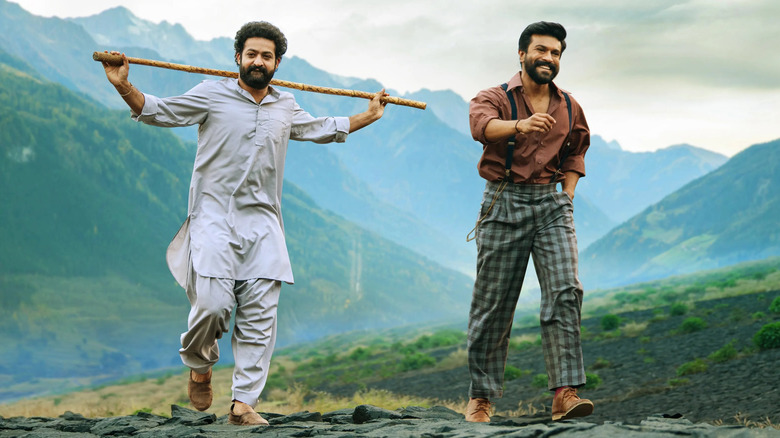 DVV Entertainment
Even with all of the incredibles films I've seen so far in 2022, few have made me as excited, emotional, and pumped up as "RRR," which /Film's Hoai-Tran Bui calls a "maximalist epic." Director S.S. Rajamouli's explosive piece of spectacle cinema is a movie with a burning fire in its belly that never subsides throughout its three-hour runtime. I consider not going to see it with a packed crowd as one of the greatest regrets of my life. In many ways, it is a movie that invites communal participation as you watch it. 
"RRR" is an action film, a romantic drama, and even a musical, all told through the lens of historical fiction. N.T. Rama Rao Jr. and Ram Charan star as fictional adaptations of Indian revolutionaries Komaram Bheem and Alluri Sitarama Raju, respectively. Each man is on their own mission, unaware that their lives are more intertwined than they initially thought, which leads to one of the most emotionally complex screen friendships in recent memory. In reality, the actual revolutionaries never crossed paths, but "RRR" posits the question: How cool would it be if they did?
Everything comes in threes, and the combined efforts of Tollywood superstars Rajamouli, Jr NTR, and Charan have transformed one of India's highest grossing films of all time into a global phenomenon. In so many ways, they have proved that the current state of action filmmaking doesn't need to sacrifice color, charm, or storytelling. Time will tell if the film picks up some nominations come Oscar season, but if you're still feeling the same "RRR" fever that I am, then Rajamouli has some wonderful news for you: There's a sequel in the works.
'My father and I discussed it, he is working on it'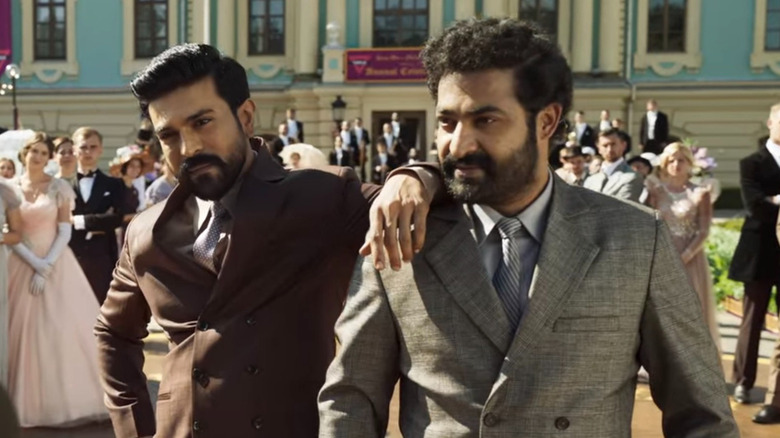 DVV Entertainment
During a post-screening Q&A at Chicago's Music Box Theatre, which /Film's Ethan Anderton attended, Rajamouli confirmed that a "RRR" sequel is in development (via The Indian Express):
"I would absolutely love to do that. I mean, I can't reveal any details about it, but my father [V. Vijayendra Prasad] is the story director for all my films. We discussed a bit about it, and he's working on the story."
I have no idea what an "RRR" sequel could even look like, but my mind is buzzing just thinking about all of the possibilities, assuming everyone would return. Although this is all very exciting news, it's probably best if we temper those expectations just a bit for a few reasons. Given that the initial announcement for "RRR" and its theatrical release was about a four-year turnaround, it will probably be some time before we even get to see it. But given the film's massive success, I wouldn't be shocked if there's a fast timetable to get this thing made.
Another thing to consider is how an "RRR" sequel would even work, given that it wraps up an entire three-hour epic of revolution nice and tight. It's a film that is exciting, loud, and bold, but it is also incredibly patient in its storytelling. Where else is there to go with Bheem and Raju? Despite my initial doubts, if "RRR 2" is going to be made, I'll be there day one to see what insanity Rajamouli has cooked up.
Never doubt S.S. Rajamouli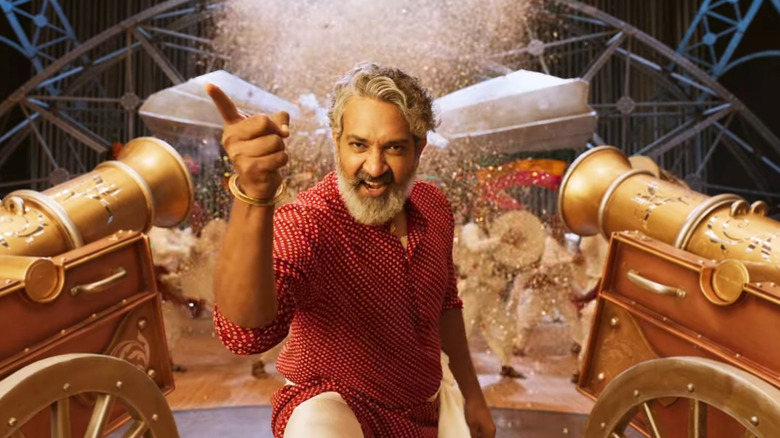 DVV Entertainment
But what do they do then? "RRR" succeeded because it was a tightly compact story from start to finish. As far as I'm concerned, I see a couple possible avenues forward.
As beloved as Jr. NTR and Charan are, it wouldn't entirely shock me if Rajamouli (seen above) thrust two other revolutionaries together on their own adventure against colonial forces through an anthology sequel. Although ditching its stars would be a risky move. However, there's also the possibility of elaborating further with the film's ending.
At the end of "RRR," Bheem asks Raju if he can learn from him. While the moment is played as a tender moment, which showed that they will continue to be the greatest best friend duo that ever existed, Rajamouli could build upon that door that's been left open. This is the most likely path they will take, as it presents the pair with an opportunity to go on another adventure. After all, Rajamouli was already fudging historical events to make this film. If he just wants to take the charismatic paring of Jr. NTR and Charan down another path of liberation through the beautiful destruction of British colonialism, who are we to say he shouldn't?
We often like to say to never doubt a visionary filmmaker like James Cameron, but when you take into account everything that Rajamouli is doing within the Tollywood film space, it's safe to say that the "Baahubali" filmmaker should benefit from the same level of trust. Whatever Rajamouli and Prasad come up with, however, will bound to be another rousing and exciting action spectacle.
"RRR" is currently streaming on Netflix and ZEE5