Pop Culture Imports: RRR And More Awesome Indian Movies To Stream Now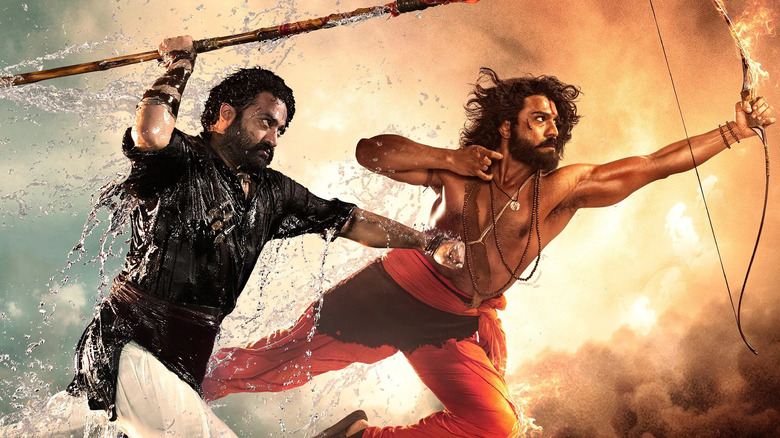 Variance Films
If you've been "RRR"-pilled like the rest of us have been over the course of the last few months that S. S. Rajamouli's maximalist epic has swept the globe, then you're probably looking for more high-octane, epic Indian movies to watch. Fear no more! I've compiled a very incomplete list of films to check out — in addition to "RRR," which I'm sure you're all rewatching incessantly just like us all.
Let's fire up those subtitles and get streaming (and dancing).
RRR – Netflix, ZEE5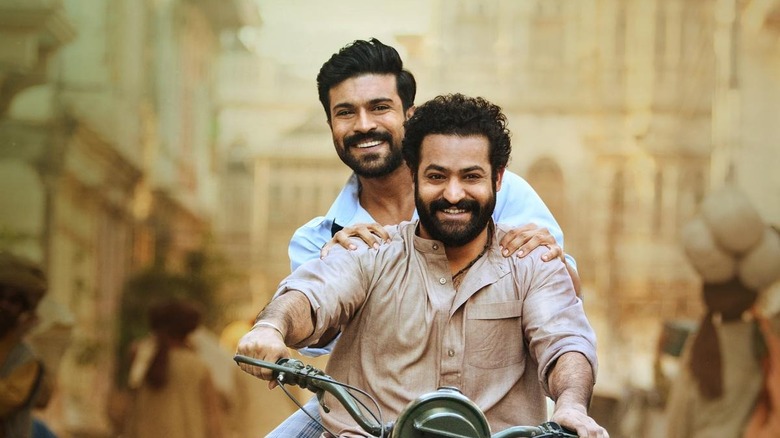 Variance Films
Country: India
Genre: Historical action epic
Director: S. S. Rajamouli
Cast: N. T. Rama Rao Jr., Ram Charan
What more can be said about "RRR"? The maximalist action epic is so gloriously exuberant and visually extravagant that it puts Hollywood blockbusters to shame. S. S. Rajamouli's global crossover hit is a dozen movies in one, yet beneath all its glistening machismo and cartoonishly heightened action, there lays a pure soul and an earnest affinity for melodrama. Plus, this is a movie where two men, who bonded over the sheer power of their shared masculinity, perform an insane dance number that basically brings down British colonialism. Anti-imperialist epics were never so awesome.
Watch This If You Like: "Ip Man, "Infernal Affairs," toppling imperialism with the power of bromance.
Baahubali: The Beginning and Baahubali 2: The Conclusion - Netflix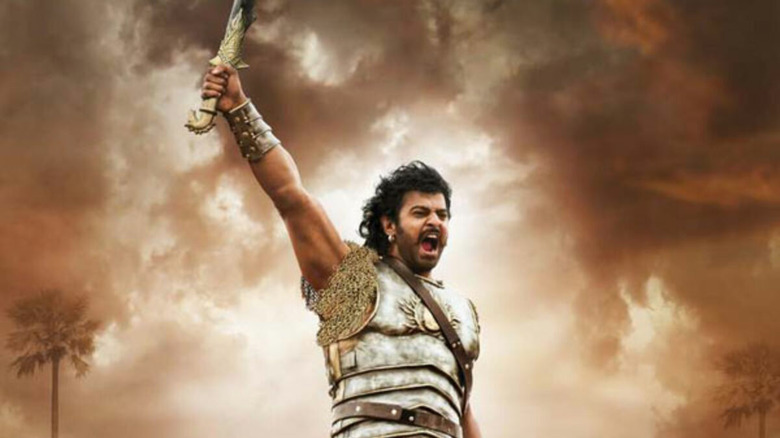 Arka Mediaworks
Country: India
Genre: Historical action epic
Director: S. S. Rajamouli
Cast: Prabhas, Rana Daggubati, Anushka Shetty, Tamannaah, Ramya Krishna, Sathyaraj, Nassar.
S. S. Rajamouli is one of our best modern mythmakers, and that has never been clearer than with his epic Baahubali films, which — until "RRR" would best them — were the most expensive Indian productions to date. An intergenerational epic that plays out across two films, the "Baahubali" films weave a Shakespearean tragedy with Indian folklore, resulting in a bombastic, blood-spattered tale of betrayal and vengeance. It's operatic, it's jawdropping, it's surprisingly sensual and romantic. This is cinema.
Watch This If You Like: "Rurouni Kenshin," "The Northman," all those other "Hamlet" riffs, but with five times the abs and five times the musical numbers.
Lagaan - Netflix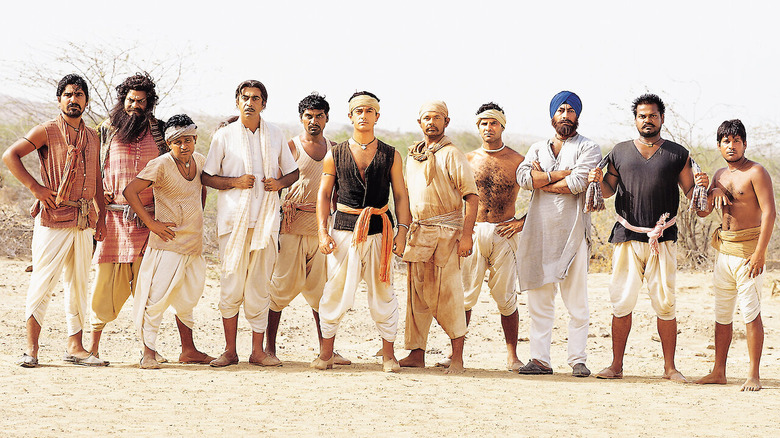 Aamir Khan Productions
Country: India
Genre: Sports drama
Director: Ashutosh Gowariker
Cast: Aamir Khan, Gracy Singh, Rachel Shelley, Paul Blackthorne.
What if you threw the imperialism-toppling bombast of "RRR" into an inspirational sports drama about cricket? You have "Lagaan," probably the most similar movie on this list to "RRR," but with the prestige movie sheen of an Oscar-nominated movie (it was the third Indian film to ever be nominated for the Academy Award for Best Foreign Language Film). A joyous, irrepressible anti-imperialist sports drama, "Lagaan" tells the story of a small village during the late Victorian period of India's colonial British Raj who, when faced with impossibly high taxes in the middle of a drought, take up a challenge against the arrogant British officers to beat them at a cricket game. If they win, their taxes will be nullified for the next three years. Cue inspirational training montages and many musical sequences (even one of the white characters gets one!).
Watch This If You Like: "Invictus," "Rocky," "A League of Their Own," cricket!
Eega - Aha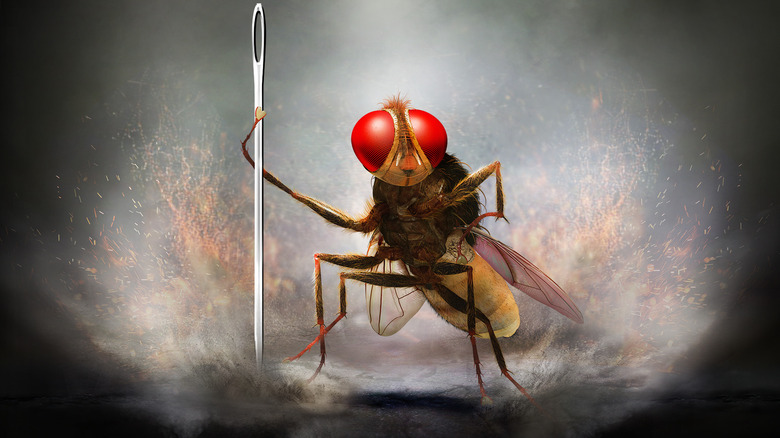 Ficus
Country: India
Genre: Fantasy action film
Director: S. S. Rajamouli
Cast: Sudeep, Nani, Samantha.
Possibly the most absurd-sounding film on this list, "Eega" deserves a watch based on its premise alone: A man (Nani) who is in love with his neighbour Bindu (Samantha), is murdered by a wealthy industrialist named Sudeep (Sudeep) so that he can be with Bindu instead. But that soapy melodramatic plot gets a fantastical twist: Nani is reincarnated as a housefly, who swears vengeance on his murderer. There is a term in Indian cinema called the "Masala film," which refers to films that freely mix action, comedy, romance, drama, or melodrama. Rajamouli is a connoisseur of this genre, and "Eega's" wild mixture of genres and tones is the perfect example of this.
Watch This If You Like: "The Fly," but if said fly was a reincarnated man who will seek vengeance for his murder.
Kaala – Prime Video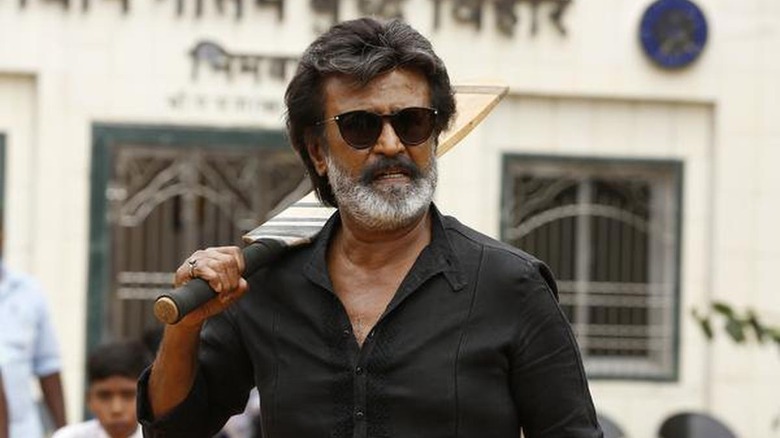 Wunderbar Films
Country: India
Genre: Action drama
Director: Pa. Ranjith
Cast: Rajinikanth, Nana Patekar, Samuthirakani, Eswari Rao, Huma Qureshi.
"RRR" boasted the superstar combination of its two insanely popular leads and director, but "Kaala" has Rajinikanth, aka "Super Star Rajini" — known as one of India's most beloved performers. At 68 years old when "Kaala" was released, Rajinikanth has the charisma and swagger of a much younger man — aided by the super metal guitar riff that played whenever he entered a scene. A bit more scrappy and shaggy than the superpowered gloss of "RRR," "Kaala" still tells a fist-pumping tale of a Tamil leader protecting his Mumbai slum from being bulldozed. Come for the classic underdog tale set to way too many guitar riffs, stay for the exciting hip-hop musical numbers.
Watch This If You Like: "West Side Story," grizzled older dudes kicking politicians' butts.
Jalikattu – Prime Video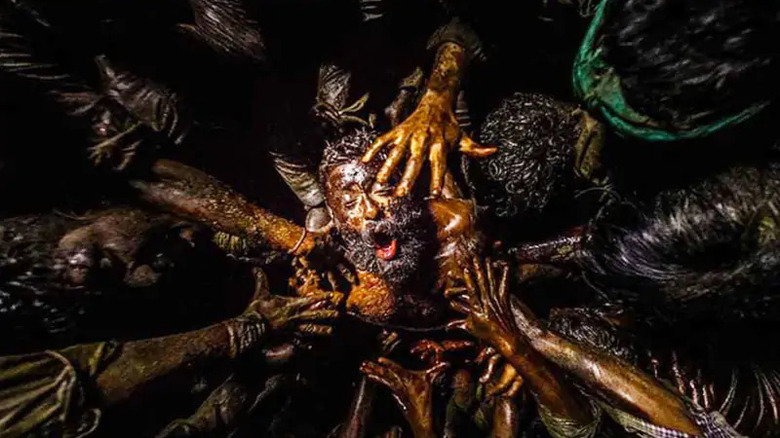 XYZ Films
Country: India
Genre: Action thriller
Director: Lijo Jose Pellissery
Cast: Antony Varghese, Chemban Vinod Jose, Sabumon Abdusamad, Santhy Balachandran.
"Jalikattu" is the rare independent Indian movie that can be as high-octane and frenzied as the biggest Bollywood (or Tollywood) blockbuster. A Malayalam-language independent action thriller film directed by Lijo Jose Pellissery, "Jallikattu" follows a bull that escapes from the slaughterhouse into a remote hillside village, which soon descends into chaos. A tense thriller as visceral as it is metaphorical, "Jallikattu" is a film shot frequently in long, unbroken takes that shows just how easy it is for society to break down and for humans to tap into their own animalistic instincts. Stylized and uncomfortable, "Jallikattu" was met with acclaim and is now widely regarded as one of the defining movies of the Malayalam New Wave Movement.
Watch This If You Like: "Lord of the Flies."
The Dhoom franchise – Prime Video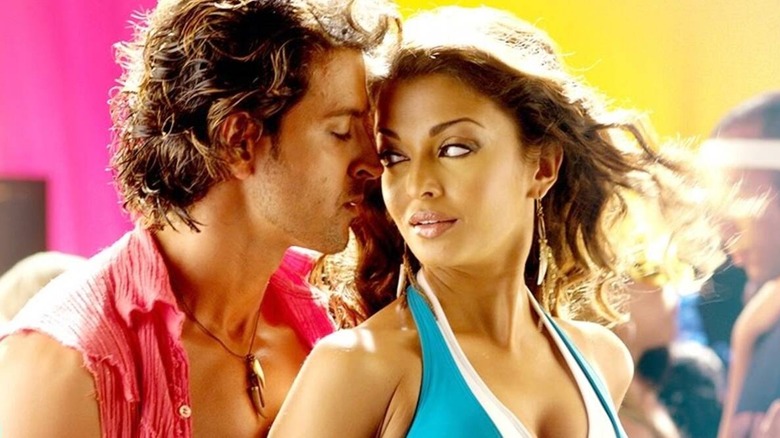 Yash Raj Films
Country: India
Genre: Crime action thriller
Director: Sanjay Gadhvi, Vijay Krishna Acharya
Cast: Abhishek Bachchan, Uday Chopra, John Abraham, Hrithik Roshan, Aishwarya Rai Bachchan, Aamir Khan.
"Fast and Furious" wishes it were as cool (or at least had as many musical sequences) as its Bollywood equivalent, "Dhoom." "Dhoom," which roughly translates to "noise" or "uproar," is more onomatopoeia than actual word. Which feels fitting for the trilogy — it doesn't have much to say, but it is exhilarating, strange, and silly. There is a scene where a master criminal dresses up as Queen Elizabeth II (complete with a Mission: Impossible mask reveal) and jumps off a moving train in the middle of the desert via snowboard. There's a chase scene with a boat and a truck, in which a super cop jumps the boat across a bridge to shoot at the oncoming truck. The movies are about supercops chasing super-criminals, but the third one has a magician for some reason? It's magnificent and ridiculous — and it's ful of banger songs.
Watch This If You Like: The "Fast and Furious" movies, but with more singing and dancing.