An Ode To 'Dhoom,' The Magnificent Bollywood Version Of 'Fast And Furious'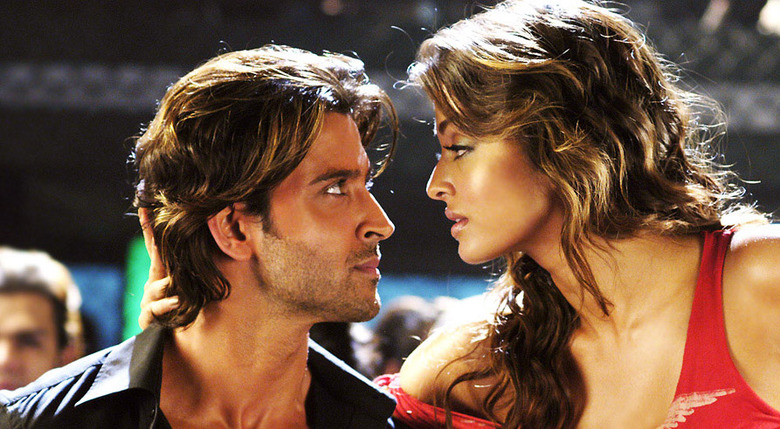 It's an unspoken rule in the movie industry that if Hollywood makes it, Bollywood will come...and create their own musical version. But apart from a couple of impressive song and dance sequences, the Bollywood rip-off usually pales in comparison to the original. Dhoom, the emphatically great Bollywood series inspired by the Fast and Furious franchise, is an exception.
There's no movie perhaps better suited to the over-the-top antics and implausible plots of Bollywood than The Fast and The Furious. The original 2001 film was a flashy show of machismo, street car races and heists, strung together by an earnest narrative about community and — what else? — family. That balance of the spectacle with the sincere is perfectly catered towards Bollywood films, which wear their hearts on their sleeves and will inform you of that in song. So it was only natural that the industry would be inspired by the gritty Vin Diesel action movie, and make its own: Dhoom.
Dhoom is an action-packed, testosterone-laden and oil-soaked series — so far composed of three films, Dhoom, Dhoom 2 and Dhoom 3 — much like the franchise that "inspired" it, just with a few more hip thrusts.
The similarities to its American counterparts are more than apparent in the first Dhoom film, a mid-budget action movie directed by Sanjay Gadhvi released in 2004. The story follows a renowned "super cop" Jai Dixit (Abhishek Bachchan) who meets his greatest foe in the form of Kabir, the leader of a motorbike gang (John Abraham) that performs elaborate heists. The "super cop" enlists the help of a streetwise bike racer Ali (Uday Chopra) to help him trap the gang, and the chase is on. Car chases, NOS tanks, double agents and women in booty shorts abound — though the American muscle cars are traded for more maneuverable motorbikes, and thumping hip-hop soundtracks are traded for elaborate musical performances.
Sure, so the plot point and characters are vaguely similar — why should that make us even breathe the word Dhoom in the same sentence as the almighty Fast and Furious? It's because Dhoom captures the essence of what endears Fast and Furious to its adrenaline-addicted audience: it's completely insane. There's no part of the series that should work, but in this heightened reality where cars jump out of planes and ramp from skyscrapers, Fast and Furious makes it work. Dhoom demonstrates that it understands that level of absurdity in its first film, which despite its low budget compared to its sequels, lived up to the Fast and Furious' mantle.
How Dhoom Captures the Essence of Fast and Furious
One of the best scenes of Dhoom that solidifies it as an action film for the ages is the final showdown between Jai and Kabir, who is driving a truck with his stolen goods along a river as Jai chases him in a jet boat. Kabir is about to make a getaway, blocking Jai's path by blowing up oil barrels in his path and crossing a bridge to take him away from the river. But Jai, living up to his "super cop" title, drives his jet boat straight through the fiery blaze of oil barrels onto a ramp and over the bridge, shooting at Kabir's windshield before landing back on the water. It's a fantastic reversal of 2 Fast 2 Furious' famous boat jump scene, which was released a year before. So even more props to Bollywood for jumping on that (ramping on that?) so quickly.
And I haven't even gotten to the musical breakouts, which in true Bollywood form, are actually more like exquisitely-produced music videos than songs related to anything going on in the plot. The often 5-minute long sequences are cheesy, weird, often rain-drenched and full of innuendo — as close to sensuality as you would get in the chaste Bollywood industry at the time (it's arguable that Dhoom was at the forefront of Bollywood opening up to sensuality and sex).
The theme song for Dhoom has become one of the most famous songs in Bollywood, and has been remade in every Dhoom sequel that followed. The original version of the song — which is performed in a concert by a glamorous femme fatale to mask a motorbike heist — features five costume changes in the course of one song, which again, exemplifies the absurd heart of this series.
Dhoom And the Mid-Series Game-Changer
Dhoom was a scrappy action film with few expectations for its success. It went on to become one of the top-grossing Hindi films of 2004, spawning two sequels, with a rumored third on the way. But it was Dhoom 2, the big budget, star-studded follow-up that launched the franchise into new, true blockbuster territory.Dhoom 2 was Dhoom's Fast Five. The series reached dizzying new heights thanks to exotic locales ranging from the Namibian Desert to the beaches of Hawaii (which was such a jarring shift that I'm pretty sure they only filmed there for a paid vacation), and even more ambitious and wacky heists. Dhoom 2 was the apex of the series and it will be difficult to ever live up to it again, but at least it gave Dhoom the chance to cut loose and go all out.
While Dhoom was an unexpectedly delightful action film, Dhoom 2 was a whirlwind of action and escalating stakes, punctuated by steamy musical sequences. The opening heist, for example, involves the movie's new master criminal, Mr. A (Hrithik Roshan) dressing up as Queen Elizabeth II and jumping off a moving train in the middle of the desert via snowboard (sandboard?). In a later scene, he impossibly outruns Ali's motorbike using rollerblades and magnets. It's wild.
Much like how street racing took a backseat to superspy-dom in the Fast and Furious franchise, Bachchan's "super cop" Jai and Ali took a backseat to the big-name stars playing his criminal opponents. In Dhoom 2, dreamboat Hrithik Roshan and the Queen of Bollywood Aishwarya Rai played the super thieves that stole the movie and the audience's sympathy — though their flirtation was fraught with tension, as Rai's Sunehri is an undercover agent tasked by Jai to bring down Mr. A. Amazingly, thanks to Roshan and Rai's searing chemistry, Dhoom bests Fast and Furious in one regard: a believable romance.
The romance — and the concept of the sympathetic criminal — was so compelling that it became a common thread continued in 2013's Dhoom 3, the first not directed by Gadhvi. Again, a Bollywood titan, Aamir Khan, was cast as the master criminal — this one a magician working in a circus and in love with a beautiful acrobat (Bollywood sex icon Katrina Kaif). While Dhoom 3 went on to be the highest-grossing Bollywood movie of all time — now the fifth-highest — it never lived up to the heightened weirdness of Dhoom 2 or even the visceral charm of the first Dhoom.
"Dhoom," which roughly translates to "noise" or "uproar," is more onomatopoeia than actual word. Like its apt title and like the Fast and Furious franchise it is influenced by, Dhoom doesn't have much to say, but it is exhilarating, strange and silly — a wonderful diversion for people who just want to see cars, girls and people gyrating to a Bollywood song.