Robin Williams Saw Mrs. Doubtfire As Much More Than A Cross-Dressing Comedy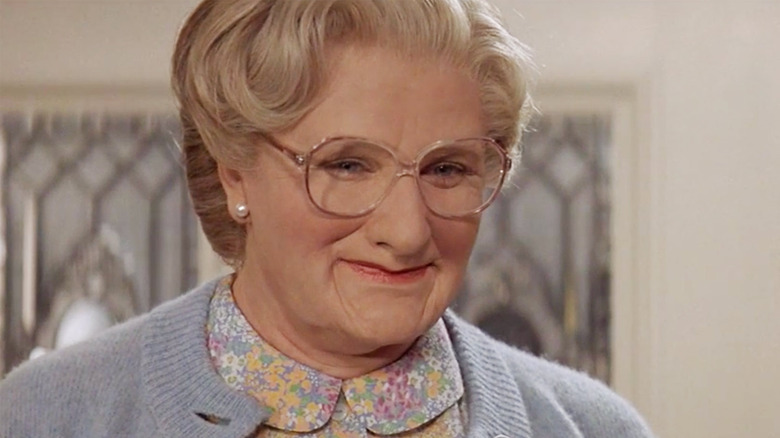 20th Century Fox
To those of us that love it, the 1993 dramedy "Mrs. Doubtfire" is a touchstone and a classic. It's pure nostalgia fuel, and it certainly reminds me of a simpler time in my own childhood. In the same breath, the film's perfect balance of comedy and drama was the perfect vehicle through which to tell a really heart-wrenching story, and made everything about the movie—from the characters to the punchlines to the incredible makeup work—that much more memorable. Before any of us got to see the film, the late Robin Williams knew there was more there than your average comedy.
In the 2018 biography "Robin" by Dave Itzkoff, Williams revealed that the best part of getting to become "this sweet, blue-mouthed old woman" named Euphegenia was playing "someone totally unlike myself." The actor added, "It isn't just drag. It's the fact that it was like, to be, to have this character that really had a life of her own. No longer does it look anything like myself, and you're free to be this woman, and create her and to make her as funny as you can, but yet still be in character."
According to the book, there were "certain unfamiliar boundaries" that came with the part, "and sometimes I would cross over them," Williams explained. "But most of the time I could stay within her, who she was." One of the most exciting things about the film is when Williams does cross those boundaries on screen.
The appeal of Mrs. Doubtfire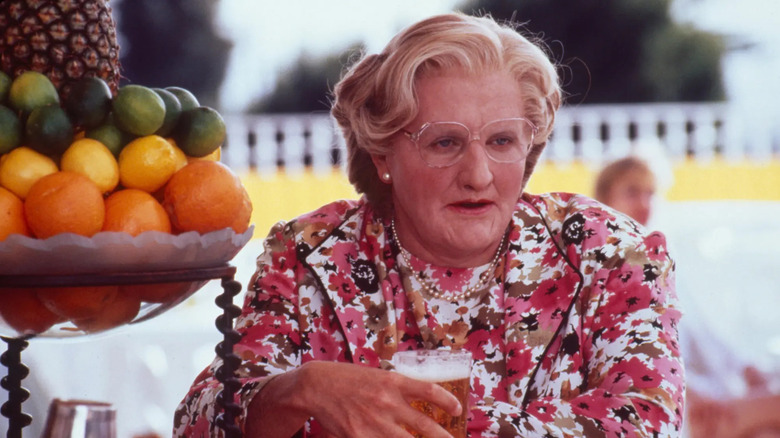 20th Century Fox
The fact that "Mrs. Doubtfire" is still beloved says more about the character — and, in turn, Williams' incredible work — than it does about the film itself, despite the movie being a top-notch '90s comedy. Williams was, of course, absolutely hilarious, and his comedy chops were unquestionably perfect for the part. But the real challenge, and ultimately the reason why the film is still a favorite today, is that Williams was believable in the part.
In Itzkoff's book, Marsha Garces Williams, one of the film's producers and Williams' longtime wife, explained that was exactly how she saw the appeal of the film. "I liked the idea that a man would have to play a woman and do it well enough to pass," the producer explained. "I looked at things, at that point, more in terms of the range that it would require of Robin as an actor, and I figured that we could make the rest work around that. I was just purely interested in the idea of Robin playing this woman, more than anything."
Knowing Williams' comedic prowess, it's not a bad idea to consider. And we know it went off without a hitch because we're on the other side of it, but in the '90s, it was a bold move. Williams was probably the perfect person to channel that type of character with grace and care, which is especially on display in the delightful scene with Daniel's brother, Frank, played by the Broadway legend Harvey Fierstein.
Daniel Hillard's emotional core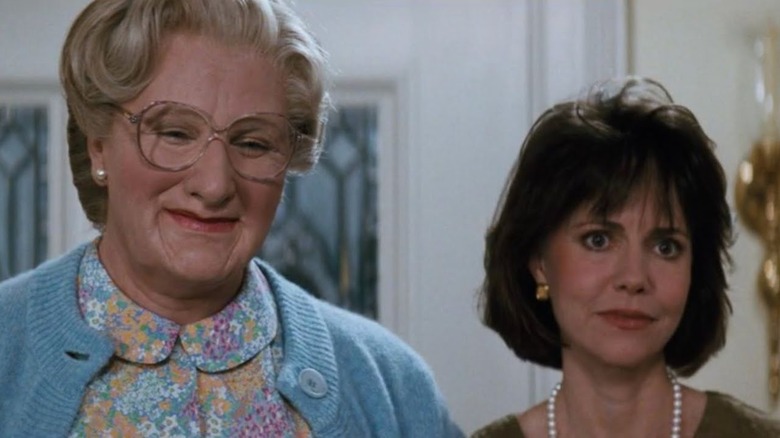 20th Century Fox
During the scene, Frank and his boyfriend transform Daniel into Mrs. Doubtfire for the first time, crafting his prosthetics, wig, and female bodysuit. The moment is full of love and affection, but it also highlights Frank as a gay character and uses that as a major strength. These concepts were taboo at the time—culture wasn't nearly as accepting when it comes to identity as it is now—but because of the way Williams approached his (and Fierstein's) character, these aspects were able to be seen in a positive light.
But that said, Williams' true identity in the film—a depressed divorced father named Daniel Hillard who gets little time with his family because of his demanding job in voice acting—was also deeply relatable. Director Chris Columbus told Itzkoff that he and Williams both connected with the film's story because of that particular detail, as both of them were also very familiar with how unforgiving schedules can be in the entertainment industry. "In our hearts, we'd love to be Robin's character in the movie," Columbus said. "To be the ultimate father twelve hours a day, to stay home and play with the kids."
"Mrs. Doubtfire" is outlandish and exists in the realm of fiction, but the things it has to say about love, identity, and being there for the ones who need you most are some of the most important truths a film could possibly give its audience.