One Of Pierce Brosnan's Best Mrs. Doubtfire Scenes Came From The Mind Of Robin Williams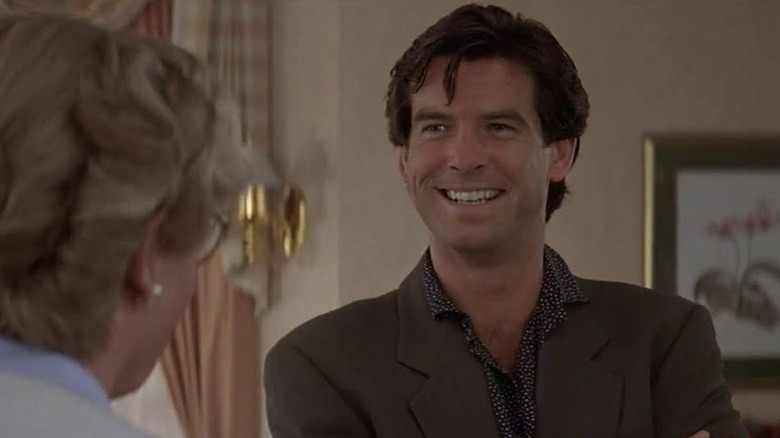 20th Century Fox
Pierce Brosnan was two years out from making his long-awaited debut as James Bond in "GoldenEye" when he took on the thankless role of Stu Dunmeyer in "Mrs. Doubtfire." Stu is the handsome, charismatic new boyfriend of Sally Field's Miranda Hillard, who's filed for divorce from her overgrown child of a husband, Daniel Hillard, played by Robin Williams. The film is obviously a showcase for Williams, who transforms Daniel into an elderly British nanny so he can spend time with his children. This leaves Brosnan to play straight man, which he does remarkably well, but it's a bit like using a Lamborghini to haul furniture.
Brosnan, like just about everyone else who had the pleasure of acting alongside Williams, found his co-star to be ceaselessly inventive. And one scene he'll never forget finds the comedic dynamo pegging him in the back of the head with a lime.
A poolside humiliation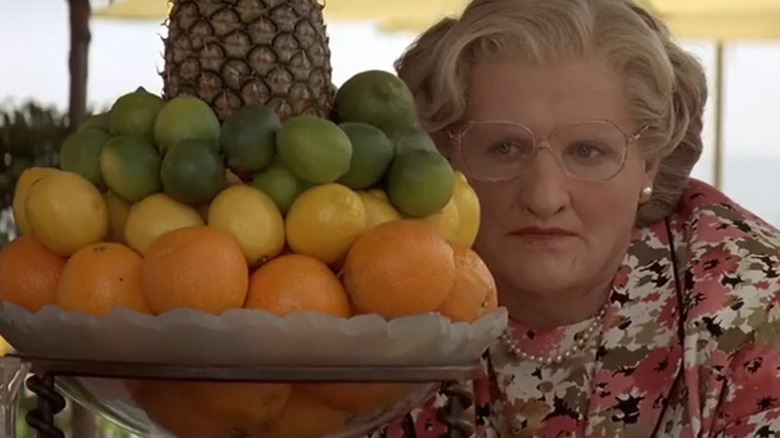 20th Century Fox
You know the scene. Miranda and Stu are enjoying a day at a hotel pool, while Daniel, as Mrs. Doubtfire, gets crocked at the bar. After watching this perfect specimen of a man show off with a masterfully executed dive, Daniel/Doubtfire overhears Stu referring to him as a loser, and that sends him into spiteful action by throwing a lime at the back of his head.
Brosnan remembers the shooting of the scene well. As he told GQ:
"It was a sunny morning and my character, Stu, has to walk out on the diving board to do a swallow dive. I don't dive. I don't do swallow dives. I don't like heights. Top board, 300 extras. Action. I'd walk out to the end of the board and I'd go like this and they'd say, 'Cut!' And then I had to tiptoe back, such humiliation, but it gave everyone a laugh. So that was that morning, and then the next scene was '[Run] By Fruiting.'"
Brosnan takes a lime for the team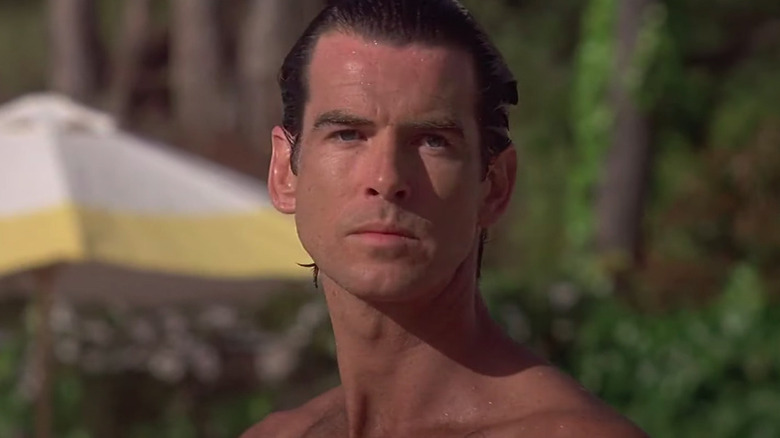 20th Century Fox
The line was improvised by Williams. Unsurprisingly, nailing the joke was no problem for the star, but literally nailing Brosnan with a small, fruity projectile seemed to Brosnan like a tall order. It wasn't. "I get the beers," he says. "I'm walking back. I'm thinking this is gonna take forever, forever to hit me on the head. First one missed, second one is history."
The line itself is funny, but it gets a much bigger laugh than it might've due to Brosnan's reaction. His peeved turn-and-glare to Williams is a slow burn worthy of Jack Benny. Given the state of Brosnan's career at the time, it's amazing he allowed himself to look like a humorless jackass, but he emerged unscathed. No one was thinking about a "run by fruiting" a couple of years later when he was trading hyper-sexual banter with Famke Janssen in "GoldenEye."