Pierce Brosnan Didn't 'Meet' Robin Williams Until Filming On Mrs. Doubtfire Wrapped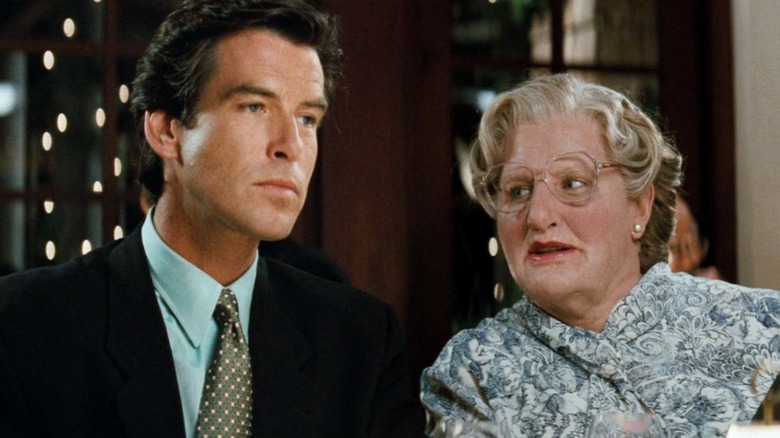 20th Century Fox
Chris Columbus' 1993 film "Mrs. Doubtfire" would have been the highest-grossing film of 1993, were it not for "Jurassic Park." It was that popular. But whereas "Jurassic Park" has had five sequels and a few TV shows, "Mrs. Doubtfire" has remained a stand-alone phenomenon. The film is a reminder that high-concept, star-led scripted studio comedies were once an enormous box office draw, at least as much as well-moneyed, effects-driven genre fare. Anyone who saw Leonard Nimoy's "Three Men and a Baby" in theaters can back up this claim. These days, such comedies aren't as big business, and they aren't being rebooted with the same high profile (although some are being rebooted). 
The premise of "Mrs. Doubtfire" is thus: Robin Williams plays a voice actor and divorced dad named Daniel who is, thanks to his unemployment, unable to see his kids as often as he'd like. His ex-wife Miranda (Sally Field) has started dating a handsome new man (Pierce Brosnan), and Daniel is desperate for more time and information. When Miranda places an ad for a housekeeper and babysitter, Daniel hires a friend who designs special effects makeup and disguises himself as "Euphegenia Doubtfire," an elderly British nanny. Daniel pries into Miranda's relationship with Brosnan and takes care of his kids, who don't recognize him. Shenanigans ensue. 
The dictates of the plot demanded that Brosnan — effortlessly charming in the role of the "clueless boyfriend" — only have scenes with the Mrs. Doubtfire character. He and Williams never interacted unless Williams was in full makeup. As such, Brosnan revealed in a recent video interview with GQ, he didn't really get to meet Williams until shooting had wrapped and the makeup was removed. 
'You're very handsome'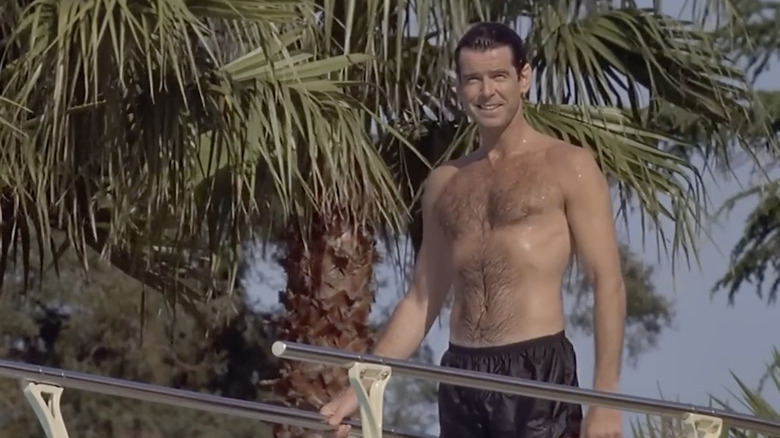 20th Century Fox
Brosnan explained in the interview that "Mrs. Doubtfire" was a plum gig for him. "Mrs. Doubtfire" came two years before the actor was to begin his tenure as James Bond, so a job working with Williams was definitely going to pay well and raise his profile. "I had a mortgage to pay that month," he quipped. Additionally, Sally Field was his co-star. There was nothing to be upset about. 
"Mrs. Doubtfire" shot in San Francisco, and Brosnan remembers flying in and meeting Williams for the first time in the makeup trailer. The Mrs. Doubtfire makeup took four hours to apply, so Williams was on the clock far earlier than Brosnan, and was already disguised as an old woman by the time his co-star arrived. Brosnan said: 
"I remember going up to San Francisco that first day. I went into the makeup trailer and Robin was there, and he had a Hawaiian shirt on, and big, hairy arms and cargo pants, and hairy legs. But he had the head of Mrs. Doubtfire. [Mrs. Doubtfire voice] 'Ooh! Hello, Pierce. Ooh, you're very handsome. Ooh, give us a kiss! Ooh!' [Williams voice] 'Hey there, buddy. Nice to see you. Glad you came up.' [Brosnan voice] 'Hello, Robin. How are you, man?' 'Oh, I'm good, man. I've been here for hours.'"
(Brosnan's Doubtfire voice is impressive. His Williams impersonation could use some more rehearsal.) 
As those who know Williams' body of work can attest, Williams tended to ramble and improvise endlessly. He would switch voices and drop jokes as a furious rate. It seems that Brosnan got a taste of Williams' wild character flips right off the bat. 
Meeting Robin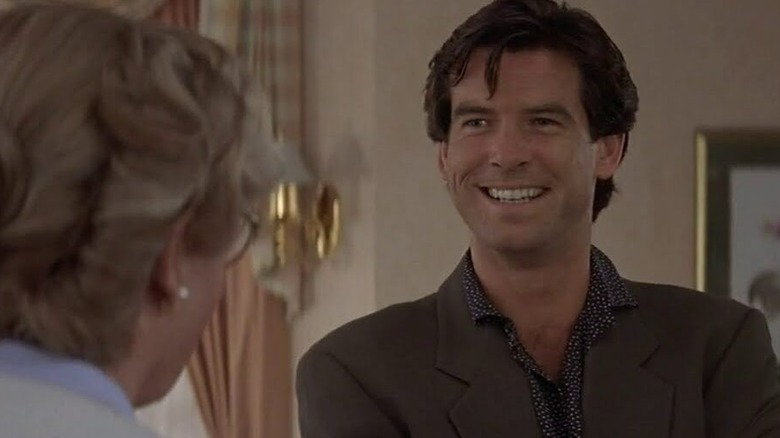 20th Century Fox
Although Brosnan doesn't relate the first time he met Williams out of makeup, he does know it didn't happen until the end of shooting. On set, however, he recalled that Williams was a warm and encouraging presence. While Williams did improvise incessantly, he was, according to Brosnan, compassionate and generous to his co-stars. The actor was also impressed by Williams' tenacity; it must take a great deal of patience to put on that makeup and be ready every day.
"I would go to work, and I went to work every day on that movie. And I was always working with, you know, Mrs. Doubtfire. It wasn't until the end of the movie that I met Robin. Chris Columbus ... created such a warm environment for us all to be free in and create in. And Robin of course, had full realm of creativity and spontaneity, and humanity, and passion for all of us actors. His commitment to that role, it was phenomenal, because he would go to work and be there from four o'clock in the morning."
Rumors began circulating last year that Williams improvised so much — and skewed so blue — that Columbus had assembled a completely alternate cut of "Mrs. Doubtfire" with the raunchiest jokes included. Some even posited that there was definitely an NC-17-rated cut of the movie. Columbus and actor Mara Wilson both came out to debunk this. While Williams did make many R-rated blue jokes on set, there was never a cut that included them. 
Brosnan has always cherished "Mrs. Doubtfire," and, in 2018 — the film's 25th anniversary — posed for a delightful picture with the three actors who played his character's potential stepchildren. Additionally, one can presume, he made his mortgage payment on time.