Robin Williams Had To Fight For Mrs. Doubtfire's Melancholy Ending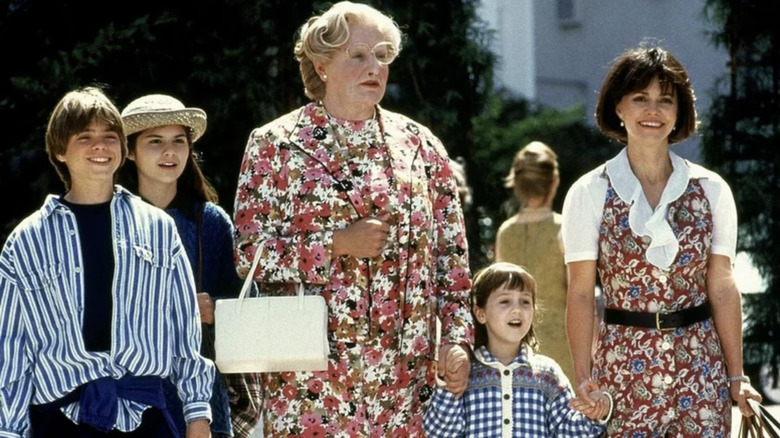 Twentieth Century Fox
One thing is certain about Robin Williams, he knew how to get a laugh, and he spent decades doing just that. After years in stand-up comedy, Williams burst onto the acting scene playing Mork, a loveable alien from the planet Ork, before becoming one of the most successful movie actors in Hollywood. For years, Williams was the entertainment industry's go-to guy for laugh-out-loud comedies, but he was far from a one-trick pony. In between comedies, Williams took on non-comedic roles in films like "Awakenings," "Good Will Hunting," and "What Dreams May Come," in which he proved himself as a dramatic actor.
Williams was equally adept at touching the soul of his audience as he was at making them laugh, and knowing when to use each ability was his biggest talent. In "Mrs. Doubtfire," Williams offered audiences plenty to laugh at, but he also provided audiences with a bleak dose of reality. In Dave Itzkoff's biography of the actor, "Robin," it's revealed that Williams fought for the somber ending of "Mrs. Doubtfire" to save children of divorce from a harmful fantasy.
The film's problem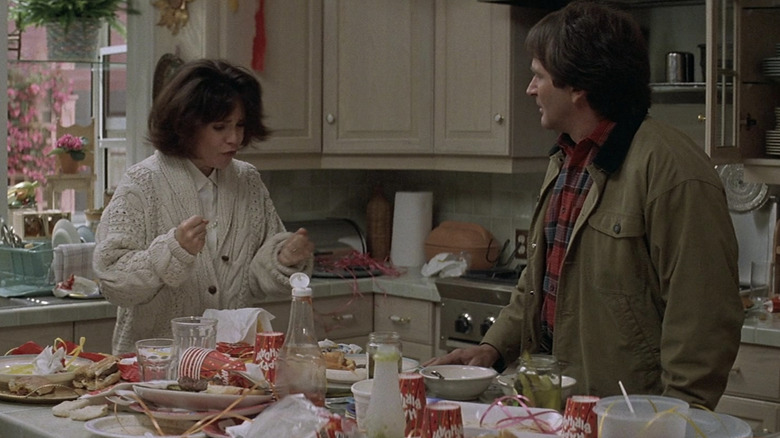 Twentieth Century Fox
Williams was already a hit with children of the '70s for his portrayal of Mork, but his portrayal of a spunky English nanny in "Mrs. Doubtfire" earned him an entirely new generation of fans. Along with his brilliant portrayal of Genie in "Aladdin," "Mrs. Doubtfire" is undoubtedly one of Williams' best comedic performances.
The actor's comedic spark and intoxicating energy shine through almost every scene, whether he's doing his best impression of a hotdog or wearing a cake face mask. Williams' performance of the loveable and chaotic Mrs. Euphegenia Doubtfire can almost make you forget that you're watching a movie about a crumbling family. Bringing a heavy topic like divorce into a comedy can be difficult because if the focus is on the dissolution of the family, it can be difficult to watch, but if the focus is on the comedy, it will not do justice to such a heavy subject. To work properly, the film has to achieve a delicate balance between comedy and reality.
According to Itzkoff, director Christopher Columbus struggled to achieve this balance within the script, even though he knew the problem. The director admitted, "The biggest problem was Daniel Hillard and Miranda got back together at the end of the picture." Of course they did. Despite its melancholy focus on divorce, "Mrs. Doubtfire" is a comedy, so it has to have a happy ending, right? At least, that's what the studio executives thought, but Williams agreed with Columbus, and fought for a more realistic ending for the movie.
The reality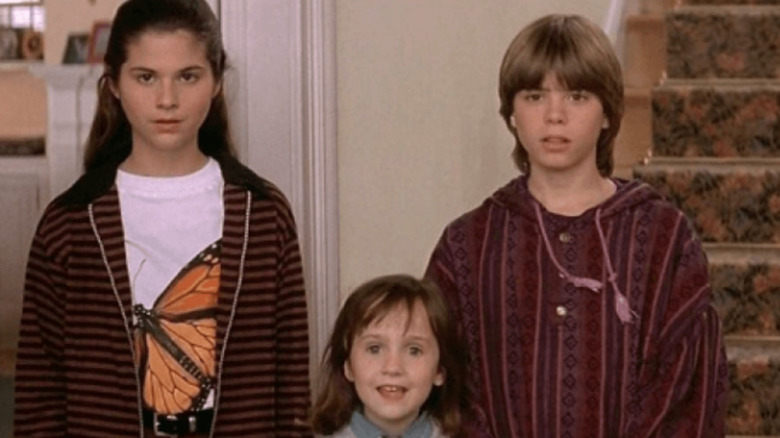 Twentieth Century Fox
According to Itzkoff, agents, studio execs, and managers were all fighting for the film to have a happy ending where the parents get back together, but Robin and his then-wife, Marsha Garces Williams, who also produced the film, pushed back. Robin, who had been through a divorce from his first wife, with whom he shared two children, knew that a happily ever after ending wasn't realistic. In fact, Williams believed that pushing that narrative would be harmful to the film's young audience:
"That's the one fantasy most psychiatrists will tell you is perpetuated by children of divorce who are in therapy—and it's the one thing that professionals don't want to perpetuate. They'll ask kids, 'Ever have a memory of your mom and dad together?' The kids say no, but it's the grand concept. 'They're together.' Sold to you by Norman Rockwell."
In the end, Williams won the argument, and Daniel and Miranda finalized their divorce, but the realistic ending achieved the balance between comedy and heavy subject matter. If a happily ever after was forced, it could've hurt children of divorce and made the movie a forgettable family comedy. Instead, thanks to Williams, "Mrs. Doubtfire" ends with a reassurance that things might not always work out the way you want, but you'll be okay, anyway. Though aimed at children, it's a message everyone can find comfort in, and it's one reason the movie is so beloved.