Kevin Conroy Channeled His Own Life Into One Of Batman's Most Famous Lines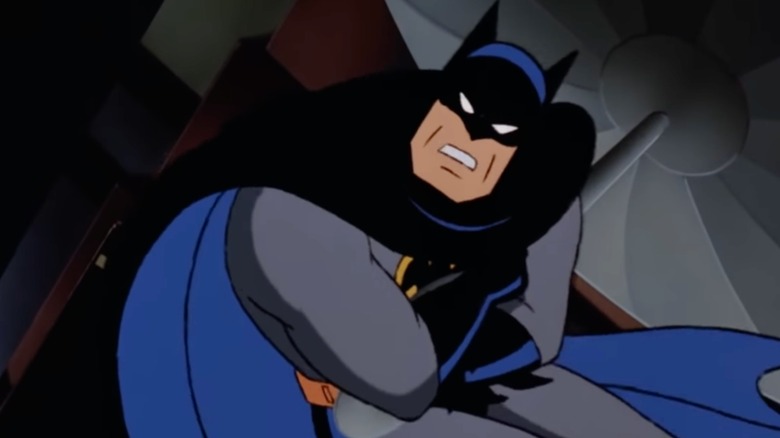 Warner Bros. Animation
Does Batman have a catchphrase? During the Silver Age era played memorably by Adam West, Batman called his sidekick Robin "chum," and in Frank Miller's "The Dark Knight Returns," the aged Batman often considers, "This would be a good death ... but not good enough ..." However, since Tim Burton's 1989 "Batman," the Caped Crusader's go-to introduction has been simple: "I'm Batman."
Without a true catchphrase, it's hard to declare a singular statement that could encapsulate the cloaked hero. However, there's one line that distills the essence of Batman like no other, first appearing in the third episode of "Batman: The Animated Series" titled "Nothing to Fear." The episode sees Batman dosed with the Scarecrow's Fear Toxin, triggering haunting visions of his deceased father's apparition that tell Bruce he's disgraced the Wayne family name. In the episode's climax, Batman finally shrugs off his doubts with defiance: "I am vengeance! I am the night! I am Batman!"
The line was delivered by Kevin Conroy, the long-standing voice of Batman who passed away on November 10, 2022. While Conroy voiced Batman time and time again for 30 years, that line became a trademark of his performance. He recited it once more in "Batman: Arkham Knight" and it even followed him outside of work. When volunteering in the wake of 9/11, a fan recognized him, and to convince the rest of the crowd he was, in fact, Batman, Conroy said the quote in character.
Digging inward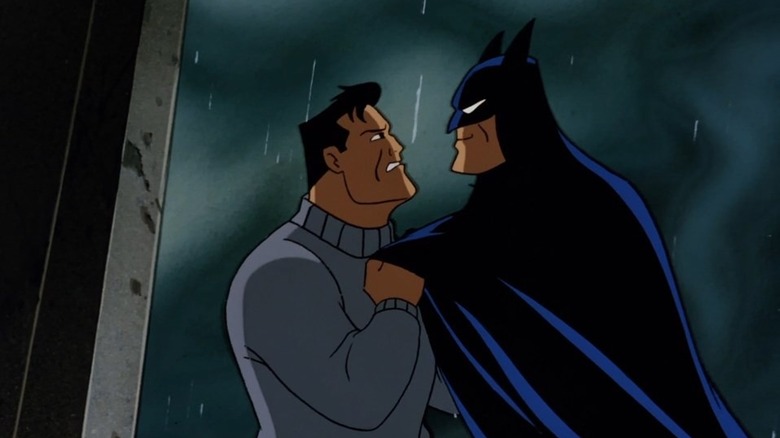 Warner Bros. Animation
Speaking to Vulture in 2017, Kevin Conroy discussed how he performed the line. Despite the loud dramatics of the scene, he felt he should look inward for his performance. He explained:
"It was Bruce Wayne talking to himself, reaffirming his own identity ... He's saying it to himself rather than proclaiming it to the world. He's psyching himself up ... If you do it like a histrionic speech then it sounds ridiculous. But if you do it from inside, like you're trying to convince yourself, you're trying to find the strength within you to do the act you have to do, then it just comes out from inside of you."
Indeed, to get in Bruce's mindset, Conroy drew on his own anxieties and he would psych himself up before performing:
"It was like if I'm about to go onstage and I'm terrified and I think I'll never remember everything and I have a panic attack. It's Kevin Conroy saying, 'God**** it, Kevin. You are an actor. You are a good actor. You know this role. You can do this role better than anybody. Do it.'"
Conroy was a gay man who lived most of his life in the closet. As he wrote in the short comic "Finding Batman" (art by J. Bone), Conroy found common ground with his role because he and Batman were both men with dual lives, one public, one private. Playing Bruce Wayne helped Conroy find his self-confidence, and he returned that to the character.
Why the line is immortal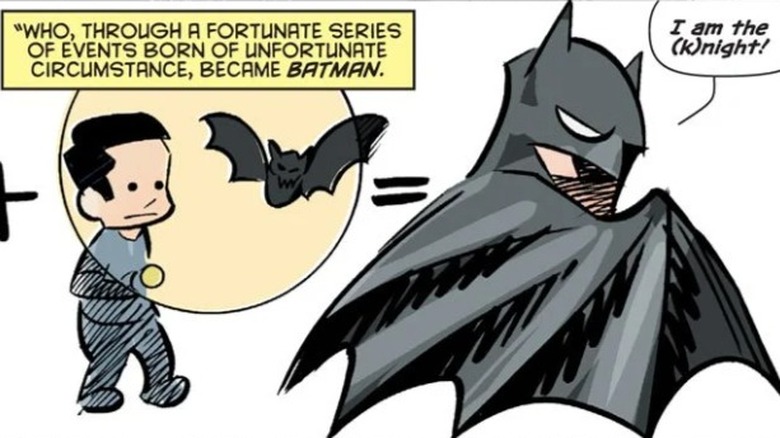 DC Comics
The scene containing this line is an effective moment, no doubt, but why has it endured over Kevin Conroy's dozens of other Batman performances? I think it's because the line is Batman's ethos, refined. The line even reflects Conroy's observation that the statement is Bruce is reminding himself of who he is, of course, listing the most essential aspects of his masked persona.
"I am vengeance! I am the night! I am Batman!"
Batman is driven by vengeance. He exists to right the wrongs inflicted on Gotham City by its superstitious and cowardly lot of criminals, but his war against crime will never end because his own wounded heart can't heal. Additionally, Batman calling himself "the night" is a convenient homophone for "knight," one of Batman's most memorable nicknames. Batman works in the shadow, controlling his enemies with the fear that he's around the next corner, but is also no mere man. An 8-year-old Bruce Wayne wasn't able to save his own parents, so he created a persona that could prevent anyone else from suffering the pain he did.
As for "I am Batman"? Well, he's Batman, and so was Kevin Conroy.