Kevin Conroy's Batman Comic Redefined The Dark Knight In The Most Powerful Way Possible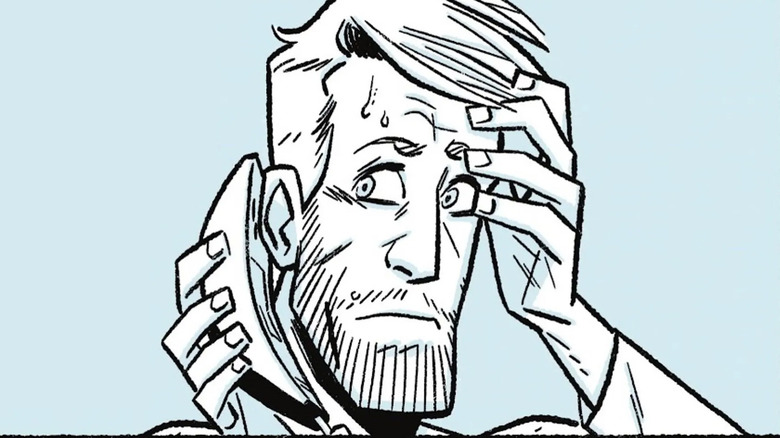 DC Comics
They say you never forget your first Batman and for a specific subset of millennials, the dearly departed Kevin Conroy is that Batman. The legendary voice actor brought Bruce Wayne/Batman to life in the 1990s on "Batman: The Animated Series," and was such a phenomenal presence that it led to a decades-long career of being "the voice" of Batman across a multitude of media. Live-action performers of Batman have come and gone, but Conroy consistently played the caped crusader, becoming the definitive voice of the Dark Knight.
Most actors try their hardest to not be defined by their most memorable role, but Conroy embraced the character that made him a household name. In the 2022 edition of the "DC Pride" anthology, Conroy wrote a short comic, "Finding Batman," assessing the unique parallels between his life as a closeted gay man and Bruce Wayne's incessant need to keep his identity as Batman a secret. Illustrated and colored by J. Bone and featuring lettering from Aditya Bidikar, "Finding Batman" is an earth-shattering introspective of Conroy's life through the lens of a man who acutely understands the correlation between hiding the truth of your identity and material, physical safety:
"I often marveled at how appropriate it was that I should land this role. As a gay boy growing up in the 1950s and '60s in a devoutly Catholic family, I'd grown adept at concealing parts of myself. Of putting aspects of myself in a separate box and locking it away. Perhaps I'd outgrow them, I hoped. Perhaps I could change, I prayed. This was the early 1970s. Stonewall had just been an event on the evening news. The thrill of watching gay men fight back was tempered by the ridicule they received in the press. Better to wear a mask, I thought."
Finding the Batman within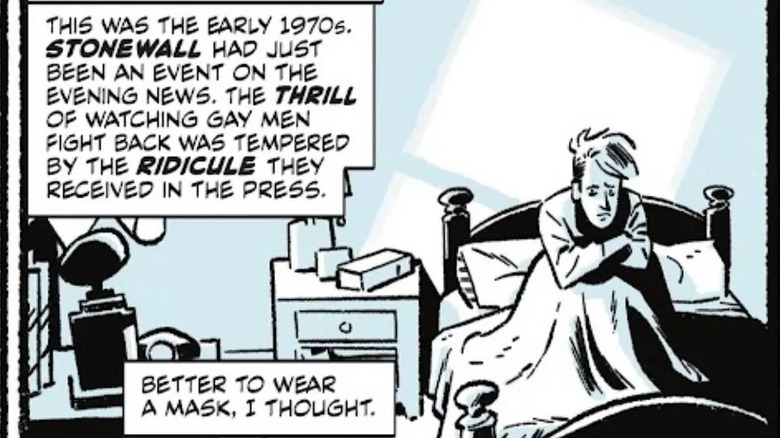 DC Comics
"Finding Batman" displays the connective tissue of Conroy's heartbreaking childhood and experiences in the industry as a gay actor, and how all of these moments influenced his performance as Batman. Conroy's father was a suicidal alcoholic, his parents endured a messy divorce, and his brother struggled greatly with mental illness. Conroy related to Bruce Wayne not only because he understood existing while harboring a secret about his identity, but because he also understood what it was like to go through each day pushing down agonizing personal pain:
"They talked me through the character. explained how young Bruce Wayne had seen his parents murdered in front of him in Crime Alley. How he had formed dual personalities to deal with the agony of his childhood. A mask of confidence to the world and a private one racked by conflict and wounds. Could I relate to that, they asked."
The voice of Batman is one of righteous fury and tender suffering, sensations that Conroy, and many of the gay people like him, are all too familiar with feeling. LGBTQIA+ people still struggle even today to see ourselves as heroes in our own lives, as the rest of the world is desperately trying to paint us all as villains. Conroy was hailed as a gay icon for his contributions to voicing Batman, but his Batman wasn't perfection despite his homosexuality ... he was perfect because of it.
Thank you, Batman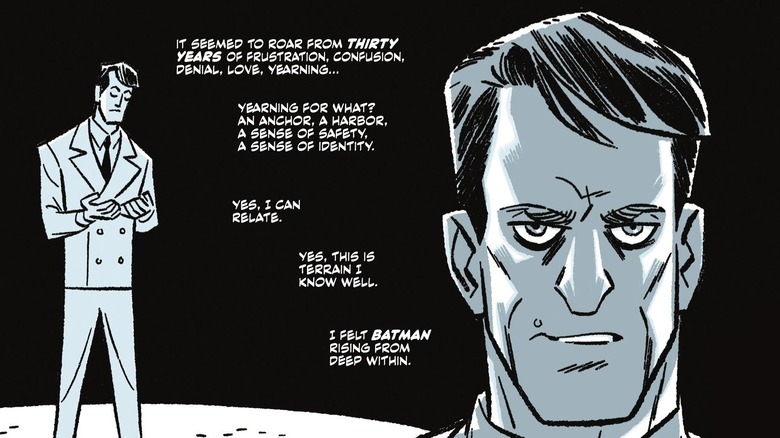 DC Comics
Kevin Conroy, like Bruce Wayne, channeled the turmoil of his real life into trying to build a better world for those around him. In just nine pages, "Finding Batman" provides one of the most relentlessly beautiful and excruciatingly haunting examinations of creative fulfillment, systemic oppression, bigotry, and finding something to love when all feels lost. Kevin Conroy was the perfect Batman because it's the role he was born, and molded, to play:
"My heart pulsed, I felt my face flush, my breath grew deeper, I began to speak and a voice I didn't recognize came out. It was a throaty, husky, rumbling sound that shook my body. It seemed to roar from 30 years of frustration, confusion, denial, love, yearning ... yearning for what? An anchor, a harbor, a sense of safety, a sense of identity. Yes, I can relate. Yes, this is a terrain I know well. I felt Batman rising from deep within."
Kevin Conroy was not just the hero Gotham deserved, he was the one we always needed.