Starring In The Whale Gave Sadie Sink A New Perspective On Stranger Things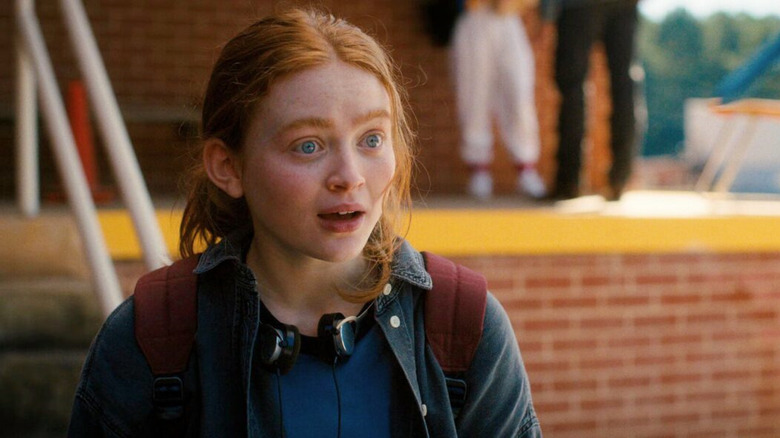 Netflix
For the past two seasons of the Duffer Brothers' hit Netflix series "Stranger Things," Sadie Sink has stolen hearts as her tomboyish character Max Mayfield slowly became the MVP of the show. From season 2 to the present (and with a fifth season left to go), Max has gone from arcade whiz to one of the most resilient members of "The Party" alongside Mike Wheeler (Finn Wolfhard), Will Byers (Noah Schnapp), Dustin Henderson (Gaten Matarazzo), Lucas Sinclair (Caleb McLaughlin), and the gifted Eleven (Millie Bobby Brown). Together, the group goes up against the ever-growing borders of the extra-dimensional Upside Down and the villains that emerge from it.
Season 4 sees some of Sink's all-time favorite scenes for her character's evolution, she tells The Backstage. "Max has been such a huge part of my life," she adds, "and is almost like this other voice in my head that I can turn on and off." It's a character the now-20-year-old actor has played since her early teens, a far cry from the transformative experience the "Fear Street: Part Two" star had on the set of Darren Aronofsky's latest drama, "The Whale."
Therein, Sink plays Ellie, the estranged teenage daughter of Brendan Fraser's grieving, binge-eating English professor. She tells Backstage:
"It was really important that I had that experience, because I pushed myself as an actor further than I ever had before. When I returned to 'Stranger Things,' it was like I'd come back from boot camp or something. There was a shift; something clicked. It gave me a level of confidence that has stuck with me since."
The A24 film releases on December 9, 2022, but already made waves at the 79th Venice International Film Festival, where the film earned a six-minute standing ovation at its world premiere in September.
Wake up, Max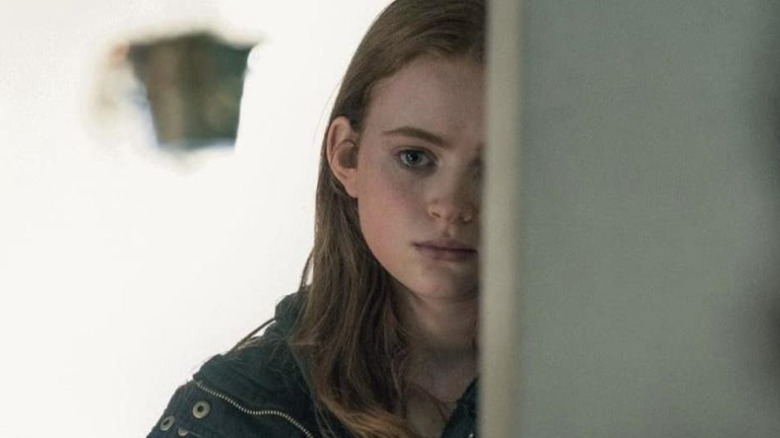 A24
That confidence shines through in Max's arc throughout season 4 of the show. /Film's Deshawn Thomas observed Max's self-imposed isolation from her friends following the death of her abusive stepbrother among the explored relationship dynamics within The Party, while Shania Russell broke our hearts all over again by reminding us of Max's sacrificial possession. Filming the journey through Max's complex trauma was less daunting coming off of Aronofsky's "boot camp," she tells The Backstage:
"I was pleasantly surprised, when it came to filming some of those scenes, that it wasn't hard to get into her head at all. It was such a release for Max to have those moments because those sides of her have been simmering in the background for a few seasons."
Indeed, through season 3, Sink's performance hinted at the unspoken anguish behind Max's sarcastic exterior, particularly whenever she had to deal with big bro Billy (Dacre Montgomery). In the season following his climactic death, Sink leaned into a freedom she enjoyed working with Aronofsky, "the freedom to discuss, shake things up, and try new things."
"I was really excited, because I felt like I got to tap into the sides of Max I had daydreamed for myself. Based on how season 3 ended, I had been thinking about it a lot on my own time. How is this trauma affecting her? How will she respond to this? Will Matt and Ross [Duffer] even put that into the script?"
The end of season 4 leaves just as many questions for the Kate Bush enthusiast, who stopped avoiding her pain and faced trouble head-on as Vecna bait, receiving a coma for her efforts. Answers won't come for at least a year, but you can get maximum Max on the show, all four seasons of which are currently streaming on Netflix.