Our Biggest Predictions For Stranger Things Season 5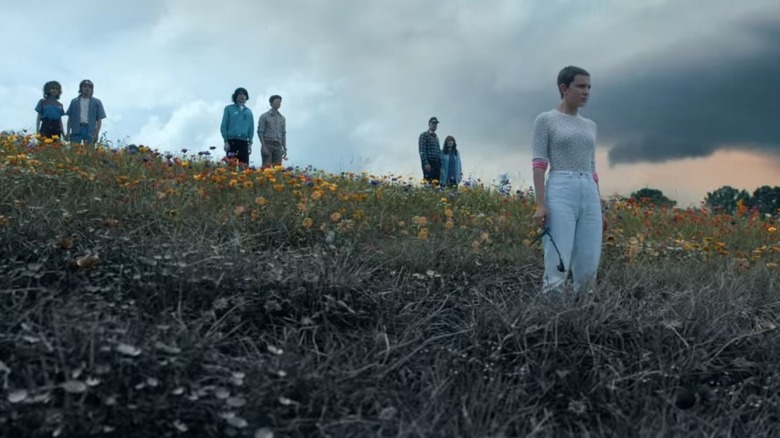 Netflix
The last shot in the "Stranger Things" Season 4 finale presents the biggest hurdle the characters have yet encountered. With Hawkins split into quarters, the scene is apocalyptic. Smoke billows from deep crevices, and a fiery red puffs up into the clouds, punctured with lightning and cracks of thunder. The core characters look both frightened and determined as they contemplate what's to come. All signs point to Season 5 being an ambitious ending to one of Netflix's most beloved series.
Heading into the final season, there are a few things the show should (or needs) to do to stick the landing. Whether that deals with character arcs finally seeing some resolution or natural progressions to previously-teased subplots, it's time for "Stranger Things" to go even bigger and bolder. Now that the dust has settled on the latest season, we have gathered our thoughts and made some equally bold predictions for the fifth season below.
Max's fate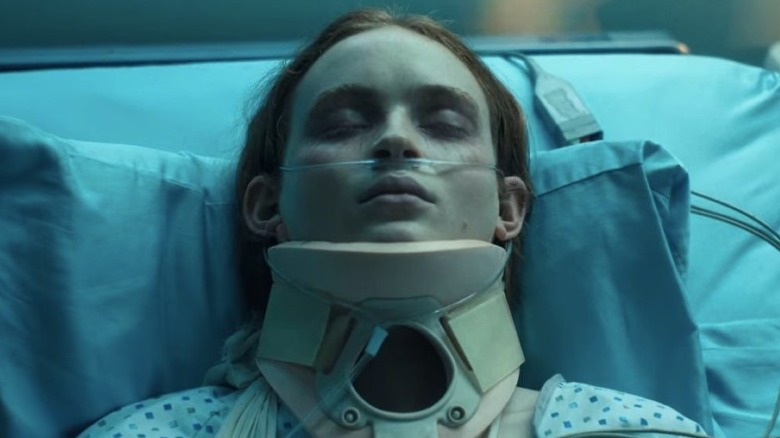 Netflix
Max (Sadie Sink) was put through the wringer during the entire run of Season 4. When she wasn't grappling with Billy's (Dacre Montgomery) heroic death from the previous season, she was dodging Vecna's (Jamie Campbell Bower) hypnotic grip and trying to outrun her depression. In the Season 4 finale, she meets a pretty grim fate. She dies for a whole minute before El (Millie Bobby Brown) rescues her from the pit of hell. However, she's thrust into a coma and left with four broken limbs and no eyesight.
Season 5 presents an opportunity for Max, once riddled with nothing but pain in her life, to be a beacon of hope. The story is likely to get even worse before it gets better. Max will be a turning point in the story. She'll awaken from her deep coma, and that'll be enough to inspire the group to push harder to defeat Vecna and destroy the Upside Down entirely. For everything she's been through, Max is likely to undergo a full recovery so she can rekindle her romance with Lucas (Caleb McLaughlin). They are owed a happy ending.
Will comes out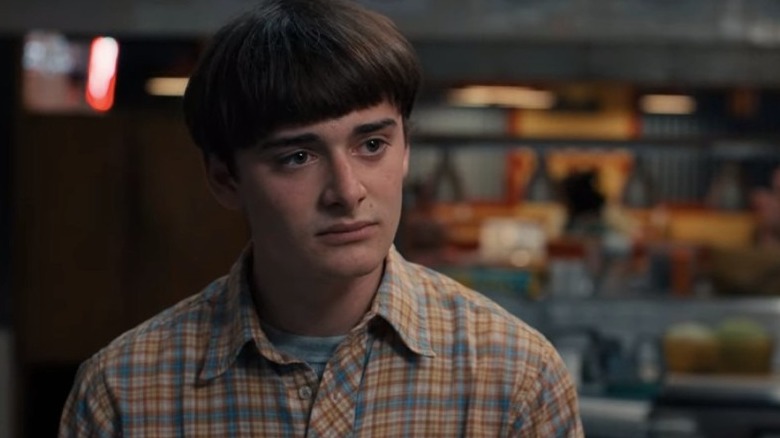 Netflix
The Duffer Brothers have been planting the seed of Will's (Noah Schnapp) sexuality since Season 1. Joyce (Winona Ryder) refers to him as being a little "sensitive" in a conversation with Hopper (David Harbour). Later, Will grows frustrated over his best friends' burgeoning love lives, and Mike (Finn Wolfhard) shouts after him, "It's not my fault you don't like girls!" Such queer-coded text is not too surprising given the 1980s and prevalent "gay panic" of the AIDS epidemic. Even Robin (Maya Hawke) is worried about confessing her feelings to a crush, as it might lead her to become a pariah in the small, middle-American community.
But it's time. It's long overdue for Will to have his proper coming-out moment (as well as a decent haircut). During Season 4, he all but said the words when speaking with Mike about El and their rocky relationship. Will makes explicit notes about how being different can lead you to feel like "a mistake" as he holds back a flood of tears. Mike has always been a bit oblivious, so he clearly did not pick up on the clues. Someone else did, though. Being the compassionate older brother, Jonathan (Charlie Heaton) caught the subtext and later pulled Will into an intimate conversation in which he revealed that nothing could make him love his little brother any less. Again, it was subtle confirmation, but LGBTQ+ fans deserve an outright confession.
In an interview with Collider, Matt Duffer teased that Schnapp's character will have a central role in the upcoming fifth installment. "We're starting to see [Will's] coming of age, really. Which has been challenging for a number of reasons, some of which are supernatural. But you're starting to see him come into his own." Queer representation in the '80s, especially in horror and sci-fi movies and television, was rare. "Stranger Things" could really do something special by allowing a queer character to take charge (and survive to tell the tale).
Love triangle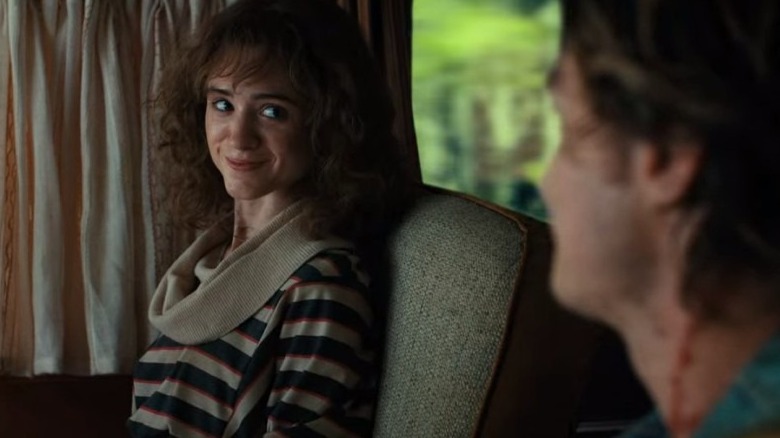 Netflix
In the same Collider conversation, Ross Duffer stressed that "a couple of the character arcs" will circle back to the first season and finally see some resolution. That includes the Jonathan-Nancy-Steve love triangle. "The characters have maybe made steps, but that journey isn't over yet," he added.
A social outcast far removed from the high school hierarchy, Jonathan largely stood on the sidelines in the first season. Nancy (Natalia Dyer) and Steve (Joe Keery) had a flirtatious but distanced relationship and didn't officially hook up until the infamous party at which Nancy's BFF Barb bit the big one. Jonathan's jealousy would later fester and boil over after Steve called Nancy a "slut," leading to a raucous physical altercation. It's not until Season 2 that Steve and Nancy officially break up. Feeling empathy for her dead friend, Jonathan offers to help Nancy get justice for Barb. The two grow closer and more intimate throughout the season and eventually become an item.
Truth be told, Jonathan and Nancy's relationship has run its course. Of course, the distance separating them could have something to do with it. In Season 4, the two never shared an onscreen moment until the finale. However, Nancy and Steve have been able to reconnect and share intimate dreams and ambitions, namely Steve's wish to have a whole brood of little Steve Harringtons (or "li'l nuggets," as he calls them). Judging by the Duffers' teaser, they are indeed end game, and we wouldn't be mad about it.
Robin finds love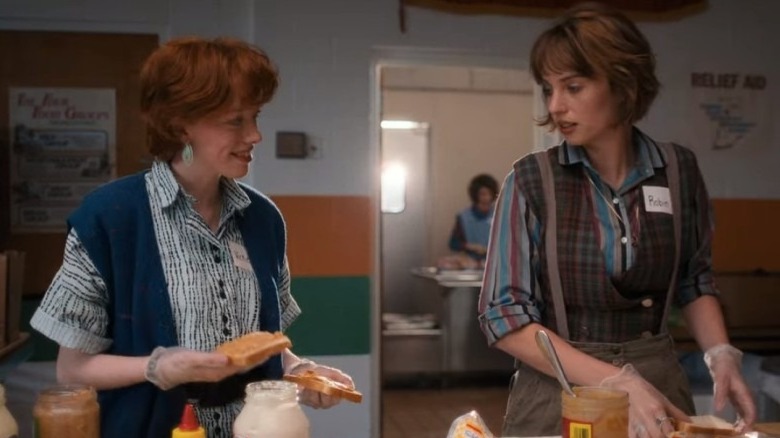 Netflix
Robin suffers from unrequited love for most of her run on the show so far. Of course, as a young queer woman in Nowhere, Indiana, publicly coming out is not an easy decision. She confides in Steve during Season 3 that she does not have feelings for him but instead harbors a secret crush on Tammy Thompson, an aspiring singer with a voice like a muppet.
Her gaze later falls upon a girl named Vickie (Amybeth McNulty), a Molly Ringwald knockoff, in the high school marching band. From brief interactions, we surmise they have quite a kindred spirit — at least in the friendship zone. Robin's heart is crushed when she discovers Vickie has a boyfriend and witnesses them locking lips in Season 4.
In the finale, Robin and Vickie do share a quiet moment. Making peanut butter and jelly sandwiches for Hawkins residents, now thrown into chaos after a so-called earthquake, they make a magnetic (dynamic, even) duo. They joke and share a few laughs. It's really heartwarming. It's enough of an indication Vickie could very well be bisexual. Is it too much to hope for Robin and Vickie to become "Rickie" (or "Vobin") in the last season? Fingers crossed.
Going to the chapel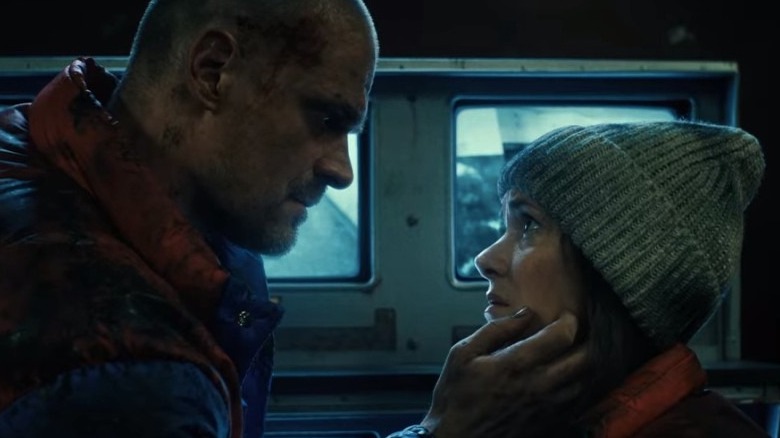 Netflix
You're probably sensing a theme in these predictions. Season 5 should be about love in all its forms: self-love, platonic love between friends, and heart-swelling romance. That leads us to Joyce and Hopper, who got it on quite hot and heavy in Season 4. Their lives have been wrought with pain and heartache, and they've bonded over shared traumas.
In the upcoming season, let's hope they can put all their sorrow to bed and be happy for once. This is a bold prediction, but it's time for them to tie the knot. While the season's central storyline is obviously to be determined, might we suggest a build-up to the wedding of the century for the series finale? The Mind Flayer and Vecna will be central to the overall narrative, of course, but allowing the characters to have something truly hopeful to look forward to is exactly what this show needs.
Wedding bells are in Hopper and Joyce's future anyway, so why not lean into it in the last season. I'm talking full-on episodes of PDA, wedding planning, the works! Let's give these two core characters the ending they've more than earned.
A good Ol' fashioned 'Red Wedding'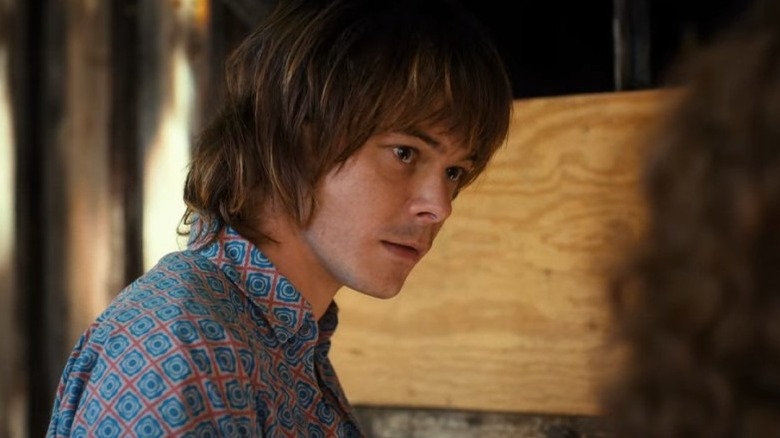 Netflix
"Stranger Things" thrives on its strong cast delivering emotional beats and story moments. With Season 4 in the rearview, let's be honest for a moment. The Duffer Brothers are scared to kill off core characters. Millie Bobby Brown recently called out the creative team as "sensitive Sallies" for not pulling the trigger. The show skirts around this issue by introducing fascinating and complex side characters like Bob (Sean Astin) and Eddie (Joseph Quinn) and then slaughtering them upon the Upside Down altar.
As an ancient proverb states, "It's always the darkest before the dawn." Season 5 is expected to not be nearly as long in terms of episode runtimes, and that allows for a tighter, faster-paced story. Give us a few one-two sucker punches (like an actual big character death, maybe Jonathan or Mike, alongside prominent secondary characters like Murray), and let the chips fall where they may. It'll hurt, but that hurt can propel the remaining characters to finally put an end to Vecna and the Mind Flayer for good. It's time.
Ultimate sacrifice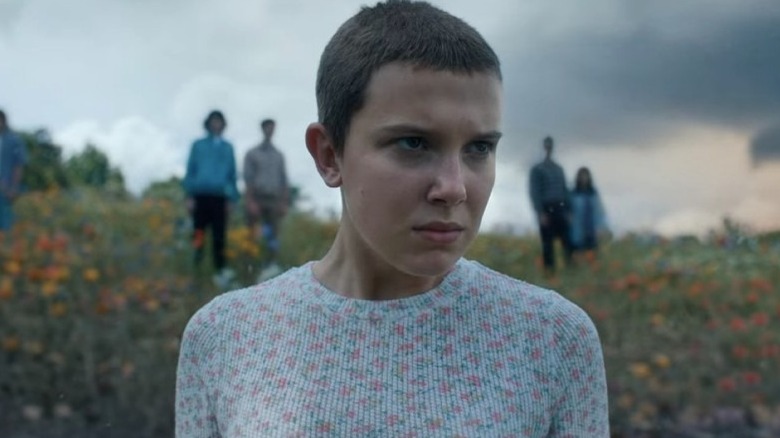 Netflix
As we learned in Season 4, El and Vecna (previously known as Henry or One) have a lot in common. They both possess an ungodly amount of power and are true adversaries of one another. With the climactic season finale, it's hard to imagine what El could do next to end Vecna and save humanity once and for all. Well, except maybe the only option left: the ultimate sacrifice. Perhaps Vecna can only be defeated with El's death. That would certainly put more weight behind the last season. Of course, given the fact the creators haven't killed off a main character in the show's run, it's maybe a far-fetched idea.
Or is it? Throughout the series, El has questioned whether she's a monster or not. From meeting her long-lost sister Kali (Linnea Berthelsen) to confronting Dr. Brenner (Matthew Modine), her moral center has always been up for debate. During Season 4, the Duffer Brothers led us to believe she was responsible for the massacre at Hawkins Lab, suggesting that El is harboring some unruly darkness in her soul. It all started with El and One, and it needs to end with them.
A different route would be for El to give up her powers for good. That could very well supply the finale with a decent amount of emotion to close the book. She gives up her powers, and her sacrifice is enough to destroy Vecna and everything in the Upside Down. It just might work.
Disaster zone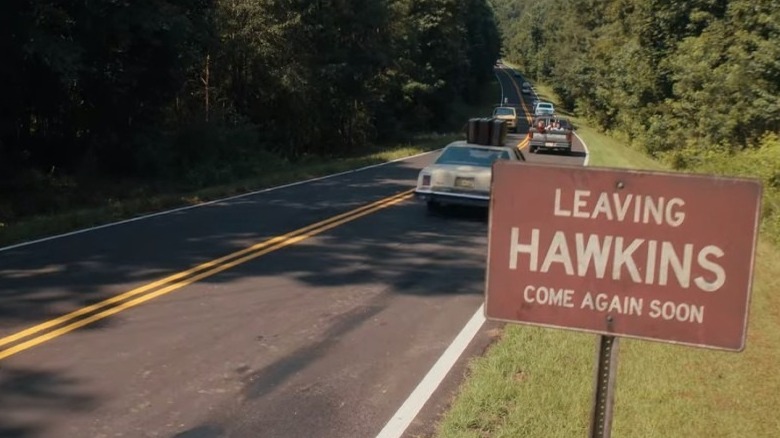 Netflix
Hawkins is now a shell of its former self. In the Season 4 finale, most of the town's residents flee the city limits. After everything that has happened, a catastrophic "earthquake" wakes everyone up to the fact it is no longer safe to stay. The Duffers have teased the show might stay put in Indiana, which doesn't quite make much sense at this point. In the very last shot of the Season 4 finale, the characters look upon an apocalyptic scene: swirling red clouds hang over the town, and an Army helicopter can be seen soaring in the distance.
Realistically, the group would likely be fractured around the country. Hopper would move to be with Joyce. El, Will, and Jonathan would wind up in California. Lucas and Erica (Priah Ferguson) may stick around in another part of the state along with Max's mother. Max would understandably be transported to another area hospital, just to be safe.
Permanently closed, Hawkins is a disaster zone, and there's not much left there to save anyway. With the characters scattered around the country, there are even greater possibilities for the last season. "We wanna go back to a lot of the things we did in Season 1," Matt Duffer teased. "A lot of the original groupings and pairings that we had in Season 1 — there's something nice about coming full circle." If done correctly, staying anchored in Hawkins could work — or it could simply be a tired retread of the past four seasons.
Time jump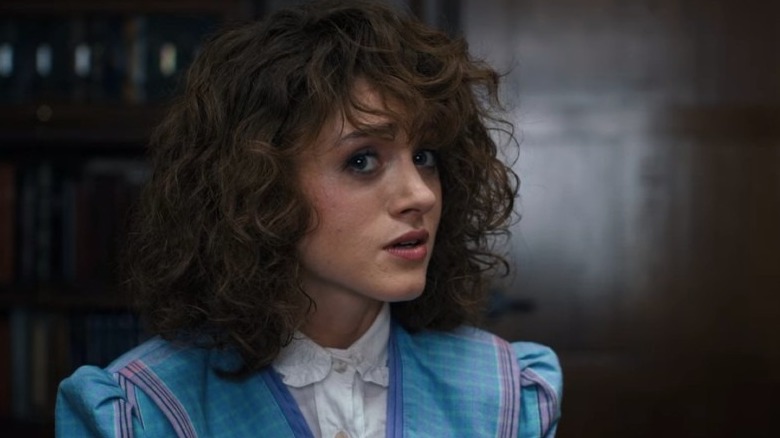 Netflix
Ross Duffer recently teased the likelihood of a time jump for Season 5. "I'm sure we will do a time jump," he stated. Depending on the time lapse between seasons (a few months as opposed to a few years), a time jump not only allows the show to catch up with the actors' ages but unlocks potential for the story in the final stretch. What does this mean for the core cast?
If we say the time jump is two or three years, Mike, Will, Lucas, Dustin (Gaten Matarazzo), and El could be seniors in high school (at the very least). You could also fudge it a bit with the quartet as freshmen in college. A time jump would also indicate Nancy would be well into her college studies, leaving her romance with Jonathan in question. As an investigative journalist, Nancy could be studying criminal psychology and media while considering her conversation with Victor Creel (Robert Englund) in Season 4.
For the adults, nothing much would change. Joyce is still hocking encyclopedias, Hopper has taken a police job in California, and Murray (Brett Gelman) has returned to his career as an investigative journalist.
Vecna
Netflix
This last prediction involves the pesky little villain named Vecna. With the massive four-direction gate open in Hawkins, he now sets his sights on dominating the world. His ultimate plan has yet to be explored or even hinted at, so all bets are off. Considering Season 5 will include a time jump of some sort, Vecna likely lulls everyone into a false sense of security before unleashing the ultimate apocalyptic takeover.
In line with previous mind control tricks, Vecna exacts a plot (ala "Invasion of the Body Snatchers"), wherein he splits himself into parts and possesses Indiana residents, who then venture out into the world to infect others. Bit by bit, he transforms humanity into human-creature hybrids to return the world to what he's described as an existence untouched by human destruction. When the time is right, Demodogs, Demogorgons, and countless other unknown creatures will emerge from the gate. That would certainly take the last season up and notch and catapult the story into the national (or even global) arena. Go big or go home.