Those Star Wars Homages In Top Gun: Maverick Were No Accident [Exclusive]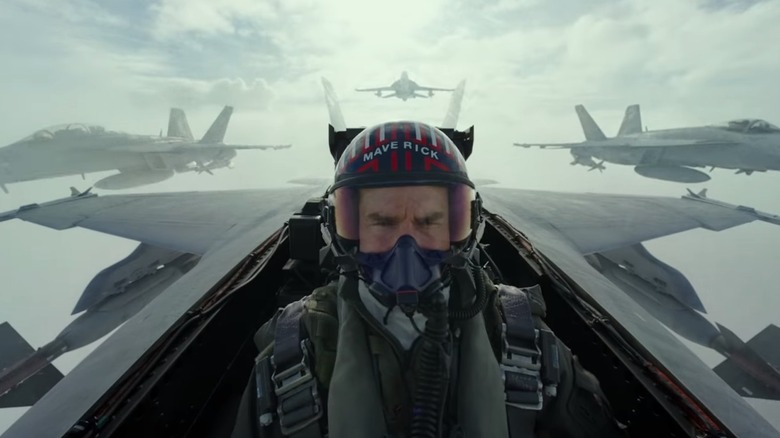 Paramount Pictures
If you live long enough, you start to see the same eyes in different people. Just as the original "Star Wars" trilogy wrapped up in 1983 with "Return of the Jedi," one of the biggest blockbuster movies of the '80s was released three years later. Tony Scott's "Top Gun" infatuated audiences with its dreamlike, sunny portrayal of San Diego and its successful launch of Tom Cruise as the next big movie star. "Top Gun" would gross $357 million at the global box office out of a production budget of $15 million, military recruitment among young men spiked, and the film's original track, "Take My Breath Away," was inescapable.
It's funny how history repeats itself. Today, we find ourselves in another cycle of nostalgic filmmaking. "The Rise of Skywalker" marked the end of a new "Star Wars" trilogy owned by Disney in 2019. Delayed three years because of COVID-19, Joseph Kosinski's legacy sequel, "Top Gun: Maverick" released this summer and became yet another global phenomenon. Once again, audiences have been swept away by fighter jets over Coronado, and Cruise has made it clear that even at age 60, he's not going anywhere.
Despite how different these two franchises are, they feel inherently linked by their cultural relevance, themes of camaraderie, and their focus on aerial battle spectacle, both in the air and in a galaxy far, far away.
This week, /Film's Jack Giroux had the pleasure of speaking with Eddie Hamilton, the editor of "Top Gun: Maverick," who continued to shed some light on what these two cultural juggernauts owe to each other.
A reinvention of the trench run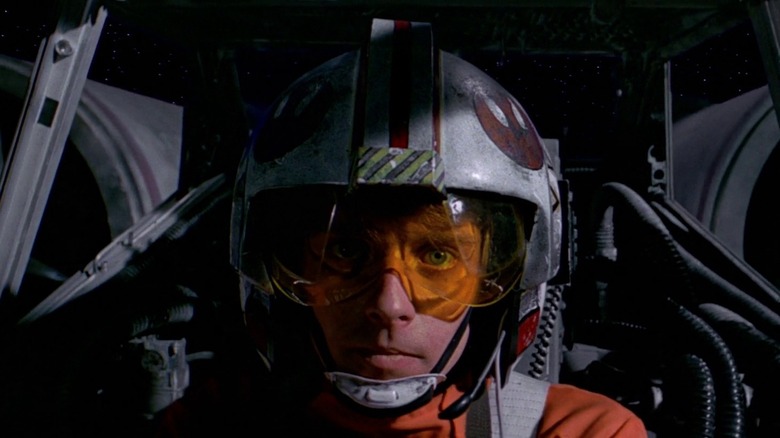 Lucasfilm
While most of the cinematic pleasures of "Top Gun" are owed to its "hangout movie" vibes, "Top Gun: Maverick" adds much more drama with a countdown to a crucial mission Pete "Maverick" Mitchell (Tom Cruise) must teach his school of pilots to execute perfectly: destroying a uranium deposit which sits at the very bottom of a canyon. There's a specific maneuver illustrated by Maverick's graphics that will ensure their safety, and any "Star Wars" fan might find that this all sounds similar to a certain trench run scene in "A New Hope."
"We were all joking about the thermal exhaust port right below the main port all the time, I promise you. That joke never got old," Hamilton explained. "But Luke Skywalker doesn't get shot down and gets reunited with Han Solo behind enemy lines, and then they steal a TIE fighter and they have to fight their way out. So, you don't get quite the same experience."
Hamilton is referring to the last act surprise of "Top Gun: Maverick," in which Maverick and Rooster (Miles Teller) crash during the maneuver and find their way back to the carrier together. Indeed, this is one thing that distinguishes the newest "Top Gun" from the fantastical universe of "Star Wars" — Kosinski's legacy sequel is very interested in the human folly of Maverick in spite of Cruise's seemingly immortal qualities.
Looking to the past for the future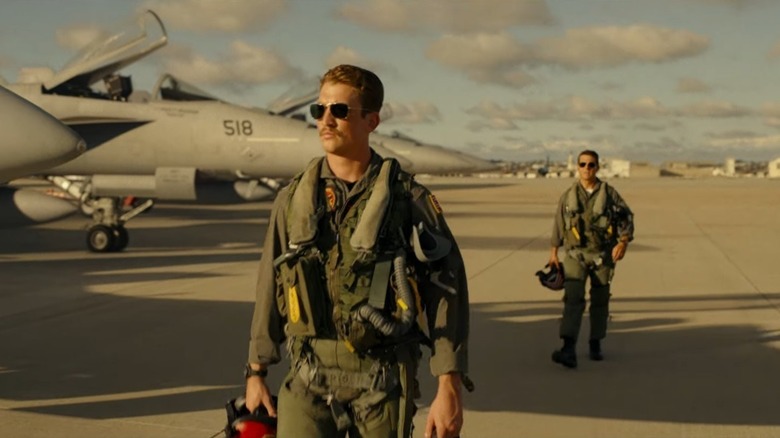 Hamilton went on to recall a memory of working on "Top Gun: Maverick" at Skywalker Sound doing temp mixes. It was there he continued to see the similarities between the film he was editing and the lasting impact of "A New Hope:"
"I met Ben Burtt, who was the sound designer on 'Star Wars.' I said to him, 'I've read these stories of the editors on 'Star Wars' using World War II dogfight footage filmed off a television on 16 millimeter as templates for where the TIE fighters and the X-wings would be moving through the air, so that ILM had an idea of how fast the planes were going to move and stuff.'"
At Skywalker Sound, Burtt provided Hamilton some inspiration by showing him a side-to-side work print and a finished copy of a sequence from "A New Hope." Three months of working on the crash sequence in "Maverick" gave him enormous respect for the original editors of "Star Wars," and how they managed to capture something so timeless with fewer resources:
"That sequence [in 'A New Hope'] is still brilliant today when you watch it, but they did it on film. [...] I had all the new cogs and widgets of an Avid media composer (a modern video editing software) to help me, and the fact that it's all non-linear and incredibly fast and I can find stuff instantly. So I did have enormous respect for what they achieved with that."
A full circle of influence
This year on the red carpet for "Top Gun: Maverick," /Film's Jenna Busch also asked director Joseph Kosinski about the "Star Wars" parallels within the pilot blockbuster. Though it was not something Kosinski considered himself during production, he thinks the connection runs even deeper, "When Jerry [Bruckheimer] made 'Top Gun,' I think 'Star Wars' was definitely an inspiration for them," Kosinski speculates, "it makes sense that DNA would carry into ours."
At some point, Patty Jenkins was set to make a rebel pilot-focused "Star Wars" film with "Rogue Squadron." The project is currently on indefinite hold, but from the announcement reel you can tell where "Top Gun" had made an influence on the tone for Jenkins' project, which she planned to be the "greatest fighter pilot film ever made." It's hard to say if Jenkins' film will ever see the light of day, but in a funny way, the connection between "Top Gun" and "Star Wars" has gone full circle.