Moon Girl And Devil Dinosaur Producer And Actor On The Show's Authenticity [Exclusive Interview]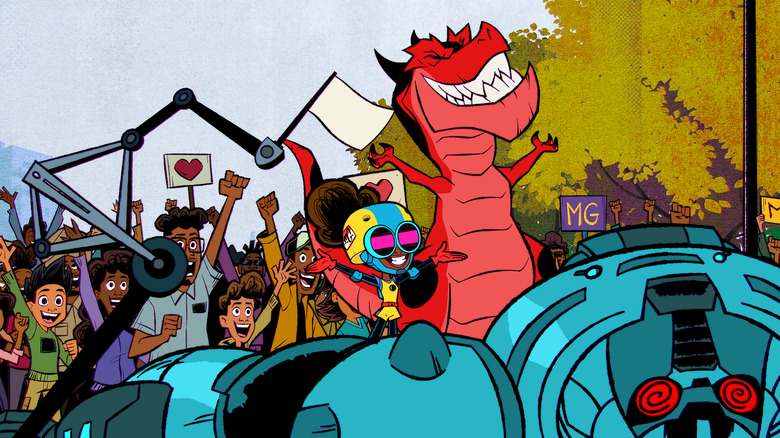 Disney Channel
There are a number of people in the annals of Hollywood history that just put a smile on your face whenever you see them. In generations past, we've been graced by the likes of Lucille Ball, Chris Farley, and Robin Williams. In more modern times, maybe Gabriel Iglesias, D'Arcy Carden, Wayne Brady, or Jason Sudeikis do the trick for you. But someone else that certainly fills that role whenever they appear on a show or in a movie has to be Gary Anthony Williams. Probably best known for playing Stevie's dad, Abe, on "Malcolm in the Middle," the actor and comedian's resume stretches a mile long due to all of the diverse projects he's been involved in. "Key & Peele," "How I Met Your Mother," "Weeds," "Archer," "The Eric Andre Show," and "Reno 911" are just a few places where you may have seen his lovable face or heard his boisterous voice.
But now, Williams is playing Lunella Lafayette's loving grandfather, Pops, on the upcoming Disney Channel animated series "Moon Girl and Devil Dinosaur," which hails from Marvel Animation. During last year's New York Comic Con, we had the pleasure of speaking with him alongside producer Pilar Flynn about the new show and their roles in it. In our interview, the duo talked about authenticity, community, and how everyone involved in the project was so dedicated to creating something special.
'All that stuff is so nicely woven in there'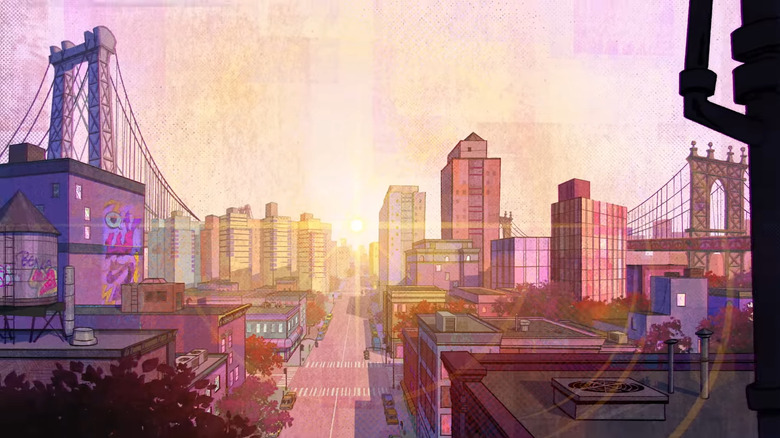 Disney Channel
This interview has been lightly edited for clarity and brevity.
Pops is very highly regarded in the Lafayette family. With Lunella looking up to him and the rest of the family, what qualities do you think she inherited from Pops that you're proud to see her exhibit as Moon Girl?
Williams: I will say that one physical thing that she got from me is the ability to skate, because my character was a champion skater. King of the skaters. She is always in her skates, so she clearly got that from me. Also, he is a bit of a tinkerer. Pops likes to do things. He fixes skates up to be better than new. So even some of her tinkering, those kind of skills that she also got from him.
One of the great things about the show is the authenticity. It really feels like you're in the Lower East Side of New York, especially with things like the blackout in the first episode to the community's response to it. What other aspects from the real-world issues did your team look into in order to provide that feeling in your show?
Flynn: That's something that was really important to us. Every episode we wanted to use as much authenticity as possible. We got a lot of our inspiration [for the first episode] from this documentary called "United Skates." It deals with the Black community, what they went through at that time [when their skating rinks were closing around the country], and how there's such few rinks left. But as you go through our series, every episode deals with so many issues involving social media, bullying, [and more]. We're trying to make a show that is entertaining and bright and colorful, but also that deals with real life things and issues that kids today are having to deal with. So yeah, we really thoughtfully put that through the entire series.
Williams: Even the artwork. That whole street painting look of it, the look of this show. The look of it is so fascinating to me. And then when I was told, "We were borrowing from artists from the Lower East Side and New York in general," it's amazing. All that stuff is so nicely woven in there. It has such a different feeling than anything else you've had your eyes on.
Flynn: We took real murals. We used real graffiti artists and incorporated them into the show, so it's fully authentic to the real environment. We're very proud of that.
'This was a superhero that this next generation and our generation has always been waiting for'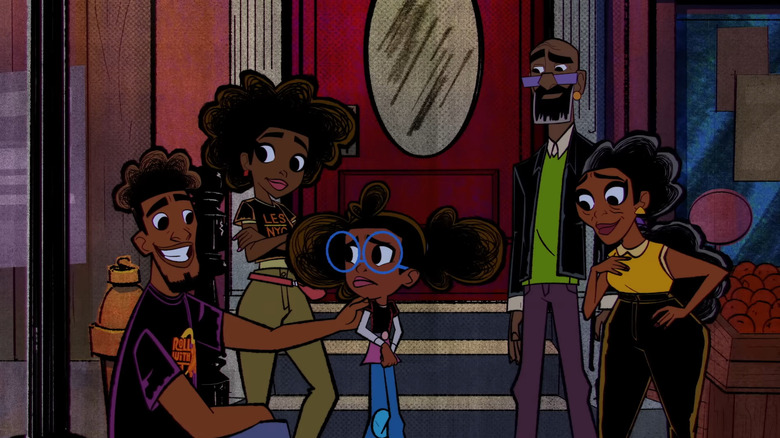 Disney Channel
Gary, you were part of another seminal piece of media for a lot of people of color, "The Boondocks." Now, "Moon Girl and Devil Dinosaur" has that same kind of potential for many to feel seen in this media, I think. Do you ever feel any pressure being a part of things like this because you get to represent for the culture and for the community?
Williams: I think I feel more fortunate than pressure. The character I played in "The Boondocks" was so separating that it took everybody else to make you look like, "Oh, quite a crazy person he is! We need to unite against this type of personality," and this gets to play that other side of a guy so loves his family, so loves his community. He could sell out at any point that real estate and be rich where his skating rink is. But he doesn't, and he keeps it there for the community. So I get to play that good side of it as well. I feel very fortunate. I'm very fortunate to be able to play both of those guys.
Flynn: We're so fortunate to have you. We're so lucky to have you.
Pilar, the whole team is great from top to bottom, with stars like Gary, Diamond White, and Fred Tatasciore or executive music producer Raphael Saadiq or your other producing partners, including Laurence Fishburne and Cinema Gypsy Productions. What is it like working with Mr. Fishburne and what did he bring to the table for this production?
Flynn: Laurence is amazing. We are so lucky to have such incredible talent. Of course, we have Alfre Woodard [as Lunella's grandmother Mimi] as well. You've seen some of the cast line-up. Just from the beginning, this project meant more to people than most projects and this was such a special piece. This was a superhero that this next generation and our generation has always been waiting for. With that mission, we've been able to get an incredible cast and just people, like next-level people, that have been dying to participate in something this special together. You can really feel that on screen.
"Moon Girl and Devil Dinosaur" premieres on The Disney Channel on February 10, 2023.