Jason Sudeikis Made His TV Sketch Comedy Debut Five Years Before Joining SNL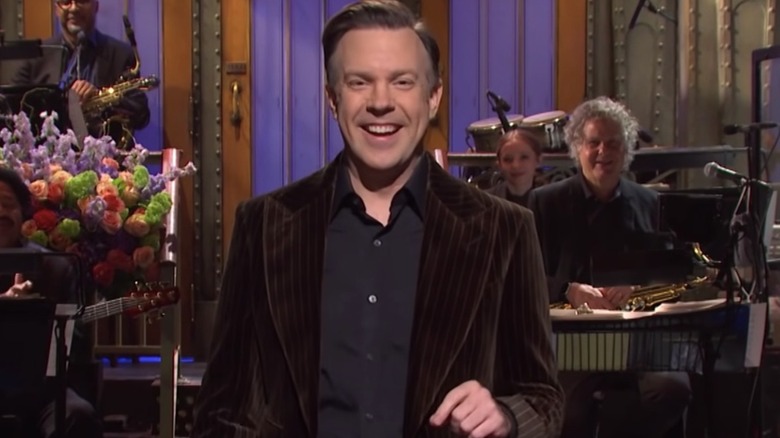 NBC
Before Jason Sudeikis was making people laugh and cry as Ted Lasso, he was mostly just making people laugh on "Saturday Night Live." From 2006 to 2013, Sudeikis was a permanent cast member portraying such memorable characters as the mysteriously Cajun Judge Marshall T. Boudreaux, former presidential candidate Mitt Romney, and even a surprisingly chill version of the Devil himself. He's returned to host the show since his departure, and has had a bit of a career renaissance since joining "Ted Lasso."
A spot as a cast member on SNL is the sort of opportunity comedians and performers would die for and it allowed Sudeikis to launch his career as both a television and film star. But, interestingly, Sudeikis had some television sketch experience before his run on Saturday nights. And no, he wasn't on "MadTV."
Sudeikis appeared on an episode of "Late Night with Conan O'Brien" in 1998, a full eight years before his time as an SNL cast member. He portrayed the nephew of "Cheers" star George Wendt, a role that came naturally to him, as he is Wendt's real life nephew.
A family affair
Now that you've recovered from the shock of learning that a famous comedian may have had famous relatives that helped get him opportunities in the industry, let's look at the sketch itself.
Wendt is on "Late Night" to promote his broadway debut, and his entire family is in town to watch him try his hand at live theater. Of course, it's the holiday season, and Wendt feels bad for abandoning a family dinner to joke around with Conan. Naturally, he asks Conan if he can bring his family out to have dinner on the show.
In an shockingly comic turn of events, Wendt has invited far too many family members onto the show, and chaos ensues. Young, fresh-faced Jason Sudeikis, a loyal nephew, is among Wendt's plethora of family members. Sudeikis gets the most visible role of the family members, calling Wendt out on his allegedly inflated ego.
It's not exactly a role you can launch a career from, but Sudeikis' comedic timing is clearly present, and it's no surprise he ended up where he did. It makes you wonder how many other successful comedians had their big break eating a family dinner on a late-night talk show.