Black Panther: Wakanda Forever's Riri Williams Makes Us Want That Ironheart Series Right Now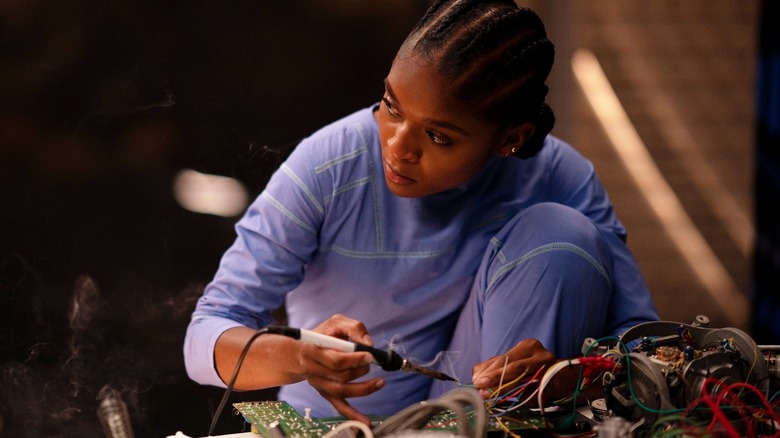 Disney
Spoilers for "Black Panther: Wakanda Forever."
The plot of Ryan Coogler's new film "Black Panther: Wakanda Forever," the 30th film in the Marvel Cinematic Universe, involves the invention of a massive machine that can detect the presence of the rare, magical metal known as vibranium. The element is so rare that the globe's entire supply is thought to rest under the nation of Wakanda, which has used its fantastical properties to turn itself into a sci-fi utopia. The United States government, however, is eager to get its hands on some vibranium, and their new machine threatens Wakandan livelihood. 
Although operated by the CIA, the vibranium detector was invented by a gifted and resourceful 19-year-old college student named Riri Williams (Domonique Thorne from "Judas and the Black Messiah"). In order to get more information about Riri's invention, Shuri (Letitia Wright) and Okoye (Danai Gurira) will entice her back to Wakanda ... but not before having to flee an onslaught of trigger-happy CIA agents, not to mention an attacking retinue of vengeful mer-people from 20,000 fathoms. During the chase, Riri dons a complex, robotic exoskeleton that allows her to fly, and is equipped with high-power projectile weapons. It's a high-tech comic book weapon, Riri's suit, but it looks like something a teenager could build in her spare time. 
By the end of "Wakanda Forever," Riri will be using vibranium to construct an even slicker, faster, more powerful suit. It is reminiscent of Iron Man's suit. The film's climax will see her rocketing through the air, fighting off an invading force from the undersea kingdom of Talokan. 
Seeing as the MCU has been infamously gunshy about embracing superhero names, it is not mentioned that Riri Williams is better known in Marvel comics as the superheroine Ironheart, a disciple of Iron Man, and star of an upcoming Disney+ series.
Ironheart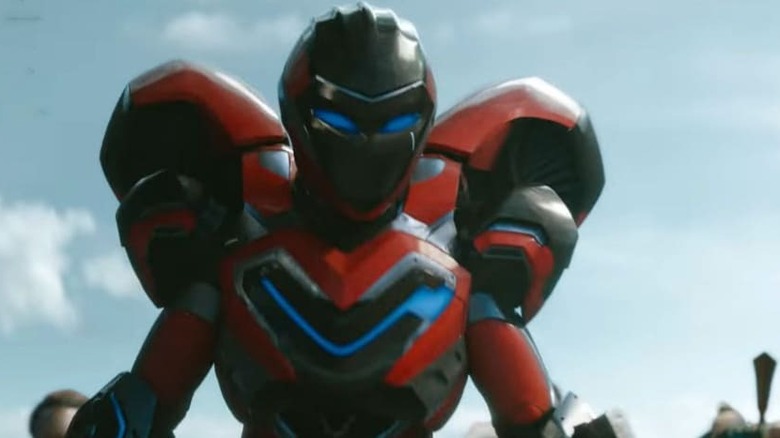 Disney
The "Ironheart" TV series is due for broadcast in the fall of 2023, meaning fans of Riri Williams will have to wait an entire year to see her in action again. What a pity. 
One of the sneaky things about Coogler's new film is the way it eschews its title hero in favor of a broad ensemble of superhero characters. By the end of the film, a new Black Panther will emerge after the death of the beloved T'Challa (and the death of the beloved Chadwick Boseman), but so too will Ironheart, and a flying superheroine duo called the Midnight Angels. These character accompany the introduction of Marvel's earliest superhero character Namor (Tenoch Huerta Mejía) and his cousin Namora (Mabel Cadena). Although called "Black Panther," Coogler's film is most assuredly a team-up movie. 
The character of Ironheart may be unfamiliar to many mainstream filmgoing audiences, as she is — compared to Namor or Iron Man — relatively new to the Marvel Comics canon. Ironheart was created by Brian Michael Bendis and Mike Deodato, and first appeared in "The Invincible Iron Man" #7 in May of 2016. In the comics, Riri Williams is only 15, but was a skilled enough engineer to build her own rendition of an Iron Man suit. After committing an act of heroism, Tony Stark elected to support her superhero career. In "Wakanda Forever," she is aged up to 19, is already attending Cambridge, and has to invent amazing technological marvels on the side just to make ends meet. She laments her intelligence, sarcastically quoting the title of the Nina Simone song "To Be Young, Gifted and Black."
More Riri, please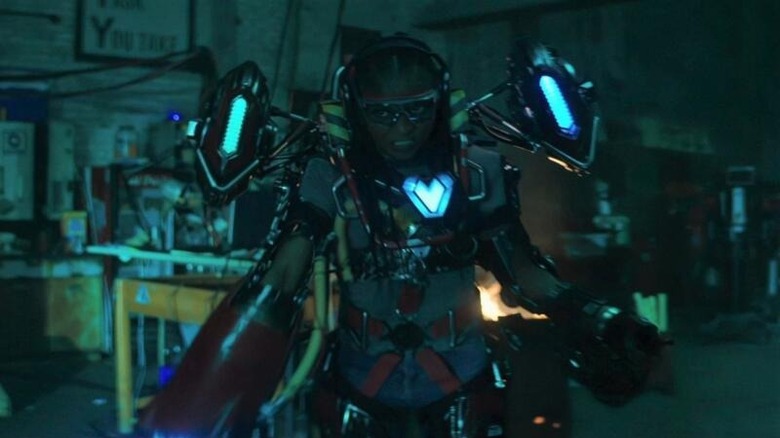 Disney
Riri is, perhaps too swiftly, swept up into the plot of "Wakanda Forever," and much of the film is dedicated to discussion of her ultimate fate ... carried out by others when she's not on camera. The CIA wants her to build more vibranium detectors, while the undersea kingdom of Talokan wants to execute her for potentially exposing their existence (they, too, rest on a store of vibranium). Riri, although brilliant, doesn't have the wherewithal to speak for herself in these scenes, having been dazzled and terrified by the new superhero world she has just unintentionally entered. 
So, uh, may we have that "Ironheart" series now, please? Wouldn't it be so much more interesting to see Ironheart in her element? This is the stuff of classic superhero comics. A young, genius inventor toiling in secret to build mechanical wonders in order to fight crime? One can easily envision a weekly, episodic series about a young woman balancing her everyday college life with her secret identity as a robotic crimefighter. The potential for classic superhero drama is overwhelming. 
Marvel movies and TV shows tend to be — at least to this author's eye — far more interesting the less they interconnect with the MCU at large. Intimate stories of superheroes stopping supervillains on a street level are always going to be more relatable and enjoyable than big-budget movies that climax in 35-minute-long sequences of demigods zipping through clouds of CGI fight sludge. "Ironheart" has that potential, and Riri Williams is a brilliant teen protagonist that has the potential to take the world by storm. More, please.