Steven Spielberg Was Constantly Moved To Tears On The Set Of The Fabelmans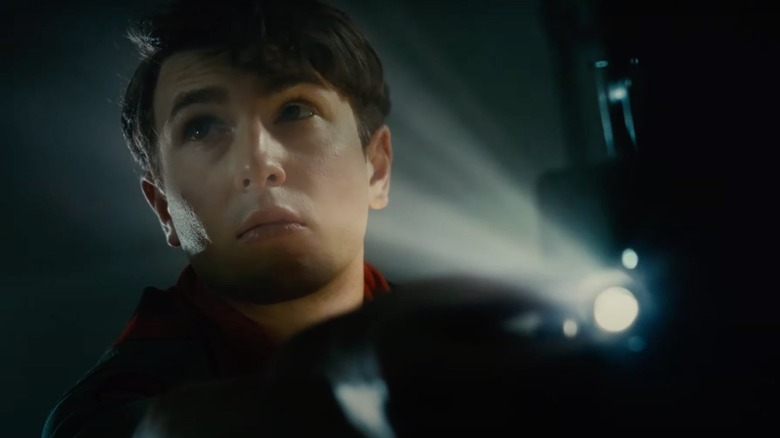 Universal Pictures
Steven Spielberg is one of cinema's biggest sentimentalists, which is one of his standout qualities. He has a unique ability to bare his soul and capture something extremely personal in every movie he makes; from the blockbuster action/adventure films that put him on the map to the political thrillers that define his later career, there's always a feeling of emotional honesty that permeates his frame.
This month, Spielberg is taking that trademark sentimentality to its limits with "The Fabelmans," a semi-autobiographical, fictionalized recollection of the filmmaker's childhood. "This film is, for me, a way of bringing my mom and dad back," the filmmaker admitted before its premiere at TIFF. "It also brought my sisters, Annie, Susie, and Nancy, closer to me than I ever thought possible. And that was worth making the film."
The director has never been private about his upbringing, as Spielberg's complex family history and aspects of his childhood have informed and shaped his body of work. But never before has Spielberg directly tackled these fraught memories without the distance of allegory.
For the Hollywood Reporter, the cast of "The Fabelmans" shared their on-set stories about working with Spielberg on such a personal project. According to them, the cinema legend openly shed tears many times during the production of his autobiographical film, fostering a unique and emotionally open set experience even for his veteran actors.
'This is a singular experience'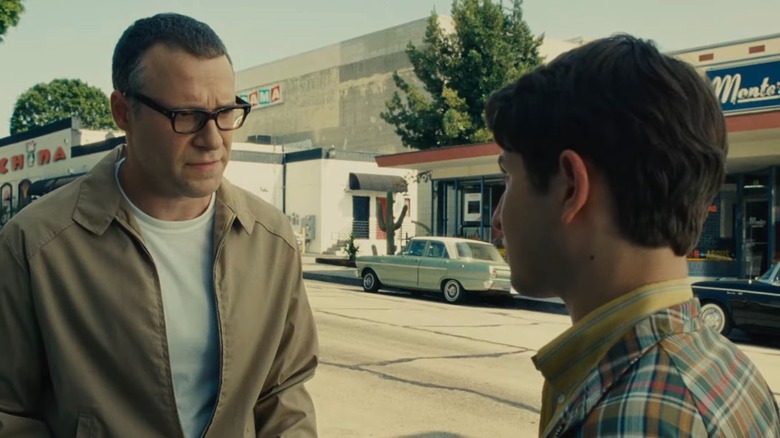 Universal Pictures
In "The Fabelmans," Seth Rogen plays Benny, a fictionalized version of the filmmaker's uncle. Rogen was already surprised to have been asked to play this part, but was even more shocked to have had such a one-of-kind, intimate experience working with Spielberg.
"I have friends who have worked with Steven Spielberg and it's been surreal for everyone I know, but also, the added layer of it being such a deeply personal film, it was something that was not lost on anybody," Rogen continued. "There was a point that I went up to Michelle and was like, 'You've worked with Scorsese, does this seem different than that?' And she's like, 'Oh this is way different. This is a singular experience.' I was glad she verified my feeling that's what was happening."
Indeed, it's one thing to work for Spielberg for the very first time, but it's a whole other affair being part of a principal cast brought together to recreate his formative childhood memories. The weight of responsibility was not lost on Rogen, nor was it lost on more seasoned dramatic actors like Paul Dano or Michelle Williams. Williams admitted that every day of production on "The Fabelmans" was an emotional one, which Rogen further confirms.
"He would cry a lot, openly," Rogen said. "We'd show up on set and he would just see a certain piece of wardrobe or a certain piece of set dec[oration] or everyone coming together to recreate a certain thing. I saw him cry dozens of times throughout filming the movie which was actually very beautiful and I think made everyone want to really honor what he was doing. You saw how much it meant to him and how truthful he was being."
'Sometimes we'd all do a group hug afterward'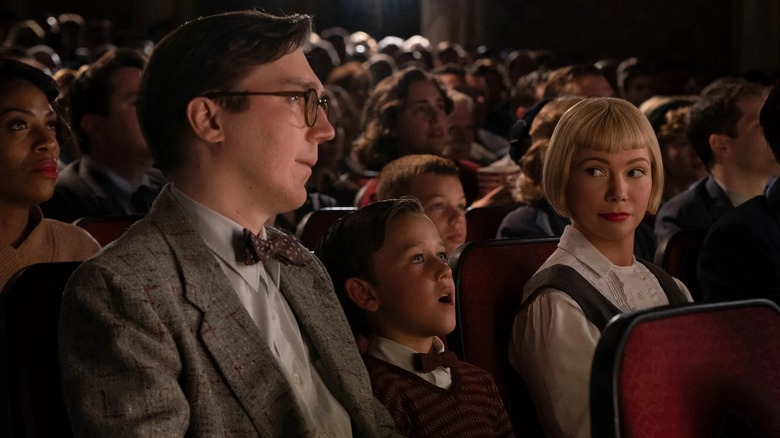 Universal Pictures
After decades of working in the film industry, Spielberg has reached a reflective part of his artistic career. Though it was a playful action blockbuster, "Ready Player One" saw Spielberg reflecting on the pop culture landscape he had a hand in creating. His 2021 remake of "West Side Story" was born from the memories he had watching the film with his own father. What "The Fabelmans" adds to his long filmography is a visceral, direct confrontation with his impulse for creation.
It's a difficult thing to process for even the most experienced actors in "The Fabelmans" cast, so how about approaching it as your breakout role? Luckily, the actor playing young Spielberg, Gabriel Labelle, shares that Spielberg made an effort to make his set experience a positive one, even if so emotionally challenging. "Sometimes we'd all do a group hug afterward or at the end of the day," Labelle shared. "You could feel it, it's a really personal project and it was really special for everybody to be a part of so everybody just understood. It was actually really comforting."
For those greatly anticipating Spielberg's love letter to family and cinema's unique powers, "The Fabelmans" releases wide in theaters on November 24, 2022.