The Handmaid's Tale Season 5 Ending Explained: Someone Give June A Break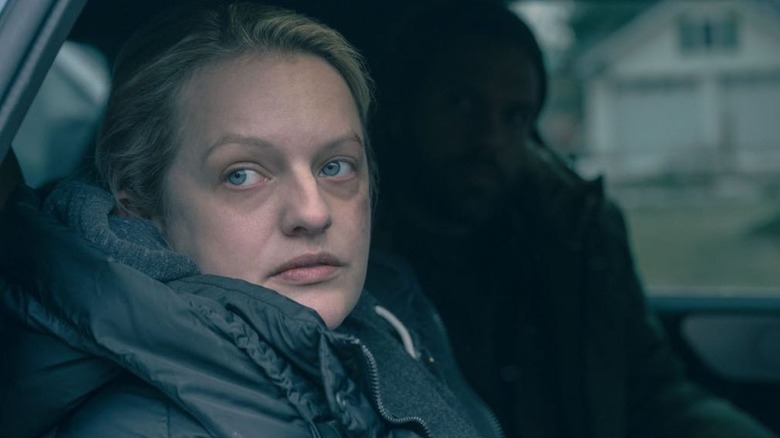 Hulu
Major spoilers for "The Handmaid's Tale" season 5 finale are below.
As "The Handmaid's Tale" moves into its season 5 finale, all hope is lost. After a failed operation, June (Elisabeth Moss) lost her only chance to get her daughter Hannah back. Nick (Max Minghella) has refused to aid June in exchange for immunity because he has a family to protect, Commander Lawrence (Bradley Whitford) is a slow-progressing but a still-confused villain in a suit, and Luke (O-T Fagbenle) is in deep, deep trouble.
Sometimes I find myself thinking that "The Handmaid's Tale" cannot get more depressing. The feeling doesn't linger too long because it always gets worse. This season has steadily plunged into darkness, leaving June more helpless on foreign soil than in Gilead. At least in Gilead, June was surrounded by evil and had no agency, no resources to help herself. All she could do was whatever it took to survive. As June always says, you cannot help your child if you're dead. But I must admit that it is all the more devastating to see a woman formerly stripped of all rights and agency find refugee status on foreign soil, have resources to aid her, and yet feel as helpless and lost as she does. Season 5 is teeming with metaphors, and perhaps the biggest one in the show's entire universe is how conflicting human emotions are and how the patriarchal system we live in impacts it.
When the season finale ends, there is an unspoken feeling that remains, one that suggests uncertainty and feels impossible to navigate. If June cannot find refuge in a city that promises to help people like her, how will she steer the ship from an island? With June and Nichole moving to Hawaii (which, along with Alaska, in "The Handmaid's Tale" universe, is what's left of the United States), how is she to ever find her way back to Hannah again? Let's look at where "The Handmaid's Tale" season finale left its characters.
Where's Janine going?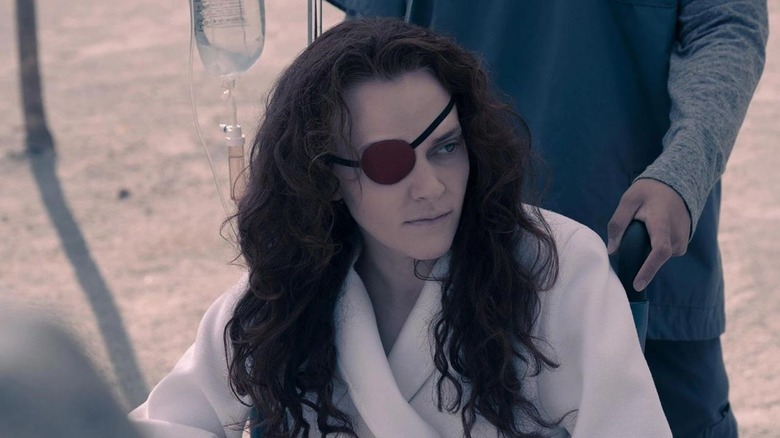 Hulu
No one in "The Handmaid's Tale" universe has experienced the hardships that Janine (Madeline Brewer) has. She has had multiple postings as a Handmaid, she had her children taken away from her, she was sent to the Colonies to die before being retrieved, she has lost an eye, she's been on the run and captured and betrayed by her close friend. Janine has seen the worst of Gilead and somehow managed to stay resilient and continue to do what it takes to stay alive. Just when you think this is it for her: that she doesn't have the strength to resist authority anymore, Janine surprises you. After being posted as a Handmaid in Commander Lawrence (Bradley Whitford) and Mrs. Putnam's home, Aunt Lydia expects Janine to be grateful, despite going against her wishes. Janine initially conforms to others' expectations of her, but when Mrs. Putnam refers to her as a friend, calling her "OfJoseph," Janine speaks her mind. Needless to say, her response is anything but friendly.
Her courage provokes Mrs. Putnam enough for Janine to be apprehended by The Eyes and taken away from the Red Centre. While Aunt Lydia (Ann Dowd) is distraught at the sight of Janine being taken away, the Handmaid is unbothered: it's almost like she's grown used to it. The Eyes declared that it was Commander Lawrence's decision for Janine to be taken away, which is a surprising turn of events. Whether she'll be sent to the Colonies remains to be seen because Janine can still bear children, and for that, she's valuable to Gilead.
Is Hannah fighting her own rebellion?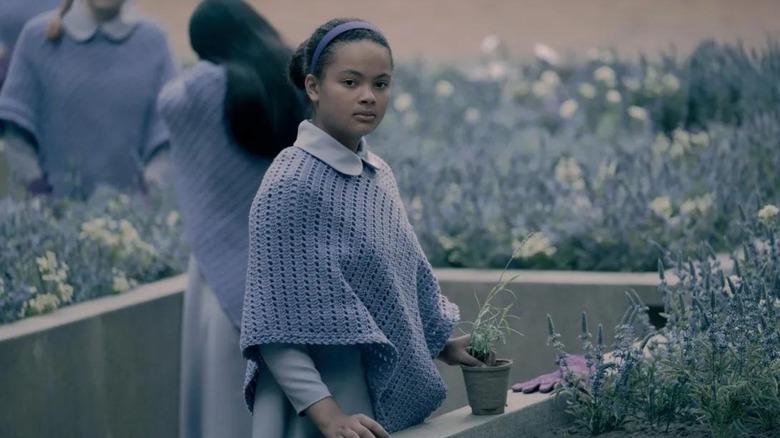 Hulu
"The Handmaid's Tale" season 5 has rarely seen June winning any battle, but one of her wins appears in the penultimate episode. June's daughter Hannah was taken away from her when she was very young. She was given a new name, new parents, and a new home. Despite being only 12 years old, she's being sent to a wife school to prepare for marriage and household duties — the same as handmaid training but with severe indoctrination so that wives may be complicit in their husband's crimes.
We see a glimpse of Hannah shielding a pencil and writing "Hannah" — her given name and not her Gileadean name on a piece of paper as a symbol of her resistance to the oppression imposed on her. There isn't much Hannah can do but comply with the rules and stay alive, but it's incredible to see her privately fighting a battle of her own. A small win, but a win nonetheless, that proves she is her mother's daughter.
What happens to Luke?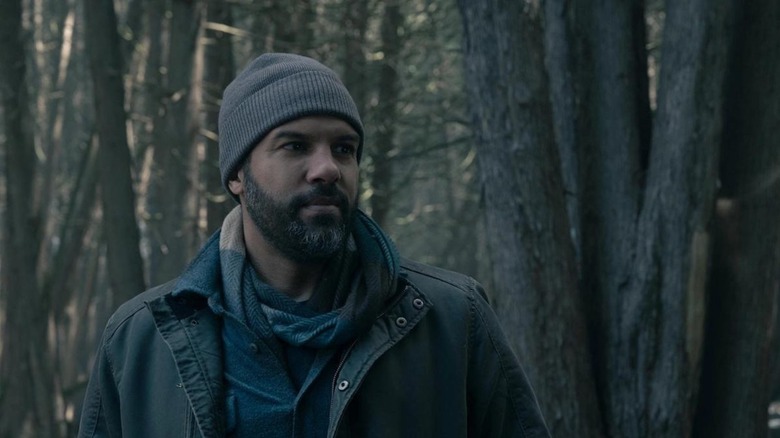 Hulu
After June is attacked by a Canadian man who runs over her with his truck, Luke saves her from dying and beats the man to a pulp. Luke inflicts severe injuries on him, eventually leading to his death, making it impossible for June and Luke to stay put. Luke is now wanted for murdering a Canadian man on Canadian soil, which will cause him to be captured, and in turn, will affect June and her daughter Nichole. In his final attempt to help them, Mark Tuello (Sam Jaeger) gets them tickets to a train leaving Toronto for Hawaii, where American citizens from all over the world are traveling. Hawaii and Alaska are united as what's left of the United States, and it's the only place where June will be safe.
After a touching goodbye, Luke gives himself up at the station so June and Nichole can get on the train and be safe. His future seems quite uncertain for now, but Tuello and Rita (Amanda Brugel) did previously warn Luke that the authorities will put him on trial for his crime. Luke is a refugee accused of murder, even if it was to defend someone else. If he is forced to serve jail time (or worse), his role in season 6 could be limited.
Are June and Serena on the same team?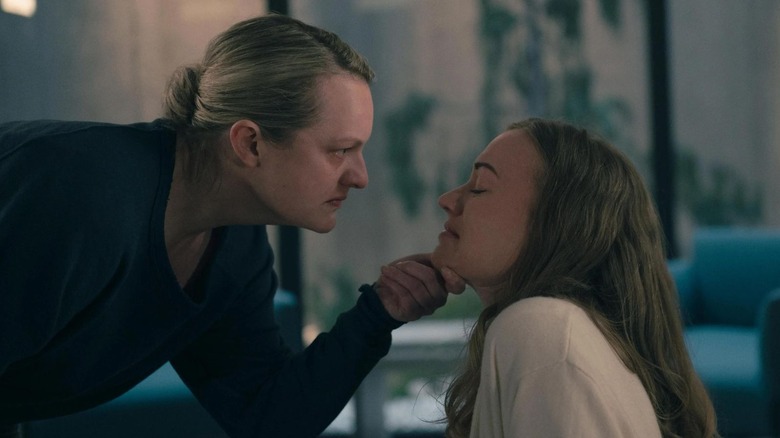 Hulu
To say that June and Serena (Yvonne Strahovski) have had a complicated relationship in "The Handmaid's Tale" would be an understatement. Their lives are inextricably intertwined, the similarities between their journeys are quite something to behold, and despite escaping each other's shadows, they always find themselves before one another.
In the finale's closing moments, June arrives on the train and hears a baby crying while comforting her daughter. She goes further into the train with Nichole and is shocked to see Serena there, holding her son Noah and attempting to pacify him. The women lock eyes and are reunited for the first time since June helped deliver Serena's baby. It's a painful moment for June, to see her past continue bleeding into her present, knowing there's nothing she can do to change it. June and Serena are in the same boat now, and with the way Serena's season 5 journey is mirroring that of June throughout the show, I'm interested to see whether there's a redemption arc around the corner.
What's Commander Lawrence upto?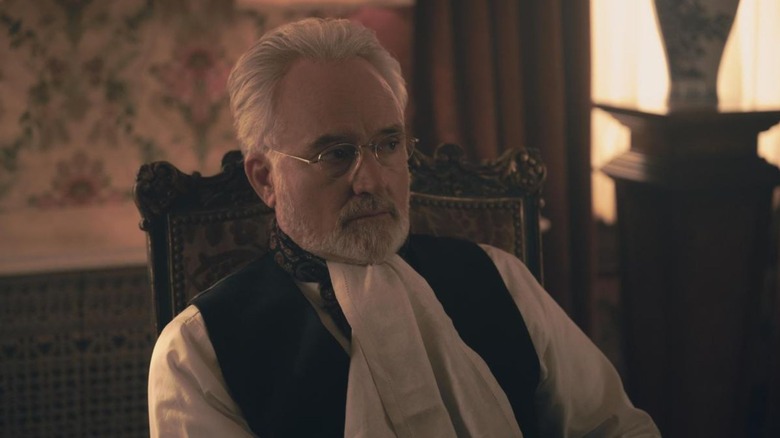 Hulu
As one of the founding members of Gilead, Commander Lawrence is responsible for helping set up the regime's economy as well as the colonies. He is complicit in their crimes because he contributed to the country's systemic injustice and corrupt system.
Through the last few seasons, Lawrence has tried to make a conscious change in how Gilead works — but with the finale, it seems he is complying with them a little too much. He has remarried and will have to yield to Gilead's systemic rape, his relationship with June has severed, and he has been punched in the face by Nick Blaine (Max Minghella) and accused of trying to murder June — let's just say he's not a gray character anymore. He's working hard at manipulating June to move to New Bethlehem, his latest project that paints a less dark portrait of what it is like to live in Gilead while ensuring that June knows she will never be able to live with her daughter Hannah again. He's a big guy where Gilead's highest-ranking officers are concerned, and he'll play a significant role moving forward. The only question is, who will he support?
Nick Blaine is fighting an uphill battle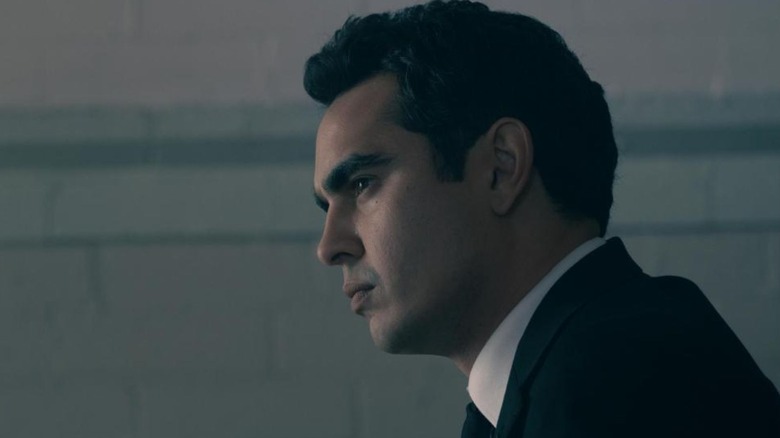 Hulu
Nick Blaine (Max Minghella) spent years working as one of The Eyes, and finally climbed the hierarchy with a rank high enough to cross the border as he pleases. And yet, he publicly throws it away in the finale. After his monologue to June about needing to protect his family, I was pretty certain this was the last I'd be seeing of Nick, until he visited June after the attack on her. The event impacted him enough to not only deflect Gilead and sign a deal with Mark Tuello, but also led him to punch Commander Lawrence in the face, in a very public setting. Nick is arrested, his wife Rose doesn't want to be with him anymore, and although no one knows whether this will impact his role as a Commander yet, it cannot mean good things for his safety. He can only be of help to June if he knows about Gilead's inner workings, and with that being changed, there's no telling what happens next.
It's hard to assume where the season finale leaves our characters. "The Handmaid's Tale" has time and time again proved that it's impossible to get someone out of Gilead alive. With the patriarchy-obsessed country's eyes all on June, it's going to be harder for her to find a way to rescue Hannah, now more than ever. They're prepared for her, which makes her vulnerable. The show heavily expands on the book by Margaret Atwood, which has an ending that left June's fate open to interpretation. Whether the show will take the same route in season 6 remains to be seen.