The Handmaid's Tale Actor Bradley Whitford Fooled The Show's Writers In Season 5 [Exclusive]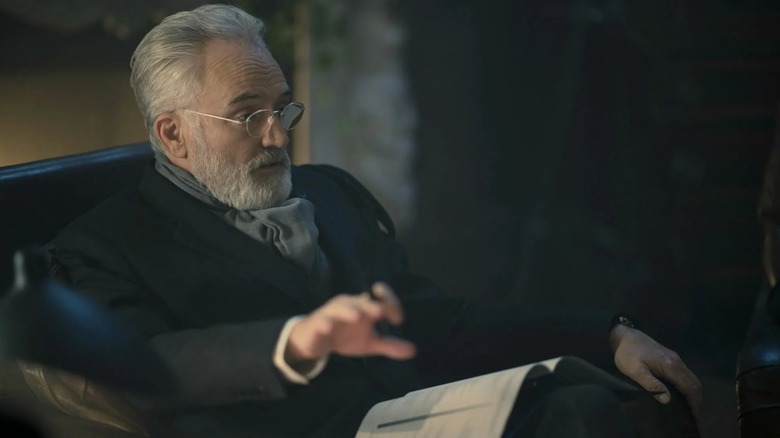 Hulu
Bradley Whitford is a funny guy. The actor's comedic presence shines through in projects as varied as the meta-slasher film "The Cabin in the Woods," the idealistic political drama "The West Wing," and even Jordan Peele's modern horror classic "Get Out." But it takes a special kind of talent to wring laughs out of a world as bleak as that of "The Handmaid's Tale." Yet somehow, Whitford does just that as Commander Lawrence, an idiosyncratic economist who seems to have been directly involved in the formation of the show's hellish post-America country, Gilead.
/Film's Fatemeh Mirjalili spoke with Bradley Whitford for an upcoming interview ahead of season 5 of "The Handmaid's Tale," calling Commander Lawrence unexpectedly hilarious and sarcastic in the new season. Mirjalili asked the actor how much of his character's humor was scripted, and in response, Whitford revealed that the show's writers have learned to shape the script to his portrayal to the point that it's sometimes hard to distinguish the lines on the page from improvisation.
"There was an irreverence there from the beginning," Whitford says of the character, who first appeared in season 2 before taking on a larger role in recent seasons. "These writers, in a long-running show, they're watching what you're doing. And I can tell, especially this year, that they were writing that way." Commander Lawrence, a character the actor described to Vanity Fair as a "f****** weirdo," is eccentric, abrupt, and reclusive. He's clearly smart, and not as outright cruel as many other characters, but still played a horrifying role in the rise of Gilead. All of this somehow combines in a fifth season performance that's apparently more than a little bit darkly funny.
Writing so good, it sounds like an ad lib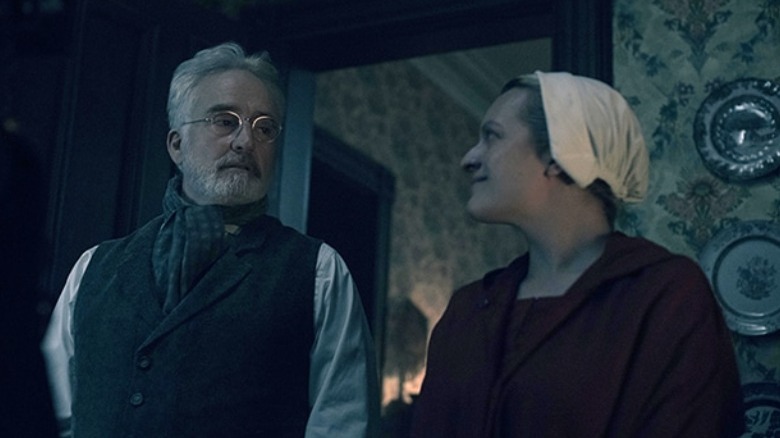 Hulu
According to Whitford, the writers were able to nail his character so well that at one point, they mistook a line they had written for his own improv. He shared:
"I was very excited because there was one moment where a writer of one episode thought I had improvised a particularly potentially inappropriate line that made it into a cut and called the other writer. And the writer of that episode said, 'No, I wrote it!' So, that was a big victory that they thought I was being a smart-ass, and that showed that we were in tune."
If Whitford's performance sounded so natural that writers thought it was an ad lib, the writers must be really in sync with his character, who has taken on a bigger role with each passing season of the show. The last time viewers saw Commander Lawrence, he was sending Fred (Joseph Fiennes) to his death and facilitating the release of some of the women imprisoned in Gilead. While it's unclear whether Lawrence will be a tentative friend or a foe when the series returns, he certainly made some major moves last season that will no doubt have consequences as the series heads toward its endgame. 
"The Handmaid's Tale" will return September 14, 2022 on Hulu for its fifth season, while its sixth has already been announced as its last.