The Handmaid's Tale Season 5 Review: A Tale Surviving On Borrowed Time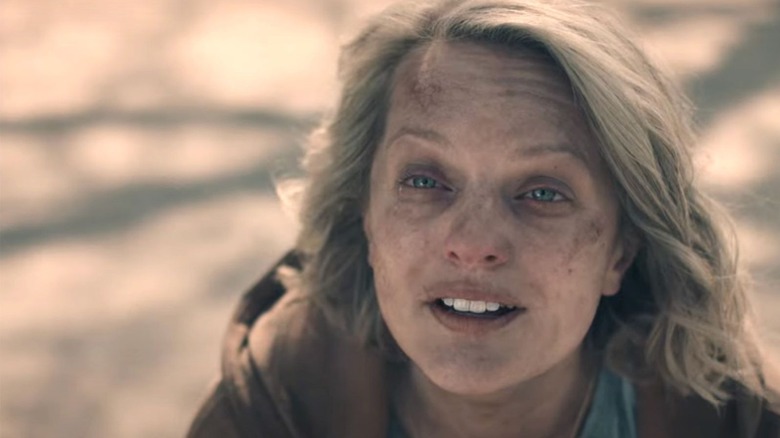 Hulu
All actions have consequences. And every action results from a choice. These are two ideas that "The Handmaid's Tale" season 5 carefully wrestles with, often falling heavily on either side, sometimes slowly, and sometimes far too quickly. It has been a long time since the series liberated itself from Margaret Atwood's source material. And with its last two seasons, the Emmy-winning Hulu adaptation had slowly metamorphosed into a compelling emotional thriller of sorts, with less room for gloom and emotional torture and more space for political thrills that included setting a stage for its protagonist's quest for retribution. 
"The Handmaid's Tale" has always known where it's going — it's either setting up a theatric display of violence and brutality to make the optics of Gilead known to its viewers or painting its protagonist as the epitome of feminism, an icon birthed to abolish patriarchal society, with a penchant for slow rage-gazes and rebellion. But this season appears to be clamoring to find its own identity.
A slow burn descent into gloom continues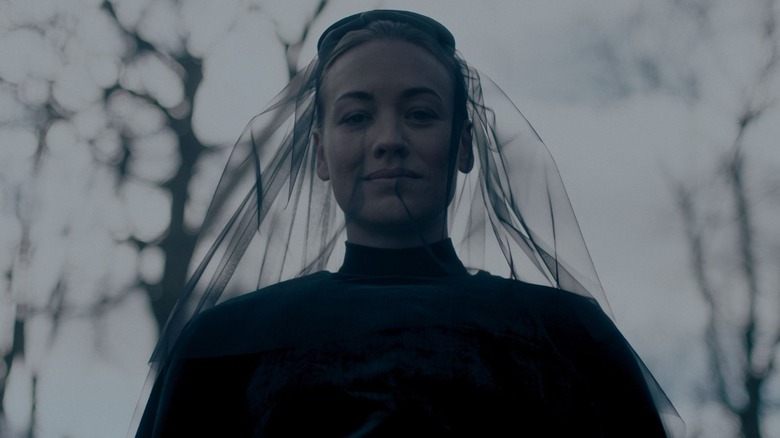 Hulu
When "The Handmaid's Tale" season 5 begins, we find June (Elisabeth Moss) right where we last saw her. There's a brief recap of her revolt against Gilead, and its biggest cause, her daughter Hannah, a repetitive reminder that there is nothing a mother wouldn't do to protect her child. When we see June again, she's reveling in the memories of a few hours before, relishing the crime she committed and the justice that was served.
June has been plotting her revenge — the murder of Commander Fred Waterford (Joseph Fiennes) during the entire duration of her life in Gilead and was finally able to avenge herself. It's a win. She takes a shower, seemingly to wipe the blood off her hands, but she doesn't want to. Elisabeth Moss (who directs the episode) is excellent as ever; she stares into the camera, creating claustrophobia of the highest order, so the viewer has no choice but to feel what she's feeling. She feels no remorse. It's a sacred satisfaction experienced when years of anger culminate into something that tastes like justice. June realizes she has autonomy in her life for the first time since escaping Gilead and practically bathes in it.
"The Handmaid's Tale" season 5, throughout the eight episodes made available to critics, operates slowly, occasionally packing in information and sometimes nothing at all. June's frustration at Serena's (the terrific Yvonne Strahovski) growing influence in Toronto lead her to threaten the widow with murder — it's all she can do. Emily's (Emmy-winner Alexis Bledel, who exited following season 4) fate is dismissed with a dodgy plotline that feels like a disservice to the resilience shown by her character.
Serena grieves the death of her husband and manages to coerce Gilead's commanders to honor his contributions with a state funeral, telecast internationally. She slowly gains influence in Toronto thanks to a community of Gilead sympathizers and then unexpectedly decides she wants to stay in Gilead. She wants power and influence but isn't very successful in achieving it. Here's the thing: regardless of what she wants you to believe, Serena doesn't have a plan. She has lost the plot, and not even Strahovski's stellar performance can save her character from the confusion.
A fight from across the border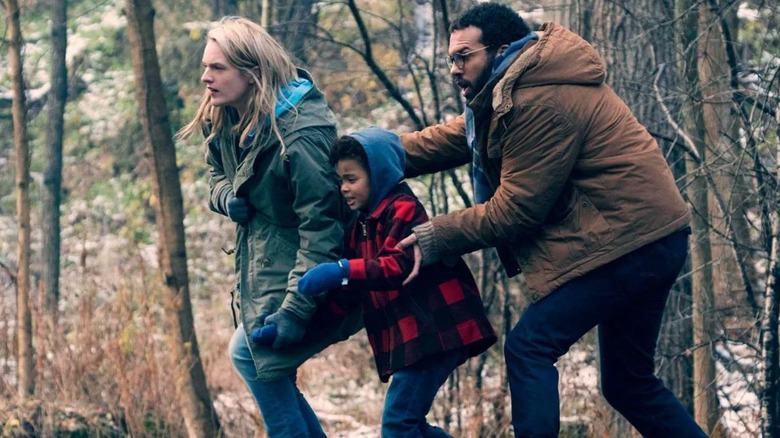 Hulu
The second half of the season works more efficiently at what appears to be a setting stage for the show's conclusion. In the process, it struggles to deliver the emotional impact consistently echoed in "The Handmaid's Tale." The episodes unravel at a tedious pace and often hold little weight to the narrative, and the ones that do, aren't allowed to unfold fully. 
Aunt Lydia (Ann Dowd), Janine (Madeline Brewer), and Esther (Mckenna Grace) are terrific and have a particularly intriguing story arc, perhaps the most gripping of the season, and aren't given the screen time they deserve. Serena wavers between the embodiment of sympathy in one scene and a monster in the next. Where June's narrative is concerned, it takes too long for her story to finally kick in. She continues fighting; she creases her face, grinds her teeth, uses her rage-filled eyes to gaze at everyone, and drives angrily to calm herself down. There's not much June can do to search for her daughter from across the border, and she's reminded that there's only so much you can do with no resources and refugee status. With Serena now living in her city, June threatens her with murder as much as possible — but it feels like an empty threat. June's unmissable aura of danger accompanies her wherever she goes. And she gets what she wants: Serena knows who killed her husband, and she is terrified for her life. But it doesn't go anywhere from here.
Commander Lawrence (Bradley Whitford, the real MVP this season), along with Nick Blaine (Max Minghella), works towards a future for Gilead that is less miserable in an attempt to alter his title as one of the founding fathers of the state. O-T Fagbenle's Luke and Samira Wiley's Moira offer support to June no matter what happens and attempt to build a present strong enough so she may forget about her past. But June never does.
Sometimes, the past is inescapable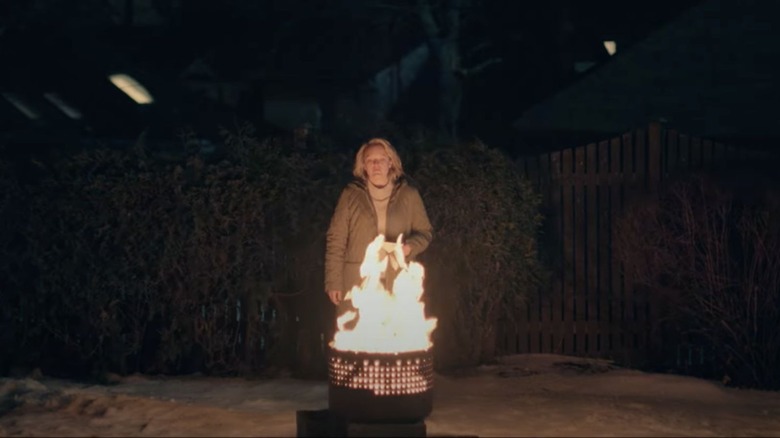 Hulu
We're repeatedly reminded that it's impossible to move past the horrors of Gilead, its systemic injustice, and the trauma June learned to grow accustomed to. It's impossible to forget the unflinching pain of a mother whose children were torn away from her arms. It's impossible to escape a past that has been nothing but a bottomless pit of grief. And most of all, it's impossible to forget a time when even your thoughts didn't belong to you. Elisabeth Moss' uncanny talent to exhibit a hundred different emotions at once is astonishing. Her embracing of June's character and ability to channel anger and hope with her eyes in dire situations is incredible. But even Elisabeth Moss cannot save "The Handmaid's Tale" from itself, for it is a tale surviving on borrowed time.
Here's where I'll admit I felt deceived: the trailer paints the season as one where it's a war between June and Serena, about two powerful women out for each other's necks. It might feel true sometimes, but it is not an honest illustration of what story showrunner Bruce Miller is trying to tell this season. It's not about revenge anymore. It's about the ripple effect caused by the choices you make and the ones you have to live with. And despite all her flaws, June tries to make good ones.
June takes time to find some semblance of her old life again and to look up at the world through a lens of compassion. Slowly, she begins to trust. Slowly, she learns to accept that a revolution comes with time, with small, unsparing acts of defiance. And sometimes, there's only one thing you can do if you want to be around when change arrives: you keep your head down, your loved ones close, and you do what it takes to survive.
The first two episodes of "The Handmaid's Tale" season 5 premiere on Hulu on September 14, 2022.