For Harvey Guillén, Working On What We Do In The Shadows Is A Hilarious Game Of Hot Potato [Exclusive]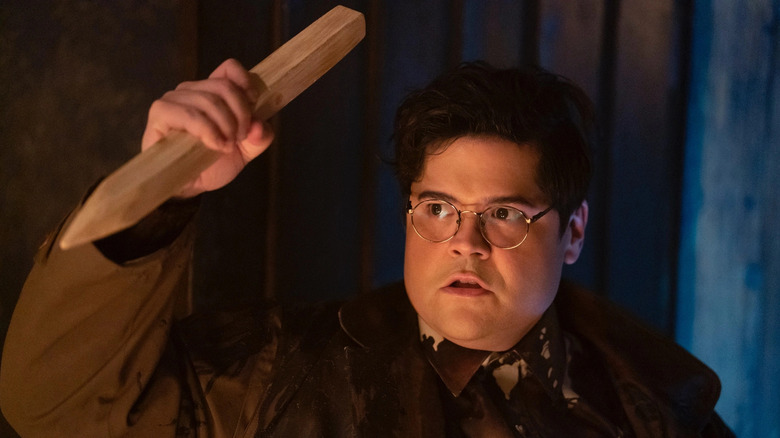 FX
Watching the FX vampire comedy series "What We Do in the Shadows" is a whole heck of a lot of fun, but it might be even more fun making it. The series, which just finished its fourth season and has already been renewed for two more, follows a found family of vampires living in Staten Island, New York. The faux-documentary style of the show encourages a tremendous amount of ad-libbing and improv, and given the series' talented cast of comedians, there are probably more laughs than could ever fit into each episode's runtime. 
In an interview with /Film's Jack Giroux, actor Harvey Guillén, who plays the put-upon familiar-slash-vampire-hunter Guillermo de la Cruz, shared the magic of working on one of television's best comedies. Everyone gets into character and goes wild, which sounds like the most fun anyone could possibly have without actually being immortal partying vampires. Just imagine hanging out with Lazlo (Matt Berry), Nadja (Natasia Demetriou), Nandor (Kayvan Novak), Colin (Mark Proksch), and Guillermo without having to worry about potentially getting eaten or having a bad case of the brain scramblies. That's a sweet slice of comedy heaven. 
Non-stop comedic creativity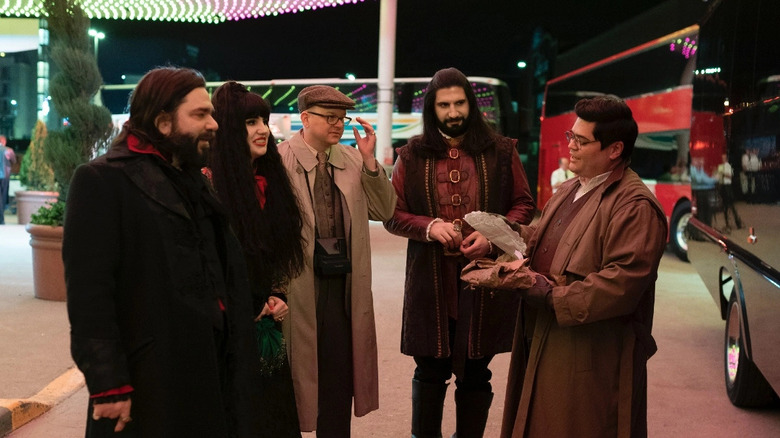 FX
When asked about how working on "What We Do in the Shadows" with such a talented cast and crew affected Guillén's comedic expertise, the actor explained that working on the series forces him to constantly be on his "A" game: 
"I've always said it's like playing Hot Potato with five other actors who never drop the ball. You just play non-stop. Everyone is so good at their character and what they're doing that we've had scenes that were improvised that went on for like 20 minutes that you'll never see. They'll never see the light of day. You'll never see that footage because there's no way that would make it into the show. But the fact that we could go that long and not drop the ball and just improvise and keep going, keep going, keep going has been a testament to the show of how well it works and how, season after season, it just gets better."
Guillén's insistence that the improv footage could "never see the light of day" leads me to believe that a lot of the jokes would never get past standards and practices because they're just too crude. Berry has a notoriously raunchy sense of humor and the rest of the cast rank right up there with him for the off-color comedy, so those improv sessions are probably ferociously funny and fiercely filthy. Oh, to be a fly on the wall. 
The magic mix of scripting and improv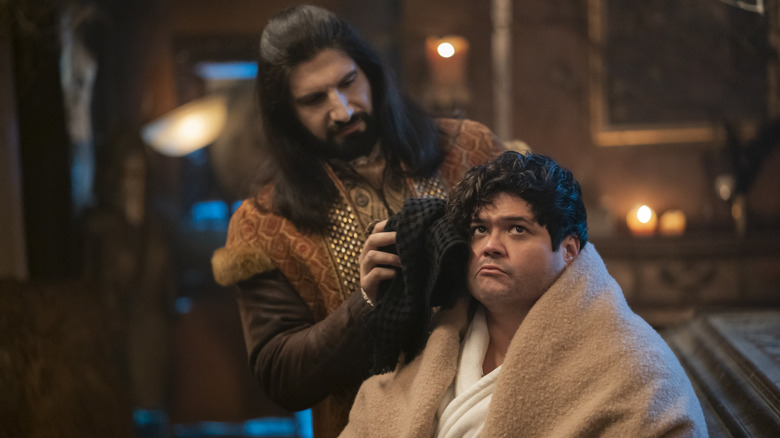 FX
It sounds like there is a lot of riffing on the set of the series, but the show also has a tightly written script that could stand on its own without the actors improvisations, according to Guillén:
"The writers are so amazing that even if we just did a scripted version, the show is phenomenal. But the fact that we get the liberty to improvise with one another, it is like an improv troupe that just says, 'Here we go. This is the scenario.' And we get to do it every week and every day when we're filming. So yeah, it's been a great experience and a blessing."
Improv can be one of the greatest acting treats, especially when you're working with people who are operating on the same wavelength. The cast of "What We Do in the Shadows" seems like they're always game to take every situation and run with it, which is probably why they're such a comedy dream team. Now if we could just get Nandor and Guillermo together, like they should be.