Black Adam's Editors Didn't Know Superman Was In The Movie Until They Got The Footage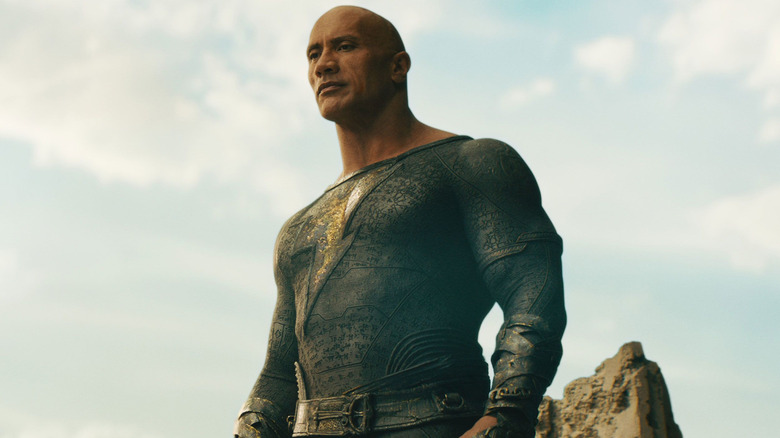 Warner Bros.
Dwayne Johnson's long-awaited take on "Black Adam" had a very bumpy road to the big screen, but it has finally arrived. Helmed by Jaume Collet-Serra, the latest from DC is an action-packed introduction to the protector of Kahndaq, a man who lived thousands of years locked away after being granted the almighty power of the gods. A passion project for Johnson, the film came to be after 14 years of planning, starting, stopping, and throwing ideas at the wall. Between that and the loaded comic book history of the character, it was no simple task for scribes Adan Sztykiel, Rory Haines, and Sohrab Noshirvani to whittle those ideas down to a single script. Nor was it easy for editors, Mike Sale and John Lee to turn hours of footage into 125 minutes worth of movie. 
As if introducing a new hero, ancient history, God-like magic, and a high-tech military force isn't enough, "Black Adam" is also juggling 5 new heroes who need their own introductions. But on the bright side, the most famous hero of the bunch didn't have to be worked into the story like everyone else. Instead, he got his own special moment to shine, as part of the big "Black Adam" mid-credits send off.
Superman makes an entrance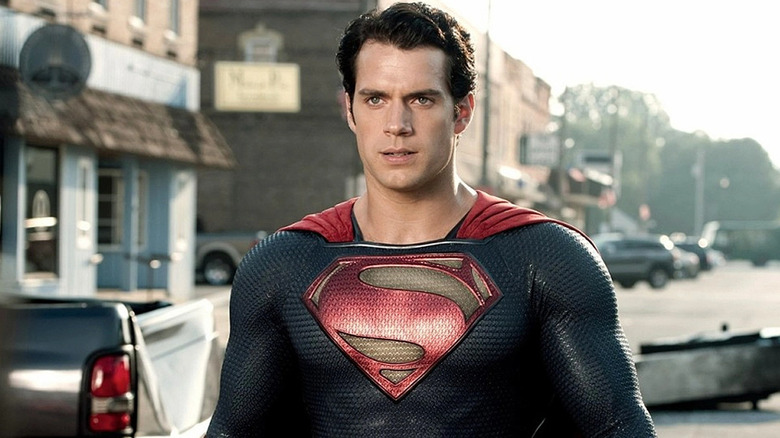 Warner Bros.
By this point, you've probably noticed the many interviews where Dwayne Johnson teases the very notable cameo in the "Black Adam" mid-credits scene. I'd say that just hearing him talk about it is enough to give the secret away, but let's be honest — we all knew what the big reveal would be even before the movie hit theaters. The appearance of Superman is hardly a surprise when the star of the movie has spent the past decade talking about changing the "hierarchy of power" and being the new strongest DC hero. But believe it or not, there was a time when the world's worst-kept superhero secret was kept from the very people tasked with pulling it together.
"Black Adam" editors Mike Sale and John Lee recently revealed that they had no idea about Teth-Adam's confrontation with Superman until the footage was right in front of them. "It came about very, very late," Sale explained in a chat with ComicBook.com. "We didn't even know they were shooting it. All of a sudden, it showed up one day."
Lee added that it wasn't entirely out of the blue. They knew that something was happening, but had none of the specifics: "I know they shot Henry [Cavill] in London," Lee said. "So we were walking around going, 'Hey, what are they shooting in London?' And then this footage shows up and we're like, 'Oh, okay.'"
It was like everyone had agreed to an unspoken "code of silence," according to Lee.
Black Adam v. Superman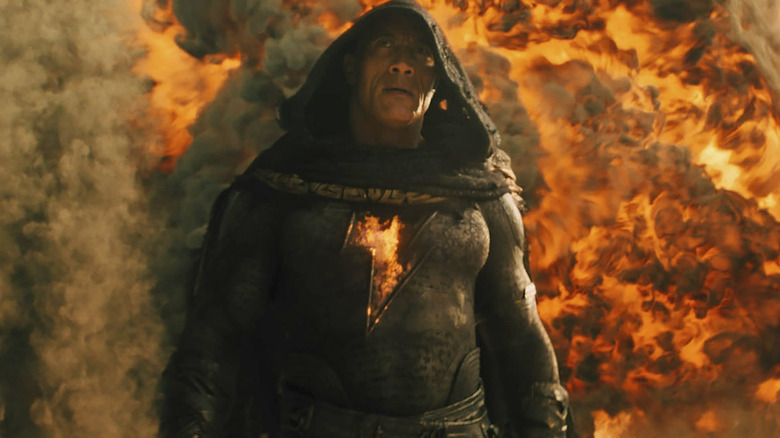 Warner Bros.
/Film heard from executive producer Hiram Garcia that there was never any other possibility: the mid-credits sequence was always meant to be the much-anticipated meeting between these two heroes. After all, isn't that what all of this was always about? Both Henry Cavill and Dwayne Johnson have been teasing this possibility for years — posing for photos together, dropping hints, and making big claims about who would win the Black Adam v. Superman battle. It might've taken many years for "Black Adam" to actually come to fruition, but changing that hierarchy of power always hinged on these two butting heads.
When the moment finally comes, it's pretty damn fun. We nerds didn't spend our childhoods making action figures fight for nothing! Lee explained that the producers were involved in the process and after they pulled everything together, they tested it and received an overwhelming response: "Everyone just went through the roof. They went crazy when they saw him."
Even when these comic book movies err on the side of lackluster, the least they can deliver is an answer to that driving question: who would win in a fight? "Black Adam" doesn't actually deliver on that answer, but it sets everything up and finally poses the question. If we see "Black Adam" again soon, I'm guessing that big showdown will be his next starring moment. And based on Cavill dropping out of "The Witcher" to free up some space in his schedule, we can only assume that there's plenty more of Superman to come.